Bring your pup to the "Give a Dog a Bone" 5K run/walk on June 7.
They say you can't teach an old dog new tricks, but what about a successful, 20-year-old business? Can you recreate the company culture and get employees doing jumping jacks, noshing on healthy snacks, and spearheading 5K run/walk fundraisers—all without losing productivity? You certainly can, according to Christina Ring, COO of PhysEmp.com in Fairfield.
"Our office wanted to be healthier, so we decided to join the 10-week Iowa Live Healthy Challenge this January," she said. "We did little exercises throughout the day at work and many of us joined the Fairfield Rec Center, too. It made such a big difference in how we all felt, so we decided to keep going! We're a lot happier and more focused at work."
Live Healthy Iowa brings companies and communities together in fun, team-based challenges designed to promote healthy lifestyle changes. Since 2002, the program has helped more than 230,000 participants log 40 million miles of physical activity and lose 925,630 pounds.
Twenty-two of those pounds once belonged to PhysEmp employee Melinda Fishel.
"By joining Live Healthy Iowa with 'FitEmp'—our team name—I was held accountable," says Melinda. "I have always tried to do the best at whatever I do, and being part of the team, I didn't want to let anyone down by not doing my share. Then the weight started coming off and the team I work with everyday started to notice, and it was just an awesome feeling."
Melinda's dramatic success story so impressed the Live Healthy Iowa team, they posted a special feature on her in their blog.
"That felt wonderful," she said.
Happy Employees are Productive Employees
One of the fun ways PhysEmp helps employees to beat the workday doldrums is by using FitDeck playing cards. Each card features a five-minute exercise assignment, like jumping jacks, push-ups or a quick walk outside. Employees try to do seven cards per day.
"That adds up to 35 minutes we're not just sitting," says Christina. "It really helps to keep morale going and breaks up the day. And happy employees are productive employees!"
While exercise is a big part of PhysEmp's health and well-being initiatives, diet plays a key role too. Which means the company's beloved chocolate bowl is being banished in favor of healthier snacks.
"Before, I used to bring a lot of Doritos, Cheez-Its, and chocolates into the office," says Christina. "Now, I make sure we're stocked up with things like yogurt, fruit, and nuts."
Christina says the next challenge will be to start dropping carbonated, sugary beverages in favor of water and healthier drinks.

"Give a Dog a Bone" Run/Walk
After their success with the 10-week challenge, PhysEmp employees decided they wanted to work toward an even larger goal. The obvious next step was to participate in one of Live Healthy Iowa's 5K run/walks—but they were all too far away. So the PhysEmp team decided to create their own event.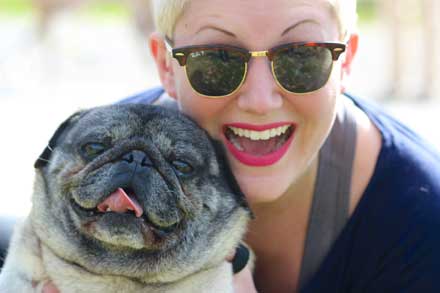 Caroline Fonvielle with Christina Ring's dog Smoky.
At 8 a.m. on June 7, PhysEmp's annual "Give a Dog a Bone" 5K run/walk will debut in Chautauqua Park. The community is warmly invited to bring along pups and pooches (or borrow one from Noah's Ark) and participate in the fundraiser, which will benefit Noah's Ark Animal Shelter. For nearly three decades, Noah's Ark has provided shelter, love, and care to homeless dogs and cats until they can be adopted into good homes.
"We're all pet lovers at PhysEmp, so it was a natural fit," says Christina. "Noah's Ark does a great job in making sure that animals in need find forever homes. On Facebook, you see new adoptions taking place all the time."
Bring your own dog or borrow one from Noah's Ark.
The event is receiving tremendous support from the community. Many people have registered to run or walk, and sponsors range from Cambridge Investment Research and Jefferson County Health Center to Community First Credit Union, Libertyville Savings Bank, MidwestOne Bank, Fairfield Farm & Home Real Estate, the Veterinary Clinic, and O'Reilly's.
"This is our first 5K fundraiser, and we didn't know if there would be much interest, so it was great to see the community coming together," says Christina. "Companies really believe in what Noah's Ark is doing. And as a community, Fairfield—and, actually, Iowa—are both really supportive of healthy initiatives like Live Healthy Iowa and the Blue Zone program."
Christina laughs, recalling how she used to joke that PhysEmp was following the Blue Zone model because employees "had to walk to the chocolate bowl." Kidding aside, Christina feels that the move towards health-conscious has made PhysEmp a more successful company.
"We're happier, and that shows in our relationships with customers—both physicians who are looking for jobs and recruiters who are looking for candidates," she says. "They're not just calling in and talking to someone who hates their job. We build relationships with our clients, and when you're a happy, more settled person with a good lifestyle, you're able to provide more to your clients."
Registration begins at 7:30 a.m. on June 7 at Chautauqua Park, and the 5K starts at 8 a.m. For more information, call Theresa Melvin at (641) 472-0513 or email woof@physemp.com.