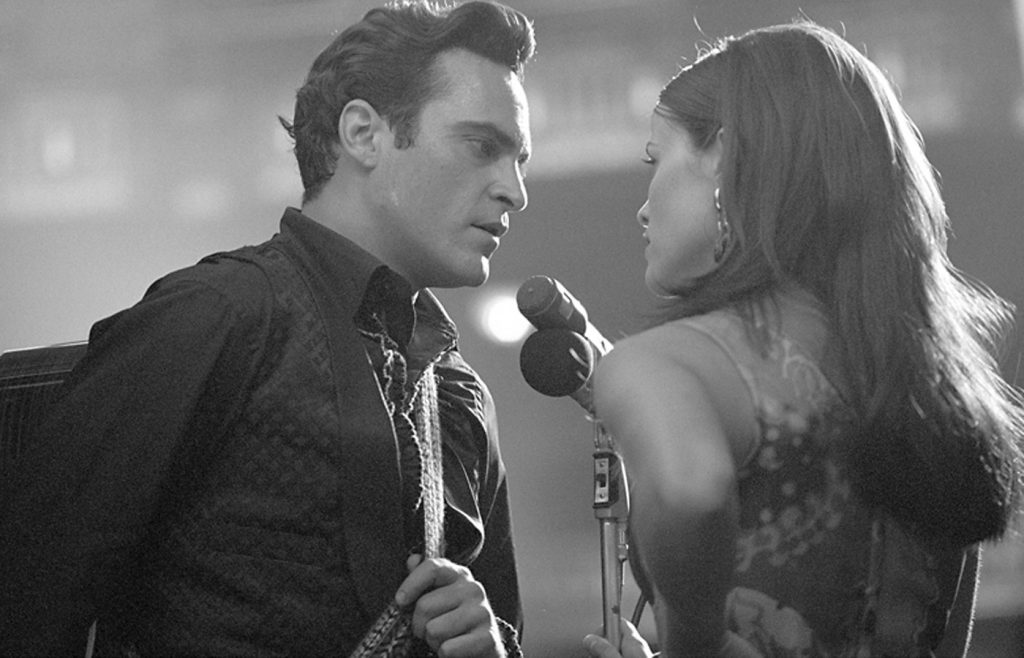 Walk the Line reveals the life behind the guitar strings of late country music legend Johnny Cash, whose deep haunting style was described by Bob Dylan as "a voice from the middle of the earth." Surprising and thoroughly entertaining are the vocal talents of Reese Witherspoon as the feisty and talented June Carter, who can sure belt out a country tune, and Joaquin Phoenix, who inhabits the infamous Man in Black—guitar, vocals, and all. Once the movie gets rolling, folks, it's show time!
John "JR" Cash grows up in Arkansas during the Depression. His childhood is shaped by hard labor on the family cotton farm, the tunes on the radio, a caring mom and emotionally abusive father, and going fishing with his brother Jack, who dies in a tragic accident. And by some cinematic oversight, JR's dad (Robert Patrick) never ages during the two-decade span of the movie, as though the makeup department thought nobody would notice. But never mind.
When Cash leaves home to join the service, he buys a guitar—a turning point we have not been sufficiently prepared for. What we don't learn from the movie is that Cash grew up singing gospels in his own style, a talent that inspired his mother to take in laundry to pay for singing lessons—which ended when the teacher (wisely) told Cash not to change his voice. For a movie seven years in the making, the early development of Cash's music deserved more exposure. But never mind.
Walk the Line plays out like a long road tour, summing up Cash's early success in the 1950s when he performs alongside early rockers Roy Orbison, Jerry Lee Lewis, and Elvis Presley. The story is also ridden with angst and destruction from a failed marriage and from long addiction to amphetamines that nearly ends his career and his life.
But Cash's story is also one of hope and amazement. He finds a secret weapon more powerful than his demons in the lovely June Carter, the friend who turns his life around and raises the bar on love. Walk the Line offers must-see entertainment and the full range of human experience, from the biggest breaks to the hardest knocks. Writer-Director James Mangold shares the early years of the failed door-to-door salesman who dares to find his musical voice. And when Johnny Cash walks the line between country and rock 'n' roll, he redefines American music.