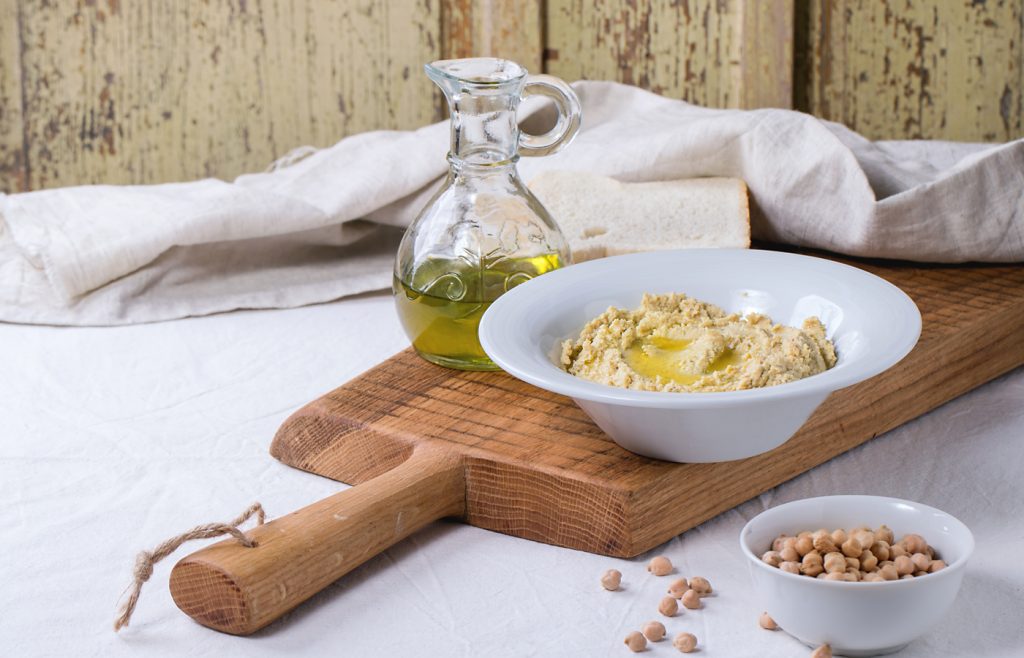 My love of Mediterranean cuisine came at a fairly early age. When asked by my sixth grade teacher to do a cultural report on Egypt, I became fascinated by this oddly shaped, blanched-colored bean called a chickpea (or garbanzo in Spain). I sent my Southern mother on a mission to find this elusive legume, researched as many cookbooks as I could lay my hands on, spoke with an anthropologist at a nearby college, and then set myself to the task of throwing a small feast for my classmates that centered around one of the most essential and hearty staples of much Mediterranean fare.
The appreciation of my classmates and teacher may have foretold a love of cooking, entertaining, and creating warm, inviting spaces that has stuck to me like glue for over 30 years. I've veered off into other cuisines many times but when it comes to ease of preparation, aesthetics, health, and the sheer leisure of preparing a meal that is both exotic and relatively hassle-free, there's just no substitute for the fare of Northern Africa, Southern Italy, Greece, Southern France, Spain, Portugal, the Middle East, and Turkey.
The Magic of the Mediterranean
March, this final month of winter, can be a challenging time. If circumstances permitted, I suspect most of us would not mind ticking off the final days of the belly of this beast basking on the sunny beaches, eating at a roadside cafe, or bartering for produce, tapestries, and hammered metal pots in one of the aforementioned country's markets.
Alas, if wishing only made it so. My advice is, if you can't bring Mohammed to the mountain, bring Mohammed to you. Throw open your doors and have a dinner party with a Mediterranean theme. It's easier and more affordable than you might think.
Setting the Mood
Let's start with your space. Creating an ambiance reflective of much of the Mediterranean is easily achieved by incorporating an assortment of colors to your table and living room. I'm partial to rustic reds, terra cotta, and forest green but trust your own judgment and be creative.
Once I hosted a "Midwinter's Night Gleam" soiree. Each guest was asked to bring something that lit up the night. The objective was to help all of us get out of our winter blahs. My friend's creativity was a real kick. One plucky gal brought her pet sea monkeys (they glow in the dark a little, I swear).
My plan did backfire at one point. I forgot to check the capacity of the fuse box in my house. As a result, after we all "plugged in" we were plunged into complete darkness. It ended up being fine because we had one another to rely on, thank goodness. Also, having a couple of flashlights on hand turned out to be pretty helpful.
Ask Everyone for Help
One thing that can seem so intimidating about having a party, much less a dinner party, is the idea that it will be a tremendous amount of work. This does not have to the case. There is nothing wrong with asking others to help with the preparations or throwing this shindig cooperatively. If you decide to go it alone, don't be shy about borrowing things, but be sure to make a good inventory of what you already have. There's always the possibility you may have overlooked a hoard of treasures in the bottom of a closet, the garage, or the back of a drawer. Recycling older items is not only fiscally sound, it gives you a feeling of creativity and the satisfaction of knowing you're being a good environmentalist.
Presenting the Food
Okay, let's get down to the main attraction, the food. One secret to the popularity of Mediterranean cuisine is flavor, and lots of it. Thankfully, the staple ingredients can be found here in Iowa at almost any grocery store, co-op, or ethnic food mart. These include spices such as cumin, coriander, paprika, and garlic; olive oil, lemons, beans, eggplant, tomatoes, breads, and olives. Many of the dishes can be prepared ahead of time and, in fact, fare better when given time to mingle overnight. That's another perk of this cuisine in keeping things simple for the host.
Another benefit is how much of this fare is quite delicious when served at room temperature. Who really wants to spend the last hour before a party trying to time each recipe down to the last minute or the duration of the gala running back and forth from the oven? All work and no play will certainly not help you and your mates spend time together chasing off the doldrums of winter. The recipes here all taste wonderful at 70 or so degrees and pack that big wallop in the flavor department.
I'd suggest keeping this a buffet affair and just letting your guests sprawl out as they like. There's no reason for a stuffy sit-down deal. It's more troublesome for you and such formality can leave your guests feeling ill at ease. Just put out the plates, food, drinks, etc., and be as gracious as possible. Trust your intuition and don't be afraid to let others help you, especially with the cleanup.
I've chosen some recipes that together comprise a substantial meal that easily serves six. This is vegetarian but for those of you who indulge in seafood or poultry, the Cilantro Pesto is quite good with shrimp or chicken. The Caviar, Hummus, and Chevre are best accompanied with an assortment of fresh vegetables (cucumber, fennel, carrot, endive, peppers) and breads (baguette, pita, sourdough, crostini, lavosch, etc.). There are lots of great-tasting varieties of hummus in most refrigerator aisles, so if that's an easier option for you I'd go for it. Do set out a nice dish of olives if you can. Many varieties are available these days—Kalmata, Amfisa, cracked Provencal, etc.
Drinks & Dessert: Simple is Best
I'd recommend keeping your selection of beverages to a minimum. Room-temperature mineral water is all the rage here in the States and appropriate to this menu.  Mint tea is excellent for the digestion and might make a nice offering after the meal.
Given that most of us wouldn't mind losing a pound or six of post-holiday-winter-lethargy indulgence, fresh fruit is the most desirable option for dessert. I wouldn't be too rigid about authenticity of culture here—just pick something fresh and what people will enjoy.
Good luck with your party. Stay calm. Go get a massage the morning of your fiesta and, remember, we writers have a lonely profession and love going to parties—smile.
Eggplant Caviar
1 large eggplant
2 cloves garlic
1/2 teaspoon salt
2 Tbsp. olive oil
1 Tbsp. lemon juice
1 cup fresh tomato, chopped
2 Tbsp. green onion, diced (use all)
2 Tbsp. fresh parsley, minced
1 Tbsp. fresh basil, chopped, or
1 tsp. dried basil, crushed
Cut the eggplant in half lengthwise. Bake, cut side down, on a greased cookie sheet at 400 degrees for 60 minutes. As the eggplant cools, gently squeeze out the excess water. Use a spoon to scoop pulp from the skin. Place in a bowl and mash with a fork. Using a garlic press, crush the garlic into the eggplant. Add all of the other ingredients and blend well. Cover and chill. Serve at room temperature.
Hummus
3 cups canned chickpeas, drained
1/3 cup tahini
1/4 cup lemon juice
1 tsp. salt
3 cloves garlic, halved
1 Tbsp. olive oil
1 Tbsp. paprika
1 Tbsp. chopped fresh parsley
Place the chickpeas, tahini, lemon juice, salt, and garlic in a blender or food processor. Blend until smooth. Transfer mixture to a serving bowl. Drizzle olive oil over the mixture. Sprinkle with paprika and parsley.
Sun-Dried Tomato & Cheese Spread
1/2 cup chopped sun-dried tomatoes
(not oil packed)
8 oz. chevre
2 Tbsp. fresh dill
1 clove crushed garlic
2 tsp. freshly grated lemon peel
1 tsp. freshly grated black pepper
3 to 4 Tbsp. milk
1/2 tsp. salt (optional)
Place tomatoes with enough water to cover in microwave and heat on high for 5 minutes (you want to maintain some firmness). Or just simmer these on the stove. Rinse with cold water and set aside. Meanwhile combine the other ingredients in a medium-sized bowl. Drain the tomatoes and mix them in.
Cilantro Pesto
Toss with 8 oz. of well-drained pasta of your choice. I prefer angel hair for this one.
1-1/2 cups fresh cilantro, firmly packed
1/2 cup parsley, firmly packed
1/2 cup Asiago cheese
1/2 cup of olive oil
1/4 tsp. salt
3 cloves garlic
1 tsp. each cumin & red pepper flakes
1/4 cup pine nuts (about 1 oz.)
Place all ingredients in food processor work bowl fitted with steel blade or in a blender container; cover and process until well blended. Makes about 1-1/4 cups.
Fresh Spinach with Feta & Pears
8 oz. fresh spinach
3 Tbsp. walnut oil
3 Tbsp. balsamic vinegar
4 oz. feta cheese, crumbled
2 fresh pears, peeled and thinly sliced
Wash and de-stem spinach. For the vinaigrette, whisk together walnut oil and vinegar. Season with salt and pepper to taste. Taste and adjust flavor by adding more oil or vinegar as necessary.
Add cheese and pears. Toss salad with vinaigrette. For a special touch, sprinkle with toasted walnuts.