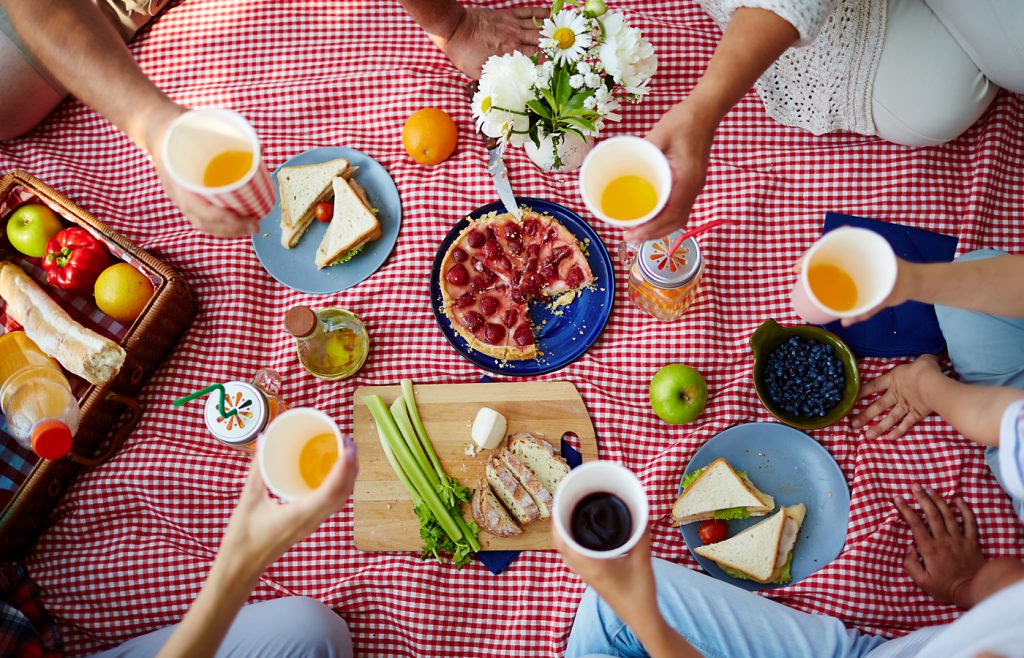 BY CAROL ZURER KLINE & ELIN VALENTINE
Picnics, plain or fancy, are one of spring and summer's great pleasures. Choose a beautiful spot—your backyard, a park, or lake or some other special spot—and just add food. Sometimes a stop at the grocery store is all you need for an impromptu picnic. Bread, cheese, and fruit are the simplest traditional picnic fare. (Try St. Andre Triple Cream, Sage Derby, or an herb jack.) Or pick up or make some sandwiches; avocado or BLT sandwiches are quick, or get some hot dogs, chips, and a watermelon, and head for the nearest park with a grill.
The recipes we've chosen are the "quick type," but any picnic can be made fancy and elegant with the addition of a beautiful picnic blanket or tablecloth, crystal, china, and silver, or even just a bottle of sparkling juice. These trappings are well suited to the ultra-elegant type of picnic—smoked salmon mousse and tiny raspberry tartlets sorts of things. (I admit I'venever picnicked quite to this degree, but it does look nice in magazines!)
So whatever your picnic style is, have a basket or tote stocked with napkins, a blanket, sunscreen, and bug repellent and anything else you're sure to need so you can be ready to picnic whenever the weather beckons!
Tzatziki (Cucumber Yogurt Dip)
This is served almost everywhere in Greece, and is especially delicious made with rich homemade yogurt. Complete your picnic with a Greek salad, some crusty bread, and some butter cookies and fruit.
1 large cucumber, peeled and shredded
1 cup plain yogurt
1 Tbsp. fresh chopped dill
1 clove garlic, finely minced
Pinch salt
Drain excess water from cucumber and yogurt and mix with remaining ingredients.Serve with bread or vegetables.
Marinated Vegetable Salad
(Serves 6-8)
Keep the lettuce separate from your marinated vegetable mixture until you are ready to eat. Then toss together for a wonderful mixture of crisp and tender, bright and fresh—colorful and complete!
6-8 handfuls romaine lettuce, washed, broken into bite-size pieces
8 new potatoes, cut into quarters
3 medium carrots, peeled and sliced on the diagonal
1/2 head cauliflower, broken into bite-size flowerets
2 small yellow squash, cut on diagonal
1 red pepper, medium dice
1/3 lb. feta crumbled (optional)
Dressing:
1/2 cup olive oil
2 Tbsp. lemon juice
4 Tbsp. wine vinegar
2 Tbsp. mustard (Dijon)
1 Tbsp. each chopped fresh basil, tarragon, and oregano
Salt and pepper to taste
Honey to taste (optional)
1. Put a pot of water to boil.
2. Place lettuce in a plastic bag with a paper towel. Place in refrigeratorto crisp while preparing everything else.
3. Boil potatoes till tender. Remove from water with slotted spoon.
4. Put carrots and cauliflower in water till tender (do not overcook) and remove with slotted spoon. Plunge into ice water to stop cooking.
5. Blanch yellow squash till just tender. Put in ice water to stop cooking.
6. Combine dressing ingredients and whisk till combined.
7. Add all vegetables to dressing and let marinate 2-3 hours.
8. Bring a bowl to toss lettuce and vegetables together. If using Feta, add now. Serve with mint or basil leaves on top for garnish.
Brownies
Very fast and delicious, and casual or very elegant, depending on how you serve them.
1-1/2 to 2 cups sugar
4 eggs, beaten
2/3 cup melted butter, cooled
1-1/2 cups flour
1 tsp. baking powder
1 tsp. vanilla
3/4 cup cocoa
1 cup chopped nuts (optional), hazelnuts are especially tasty
1. Preheat oven to 350°.
2. Mix all ingredients together well.
3. Pour into a greased 9″ x 12″ or 10 1/2″ x 15 1/2″ pan.
4. Bake about 30 minutes for the smaller pan, about 20 minutes for larger.Don't overbake—remove brownies when they are just done—there may be a crumb or two on the toothpick when you test them.
5. Cool in pan. If using the larger pan size, you can cut out shapes(hearts, etc.) with cookie cutter and dust with powdered sugar. Very easy and elegant. Serve on a fancy plate for even more elegance! Or serve with chocolate sauce and whipped cream or ice cream. Mint chocolate chip ice cream is great.
Holly Moore's Pineapple Bars
1 small can crushed pineapple in syrup
1/2 cup sweetened coconut
1-1/4 cups flour
1/2 cup butter, softened
3 Tbsp. powdered sugar
2 eggs, slightly beaten
1/2 tsp. baking powder
1/4 tsp. salt
1 tsp. vanilla
1. Preheat oven to 350°
2. Cream together only 1 cup flour with the butter and sugar. Spread in an 8″ square pan and bake 20-25 minutes.
3. Combine remaining ingredients and spread on top of cooked pastry.Bake for 25 minutes. Cool and cut into bars.
Fruit with Honey & Mint
(serves 4)
Simplicity is soothing and delicious. Keep cold in ice chest till readyto serve.
1 ripe honeydew melon, cut into bite-size chunks, or
1 pint of strawberries, hulled and halved, or
6-8 perfectly ripe apricots, diced into large pieces, or
4 oranges, peeled and white removed, sliced, or
1/2 fresh pineapple, peeled, cored and sliced
Honey to taste
2-3 Tbsp. or more chopped fresh mint to taste.
Mix all ingredients and serve.