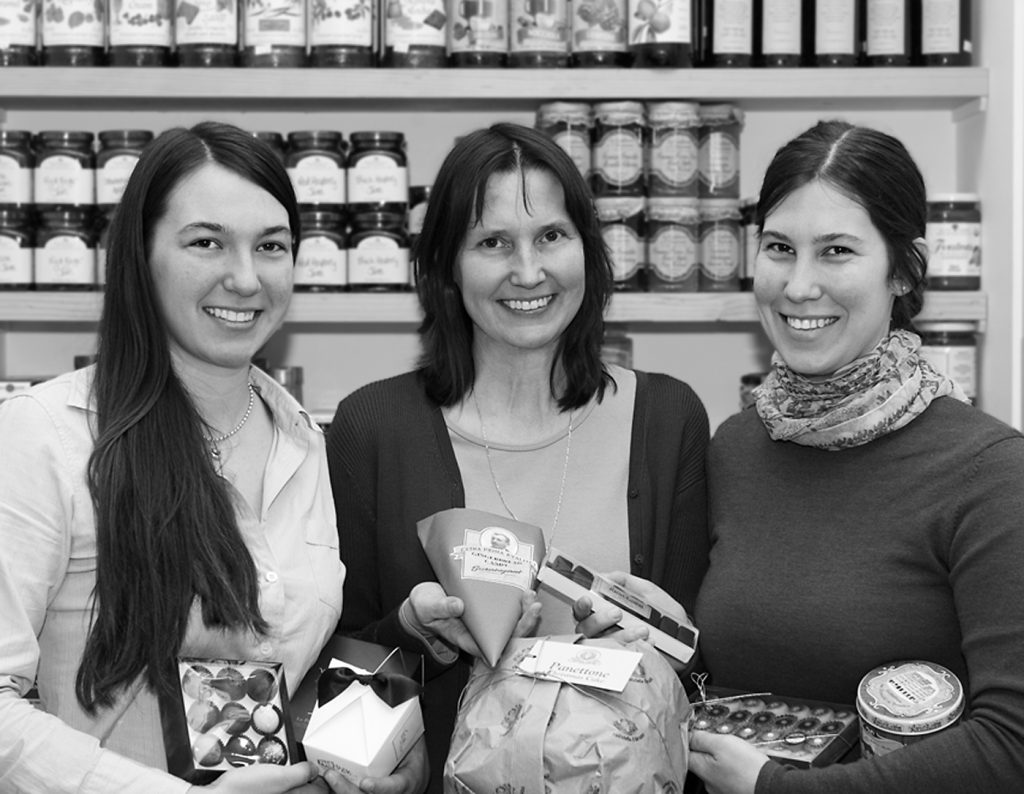 Chanukah, Christmas, and Kwanzaa are upon us, and this month brings to mind two of my favorite things: food and giving. As someone who prefers to keep things as simple as possible, I am a proponent of combining the two. I love to give, and receive, good food. With the exception ofthe often maligned fruitcake, I've heard no complaints over the years about the proffer or receipt of any yummy edible offering.
While there is much to be said for surrendering to any given year's trends or flights of fancy, this year's model in the world of culinary beneficence is one of classics and standards, with the occasional sprinkling of international flare. Aligning yourself with the usual suspects is what I'm recommending and what I've been counseled to do. Trusted standbys such as cheese, chocolate, and baked goods are back in vogue, and deservedly so. What's so wonderful about life here in Iowa is how easily these things can be accommodated with both a palatable and conscionable twist. Supporting locally owned businesses and cooperatives can make anyone a popular and sophisticated bestower.
Deep, Dark, and Divine, Everyone Loves Chocolate
Last October, a trade show exhibiting chocolate in conventional and original forms opened in Paris awash with vendors, buyers, and fans from around the world eager to take a peek and taste all things cocoa. Even Miss France 2004, Leatitia Bleger, got in on the action modeling a 13-foot-highumbrella made entirely of what any purist will tell you must be brownand never white. Some also suggest the best should, in fact, be French.When we're talking Vosges chocolate no one is going to get any argumentfrom me. In Fairfield, at 52 N. Main Street, the At Home Store has an assortment of this exclusive delicacy in bar, elixir, and truffle form.Despite what have traditionally been very exclusive distribution rights( Vosges "boutiques" in the States can only be found in Chicago,Miami, and New York) owner Rosie Witherspoon is able to deliver the goods.
Most Iowans need no reminder that an extraordinary truffle is an elusive and exclusive affair. Thankfully, in this case we need not spend an inordinate amount of time in the woods hunched over or chasing around a beloved or ill-tempered pig. My choice this holiday season is the Vosges nine box assortment featuring such exotic bonne bouches as the Black Pearl with Japanese ginger, wasabi, black sesame seeds,and dark chocolate; the Naga with sweet Indian curry, coconut and milk chocolate; and the Budapest with sweet Hungarian paprika and dark chocolate. Anyone who would turn up their nose at such an indulgence would probably prefer a fruitcake(or a pot-bellied pig!). Rosie sells many other international gastronomical delights, as well as an assortment of gorgeous baskets. She and her staff will be happy to throw together an appropriate selection for anyone onyour gift list. As my eight-year-old niece, style maven, and quintessential California girl Emma informed me recently, "Gift baskets are way cool!
Cheese, Made the Old-Fashioned Way
In all things cheese, I consult my local expert, Robert Morey, the "cheese guy" at Iowa City's New Pioneer Co-op  (22 S. Van Buren St.). Morey steers me in the direction of several cheeses that would make wonderful offerings in their own right or excellent additions to that "cool" gift basket, a service New Pioneer will also happily provide. The firstis from an Amish co-op dairy in Cresco, IA, called Schwarz und Weiss, which produces a product "unlike any other cheese I've had before," says Morey. He's impressed with the dairy's "traditional,old-fashioned operational style and the subtle yet precise nuance of its product's flavor." Morey also impresses upon me that it is impossible to go wrong with any cheese imported from Neal's Yard,the famous cheese shop in London. New Pioneer carries three that Robert is especially fond of, the Colston Bassett Stilton, the Cashel Blue from Ireland (this writer's favorite), and its original Cheddar, which Morey swears "is the best in the world and an extraordinary eating experience."
Something from the Oven . . . But Not Necessarily Yours
One of the more delectable options for baked goods in eastern Iowa can be found at Deluxe Bakery at 812 S. Summit St. in Iowa City. Owner and pastry chef Jamie Powers can provide you with one of her increasingly popular assemblages of Petit Fours, Russian Tea Cake, Linzer, or Thumbprint Cookies in a custom pink box with ribbon for less than $10. These goodies would make affordable and delectable (Deluxe is aptly named, I promise) gifts for co-workers, teachers, neighbors, or beloved postal workers. I would also suggest one of Ms. Powers' party-sized tortes or cheesecakes,an offering any recipient would be out of their minds to quibble with.Be sure to make time to sit and enjoy a cup of coffee while stopping byDeLuxe. The eternally hip antique suburban ambiance is a dream come true for this former urbanite non-traditional traditionalist.
Other Goodies
Locally roasted organic coffee, imported herb tea, and organic fruit and wine also make excellent gift selections and will help complete any assortment. Whether you choose to construct your own basket or have a professional do it for you, bear in mind that treating others as you'd like to be treated is a time-honored and rewarding rule of thumb. As a matter of fact, putting yourself somewhere on your food gift list is as something I would enthusiastically recommend.