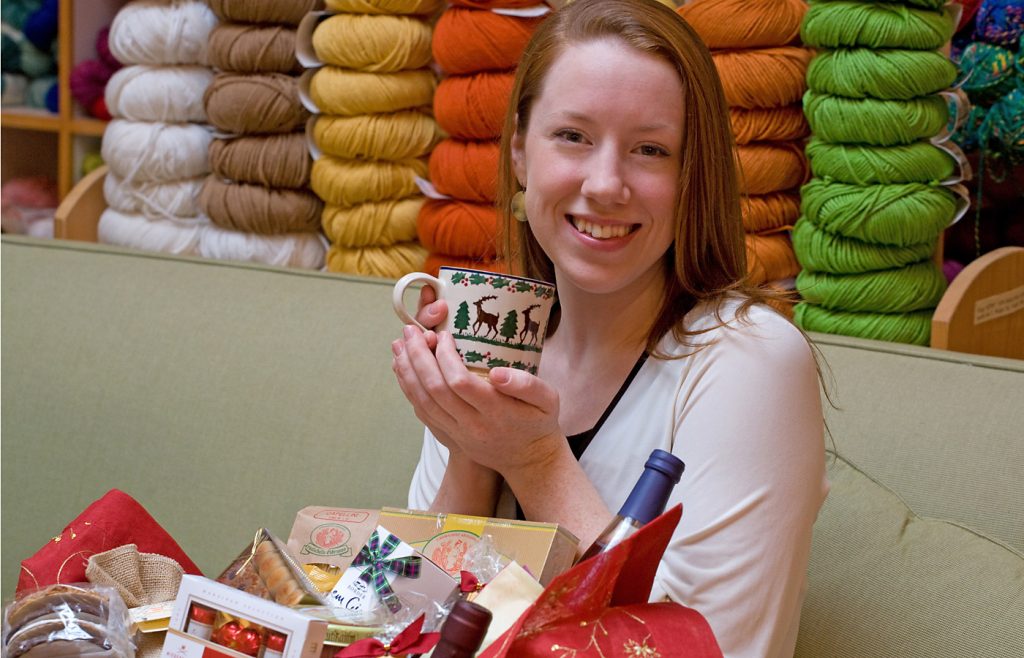 One of the things I most look forward to at the holidays, besides visiting with family and taking a break from the grind of college life, is all the wonderful food. It's in your face, everywhere you go—gingerbread houses in storefront windows, hot cocoa and apple cider in local coffee shops, a myriad of turkey recipes shouting from magazine pages and television screens. It's no wonder the most popular New Year's resolution is to get to the gym!
Everyone loves food. Everyone needs food to survive. So what better way to satisfy your loved ones' gluttonous urges than to treat them to tantalizing tidbits for the holidays? Shopping for food gifts needn't be stressful, as long as you know where to look. Just make sure to steer clear of the fruitcake. As the late Johnny Carson once remarked, "The worst gift is a fruitcake. There is only one fruitcake in the entire world, and people keep sending it to each other." Thus, I've compiled a wide range of gift ideas, but have graciously left out the fruitcake. Check out these regional retailers for fabulous holiday food gifts:
The Prairie Table
The Prairie Table, Iowa City's mecca of gourmet delights, has all sorts of delicious offerings from around the world, ranging from salts, cheeses, and salamis to wines and teas. Owner Ron Gleitman showed me a vast array of vinegars and olive oils (about 30 and 50 varieties, respectively) and even let me sample some of the most popular. I tried a rich, syrupy balsamic vinegar called Villa Monodori Artigianale, which was sweet enough to drizzle over ice cream, yet smooth enough for salads and meats. Once I recovered from my state of balsamic ecstasy, I sampled two extra virgin olive oils—the exquisitely silky Laudemio, and the aromatic garlic- and thyme-infused A L'Olivier. Any of these lush products would make a perfect addition to an Italian-themed gift basket. Throw in some colored Italian pasta, a jar of Dean and DeLuca Vodka Sauce or Bella Cucina Artichoke Lemon Pesto, and a bottle of Sangiovese, et voilà! A feast awaits your lucky recipient.
The Prairie Table deli boasts a wide selection of cut-to-order meats and cheeses. Some popular meats are Piller's Caliente Spicy Salami from Canada, La Quercia Prosciutto, and Wild Boar Sausage. I enjoyed sampling a slice of the mouthwatering Fra'Mani Salami from Berkeley. Among the dozens of cheeses displayed, I spotted a three-year-aged Dutch Gouda, Drunken Goat Cheese from Spain, Manchego, and Extra Sharp Cheddar.
Locally made Bochner Chocolates can also be purchased at The Prairie Table. About 30 types of the visually dazzling confections are in stock, including Violet Lavender, Gingerbread, Razzmatazz, Blood Orange, and Dark Lime (my favorite of the ones I tried—tart with a creamy liquid center reminiscent of key lime pie).
The Java House
The Java House in Iowa City has a selection of bulk coffees that will satisfy any java lover—29 varieties total, including seven fair trade organic types, such as the rich and smoky Sumatra Dark, or the brown-sugar-hinted Guatemalan Hue Hue Tango. Two of the most popular coffees sold whole-bean are the signature house blends American Gothic and St. Louis Blues. Also available are several single estate coffees, including the tropical and tangy Hawaiian Kona and the mild, sweet Tanzanian Peaberry. Any of these would make a delightful gift for your dearest coffee connoisseur.
At Home Store
Rosie Witherspoon's At Home Store on the Fairfield square is one of my favorite shops. Already chock-full of gourmet goodies, yarns, and luxurious lotions and soaps, this tasteful establishment is brimming with even more enticing treats than usual. Some of the delicacies are stollen (Christmas bread) and lebkuchen (spice cookies) from a German bakery, panettone (Christmas cake) and panforte (a dense confection) from Italy, and cookies (whose name translates into "ugly but good") from a small Italian bakery where Rosie knows the baker. This personal touch on many of At Home Store's items is appealing; for example, Rosie has also met the owners of a small family farm at the base of Mount Fuji from whom she orders Japanese green tea of the highest quality. And she carries Traditional Balsamic Vinegar of Modena, which is produced at Acetaia del Cristo in Italy, a farm at which her daughters recently worked for four months.
A few other specialty items to look for: organic Merlot or Cabernet grape juice from Bordeaux, France; Pickle Creek Herbal oils and vinegars, locally infused with garlic and herbs; and several delicious (not to mention aesthetically pleasing) types of marzipan.
The Chocolate Café
Also on the square in Fairfield is the Chocolate Café, which opened a year ago. For the holidays, they will have Pumpkin and Egg Nog cheesecakes available, as well as their regular kinds (Strawberry or Raspberry Swirl, Vanilla, Chocolate, and Irish Cream). Any of their cheesecakes can be made to order, however, if you don't see one that strikes your fancy. Keep an eye out for the special red wine truffles, as well as the rich dark chocolate truffles, which are owner Mario Van Dijk's favorite confections. The chocolates I tried were all sublime: lemon ganache, with a velvety middle that was lusciously sweet, not tart; rum and cream, with a filling so light it was almost like whipped cream; and hazelnut cream, which had a texture like chocolate mousse and a subtle hazelnut essence.
Jasper Winery
To find a gift for the oenophile in your life, look no further than Jasper Winery in Newton. The winery was mentioned in The New York Times in November 2006 by chief wine critic Eric Asimov. He gave a nod to two of their wines, the Behind The Shed Red (a full-bodied, nonvintage blend of three Midwestern grape varieties—Chancellor, St. Croix, and Geneva Red) and the 2005 Chancellor (a dry red with spicy aromas of cassis and blackberry). Owner Jean Groben also recommends the semi-sweet Backroad, their most popular white wine, which she likens to a Riesling. Jasper Winery creates a fun twist on the gift basket idea—theirs are actually gift buckets! A bucket with the winery's classy black, white, and red "J" logo can be filled with your choice of wines and accessories. Some of the gift items you can include in a bucket are logo-etched wine glasses, "got wine?" t-shirts, wine books, chocolates, cheeses and crackers, corkscrews, and wine napkins.
As you can see, epicurean delights abound in Iowa. Make sure to share these palate-pleasers with your friends and family this holiday season (and don't forget to indulge in a few goodies yourself along the way).
See the index for more Recipes, Iowa Restaurant Reviews and articles on Food.