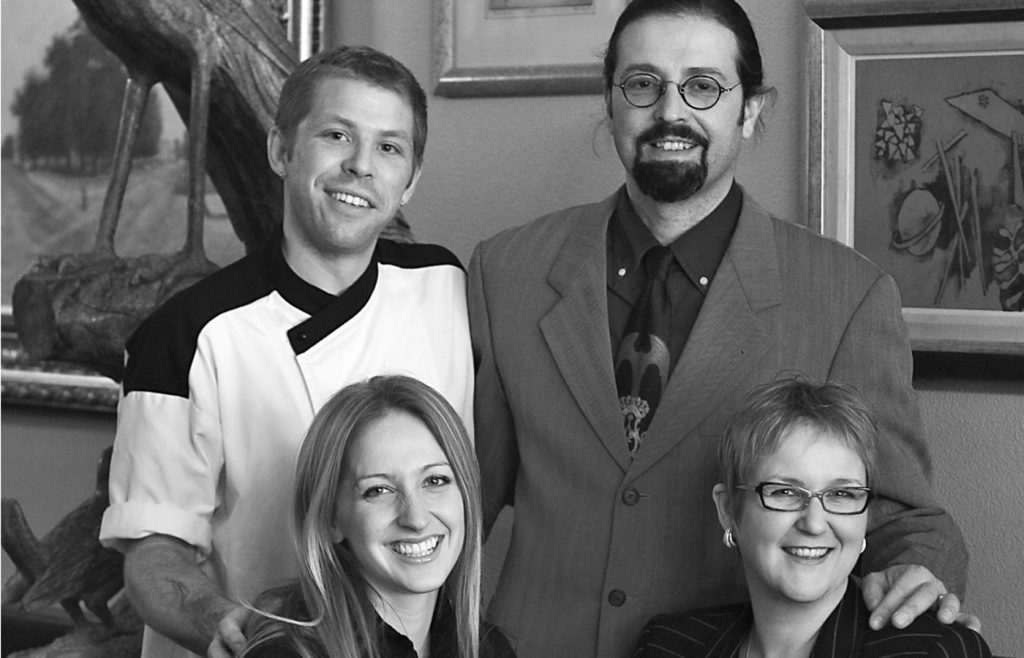 "The discovery of a new dish does more for human happiness than the discovery of a new star," wrote 19th century politician and gourmet Jean Anthelme Brillat-Savarin in La Physiologie du Gout, his witty treatise on the art of dining.
We at The Iowa Source tend to agree. Clearly, so do our readers, multitudes of whom cast votes of loyalty for their favorite dining hotspots, from Burlington to Waterloo. This year, in our second annual Readers' Choice Regional Restaurant Contest, the total number of voters more than tripled. Which means more of you have more to say about your discoveries of stellar restaurants and sumptuous dishes in our area.
Here are this year's culinary superstars. We (and voters across the region) encourage you to pay them a visit. Bring your appetite.
Best of the Region: Cafe Dodici
Owner: Lorraine Williams; Chef: Adin Wheat. Washington, (319) 653-4012
A relatively new kid on the block, Café Dodici opened its charming doors little over a year ago. During that time, the ambrosial Italian eatery has earned a wildly enthusiastic and expanding following of diners.
A cross between a softly lit Renaissance art gallery and a laid back European café, Dodici brims with quality artwork, refined music, and inviting aromas. Exquisite paintings, tiles, and sculptures from owner Lorraine Williams's own international collection—from the likes of Italy, India, and Africa—grace the walls and floor space, along with elegant wooden tables and soft cushions.
Self-taught chef Adin Wheat, an experienced, intuitive genius, whips up all manner of international and American cuisine, with strong overtones of Italian and European fare. Warm up with the Tuscan Tray—a mosaic of fine meats, cheeses, fruits, and more—dive into the Pistachio Encrusted Lamb, Grilled Swordfish, or one of many rich pasta dishes, and finish off with a bubbling crème brulee or creamy tiramisu. Sip some of the region's best coffee, or linger over a glass of fine wine. The menu offers many dishes which, whether you're a vegetarian or a meat-eater, will "nourish the home of your soul."
Word to the wise: In a month or so, Lorraine will be opening Dodici's,a "food-to-go" gourmet shop/café, right beside her restaurant. Dodici's shelves will be stocked with fine food and kitchen items, and the café will serve sandwiches, desserts, chocolates, drinks, and other quick picks.
Our Favorite Comments:
"Cafe Dodici's food and ambiance compare  favorably with the finest restaurants in Seattle. The delicious and genuine Italian cuisine would make it a favorite in the North Beach Area of San Francisco, where there are dozens of fantastic Italian Restaurants."
• "I've been to Italy and this establishment is the real thing."
• "The very ambiance and quality of this restaurant cleanses the palate and the soul. Eating at Café Dodici refreshes the soul and fine-tunes the human spirit."
• "Café Dodici has everything—great food, beautiful setting, gorgeous presentation, excellent service—makes it worthwhile to go out to eat!"
• "If you eat appetizers, soup, salad, entrée, and dessert, you need to be wheeled out."
Other Finalists
Iowa City's slow-food gurus at Devotay came in at a close second. "Dey-votees" lauded the restaurant's regional yet exotic cuisine: "Because the variety is amazing, very seasonal, we feel like we are on a vacation when we go there . . . and we're only a few blocks from home!" Mt. Vernon's Lincoln Café is a big hit with gourmands and gaffers alike: "A wonderful gem of a place with exceptional food! It's also a great place to take your kids—they eat burgers while we eat gourmet." Fans of Iowa City's upscale Linn St. Café say it's "the ideal place to take that special someone," and patrons of Iowa City's bustling, eclectic Motley Cow Café claim the constantly changing menu is "always creative and delicious."
Best Pizza: Revelations Café & Used Bookstore
Owners and chefs: Betsy Howland, Jennifer Howland, Joan Allen, and Julie Stephens. Fairfield, (641) 472-6733
Three lovely sisters and their charming mom started a used bookstore nine years ago and started offering incredibly good pizza on Saturday nights. Word spread, one thing led to another, and a café was born.
At the heart of Revelations' popular pizza enterprise is an Italianwood-fired oven, in which pies are baked to crispy-crust perfection at a fiery 750 degrees in only 3 to 5 minutes. "It takes finesse int he cooking stage," says Julie Stephens. That and special attention to each order (nothing mass produced here), using the highest quality, mostly organic ingredients.
Members of the Buy Fresh Buy Local campaign, Revelations supports seven different local farms, using whatever is fresh from the fields to try unexpected combinations. "If they have eggplant, we do eggplant," Julies ays. Some of the pizzas forego tomato sauce in favor of a pesto or olive oil base.
Not surprisingly, their namesake pizza is their best seller, a glorious concoction of pesto, Portobello mushrooms, carmelized onions, roasted red peppers, artichokes, cheese, and tomato sauce.
Our Favorite Comments
"Sublimely delicious."
• "The ingredients are so fresh, and their stone pizza oven makes the pizza great."
• "Yummy and healthy!"
• "Delicious wood-fire pizzas that taste so fresh and delicious!!! Good choice of vegetarian toppings instead of the usual green pepper and mushroom variety at other restaurants."
Other Finalists
Iowa City's Pagliai's has legions of devoted fans ("I challenge anyone to beat this pizza!" "There is no other pizza!") and their pizzas have been winning over locals for generations: "I grew up eating their pizza and haven't gotten over it."
Coralville's Wig and Pen won raves for their great variety, especiallythe Flying Tomato-style pizza, a thin-crust, pan-baked pie covered withfresh slices of tomato.
Voters for Tomaso's in Cedar Rapids praised "a true homegrown original" as "the best, the best, the best!"
Best Stick-to-your Ribs Food: Jimmy Jack's Rib Shack
Owner: Jack Piper and James Adrian; Head Chef: James Adrian. Iowa City,(319) 354-RIBS
Hold your horses! Young gun Jimmy Jack's Rib Shack, established in 2005, has clearly nosed ahead as the area's champion of down-home cooking. Readers across the region lauded the venue's tender, flavorful, slow-cooked barbeque and smoky (as in BBQ smoke), bluesy pub atmosphere.
If you're looking for food that satisfies, hour after hour, head down to Jimmy Jack's for smoked turkey, ham, savory brisket, and of course, finger-lickin' ribs. Vegetarians: fear not! The chefs have created a smoked Portabello sandwich just for you, complete with provolone and roasted red peppers. There's also delicious cornbread, BBQ beans, creamy coleslaw, and fries. Finish your meal with tasty cookiesfrom Deluxe Bakery.
At Jimmy Jack's just about everything is made in-house. And stick to your ribs it does (in a good way).
Our Favorite Comments
"The ribs blow your mind."
• "Finally, a great barbecue joint here in town—the baked beans are great."
• "I get really cranky when I'm hungry. One deep breath outside Jimmy Jack's was better than eating ribs at Chili's. And the actual rack of ribs inside was fantastic."
Other Finalists
Longtime IC favorite diner Hamburg Inn cleaned up lots of votes, too.One fan wrote, "I love this place! At least once a week I get an omelette here." Said one fan of IC's Mickey's Pub, "They have the best clam chowder, best burger baskets, and everything else isserved huge. Top it off with a beer or two, and you are fed." Another reader introduced us to Al and Irene's, in Cedar Rapids: "Stick to your ribs is right—they offer all sorts of wood-smoked meats in a casual atmosphere. Their irresistible French fries are true French fries."
For more vegetarian palates, Iowa City's Oasis received acclaimfor their "salads that stay with you all day, in a good way," andFairfield's Entrée Café (which serves both veggieand non-veggie fare) inspired one reader to write, "I am a vegetarianbut I love the mashed potatoes and veggie gravy with tofu cutlets!" Der Sommerkuche in Kalona also seemed to do the trick: "The food hereis filling and reminiscent of the area of Amish Mennonite culture—Great!"
Best Vegetarian: The Red Avocado
Co-owners and chefs: Dave Burt, Katy Coonfield, and Rachael Langin.Iowa City, (319) 351-6088
It may seem an obvious win, but truth be told, there are heaps of restaurantsin the region serving top-of-the-line vegetarian sushi, tapas, sandwiches,salads, and entrees. Yet for the second year in a row, The Red Avocadoemerges as the undisputed winner.
True, the Red Avocado is the area's only restaurant devoted solelyto vegetarian fare. But what sets the restaurant apart is the owners' commitmentto offering as much organic, non-genetically modified, and locally producedingredients as possible. More than just delicious food, the Avocado representsa way of life.
That said, the dishes are pretty out of this world. Yam paté tickleyour fancy? Exotic quinoa salad, thai coconut pesto, Portobello-tofu-walnutbake? Or perhaps you want to tuck into pine-sesame encrusted tofu withcoconut-lime sauce, pumpkin seed rice, and the vegetable of the day? Topit off with a house-blend tea or freshly squeezed juice, and you'rewell on your way to a vitamin-packed, energy-rich, eco-conscious day.
Our Favorite Comments
"Great vegetarian menu, coconut corn soup is amazing!"
• "Very cozy and eclectic, quiet atmosphere where people are really just enjoying the food, as it tastes incredible. Definitely does not feel like your typical Iowa restaurant."
• "Funky, vegan-friendly, California-esque interior."
• "The 'Cado is superb! Vegan organic and local organic foods. The art on the walls is spectacular and the outside patio in the back is intimate, warm, and earthy!"
Other Finalists
Vegetarians and vegans alike lauded other regional establishments whocatered to their needs. Devotay won the hearts of many.Said one woman, "I'vebeen a vegetarian for 30 years and at Devotay I can always find somethinginteresting to eat." Sandwich fans praised NewPioneer Co-op: "Allkinds of sandwiches are offered (vegan, vegetarian, meat, and fish) andthey are all creative in the combination of ingredients." Fairfield'sThai Deli earned praise for its "delicious, well-balanced,and satisfying vegetarian food." Enthused one parent, "Mytwo-year-old savors every drop!" IC's Masala wasa huge hit as well: "Everythingon the menu is vegetarian and many items are vegan to boot." IC'sIndia Café, Oasis, and Givanni's rakedin the votes, and the Szechwan Village in Coralvilleinspired one reader to write, "Theyhave three menus—Japanese, Thai, and Chinese—and a vegetariancan find something to eat! Bonus: the restaurant is in a house!" Provingthat a picture's worth a thousand words, one voter doodled heartsbeneath her vote for Gupta's, a Fairfield Indian eatery.
Most Unique Ambiance:
Devotay & Café Dodici
Devotay: Owners: Kurt & Kim Friese; Chef: Jared Dieter. IowaCity (319) 354-1001.
Cafe Dodici: Owner: Lorraine Williams; Chef: Adin Wheat. Washington,(319) 653-4012
Clean and tasteful are bare necessities in the world of restaurant décor,but some of our region's more creative restaurateurs realize thatpatrons ingest a lot more than food when they dine out. Devotay and Café Dodicitied as this year's ambiance afficionados.
Walk into Devotay, and you'll find a laid-back yet upscale diningenvironment complete with a floor-to-ceiling wall of windows, happilymismatched tables and chairs, motley linens, colorful paintings, softcandles (at night), and a sneak-peak view into the bustling kitchen. Mouthwateringtapas and meals are served on homemade pottery, and if the easy eleganceof it all doesn't get to you, the divine flavors will.
Not every burg of 7,050 in Iowa is insanely lucky enough to have an Italianoasis tucked away inside four walls on the town square. But Washingtonis. Thanks to Washington native and Café Dodici owner LorraineWilliams, there's a little nook of European paradise in town. Importedinternational art, sleek wooden booths, comfy cushions, gourmet presentation—andof course, gourmet food!
Our Favorite Comments
"It's hard to believe a place with two walls of windows can be such an intimate dining experience. There is a great ecletic mix of pottery and tschotkes at Devotay. The food is best part, though!"
• "From homemade pottery to children's books and candelabras covered in wine glasses, Devotay takes the cake."
• "Café Dodici is highly unusual in our small town. It has a very classy ambiance which competes very successfully with the very finest of restaurants. Once inside, one is surrounded by the finest of furnishings, fine art, and classical music. Eating at Café Dodici is a total escape from the concerns of everyday life."
Other Finalists
The Red Avocado was praised for its easygoing, eco-conscious décorand "awesome bathrooms." "The overall ambiance is veryearthy," wrote one fan, "I especially enjoy the moss room." Fansof IC sushi hotspot Takanami lauded the restaurant's hip decor. "Lovethe fish tank," enthused one voter. Jimmy Jack's RibShack (IC) had fans praising the "old tools" and "killer bluesmusic," and world cuisine chef Soleil Banguid's newly openedThe Solar Store was lauded for its cheerful decor and custom ginger drinks.Over in Fairfield, a fan of Café Paradiso wrote, "Rock 'n' rolldances, folkie concerts, art documentaries, the mood in here is alwayschanging, always charming, and always inspirational!" The town'sRevelations Bookstore and Café inspired another reader to write, "Ilove eating there in different nooks and crannies amongst the shelvesof books."
Most Delicious Ethnic: Petit Paris
Owners and chefs: Marie-Hélène and Matthieu Tourenne. Fairfield,(641) 470-1624
Patrons entering Fairfield's Petit Paris say au revoir to Iowafor a French mini-vacation and the chance to dine on crepes and quiches,plus fresh soups, sandwiches, salads. "It's not a fussy menu," sayswhirlwind hostess Marie-Hélène Tourenne, but that said,you'll find such refined specialties such as duck confit and coqau vin listed along with many other enticing dishes.
Co-owners Marie-Hélène and her 22-year-old son Matthieudrawn on their native Gallic sensibilities to choose the finest ingredientsand combine them with finesse. They search out locally grown, often organicingredients, and import special products from France. Breakfast includesreal French toast and fluffy omelettes, and the dessert menu profferssuch luxuries as Charlotte aux Fruit Rouges and rich French ice cream.
Parlez-vous Francais? Petit Paris hosts a French immersion night onthe third Saturday of every month for French speakers of all abilities.Bon appetit!
Our Favorite Comments
"It is quaint. It is unique. It is so French."
• "Where else can you find a full menu of such delicious organic French cuisine in southeast Iowa?"
• "Speak French with Madame Tourenne while you dine on crepes in front of the terrace."
Other Finalists
In a category with so many choices—Mexican, Italian, Asian, MiddleEastern, and more—voters often responded to the restaurant'sfriendly feeling as well as the exotic food. Regulars lauded "fantasticallyfriendly" owners at Thai Flavors in Iowa City: "Pak is notonly an amazing cook, but a noted humanitarian. The feel-good restaurantof the year!" Great falafels and quality authentic food draws fansto Oasis in Iowa City. Masala's Indian buffet is "burstingwith joyfood!" Fans of Azteca in Fairfield heralded its great Mexicancuisine, tasty chips and salsa, fresh juices, and wonderful people. AtCafe Dodici, one voter singled out their Spinach Torgelina Biano for abig "YUM!"
Most Romantic: Café Dodici
Owner: Lorraine Williams; Chef: Adin Wheat. Washington, (319) 653-4012
As one voter wrote, "Trust the Italians where romance is concerned." OwnerLorraine Williams, originally from Washington, IA, spent 25 years livingin Italy, the official Land of Amore. Clearly, the woman has picked upa secret or two.
From the subdued lighting to the sensuous atmosphere, from the sumptuousdishes to the enticing presentation, Café Dodici has atmosferaromantica down to an art. Literally.
Our Favorite Comments
"The colors, the artwork, the attentive staff, and the food itself is thoughtfully geared to making an evening out a seductive experience."
• "Even the sidewalk tables, with the view of beautiful Central Park Memorial Fountain, can transform you to a romantic Southern European type dining experience."
• "The colors, lighting, art, the cushions on the bench seating, the cozy nooks and corners, all make for a romantic setting where we forget where we are as we enjoy exotic dishes for hours!"
Other Finalists
Voters hailed IC's Linn St. Cafe as "THE place to take thatspecial someone," and one said of Venuto's World Bistro, "Thecharm is in the back room." Some Devotay fans used discretion intheir praise, "My best dates have been here. The windows and candlelightand warm soul of the place are intoxicating," whereas others leftno holds barred: "It's the place I make all men take me beforewe have sex." IC's Taste on Melrose scored points for "excellent,dim setting," and the town's Linn St.Café was laudedfor being "such a romantic place!" One MotleyCow fan said, "Ilove the closeness and the relaxed environment. It is slow dining andI always have a romantic evening there." The TuscanMoon in Kalonainspired one voter to write, "On a summer night, live music, attentivestaff, food, second to none!"
Best Sandwiches: New Pioneer Co-op
Chefs: Chef B (Nancy Preisendanz) and Elizabeth Weinberg. Iowa City,(319) 358-5513 and Coralville, (319) 338-9441
When it comes to sandwiches, freshness matters. That's why NewPi is our hands-down two-year-in-a-row winner. Iowa Source readers likea sandwich that's as wholesome and nutritious as Mom used to make—andin some cases, even better!
The construction of a New Pi sandwich involves a foundation of freshbakehouse bread, several storys' worth of all-natural tofu, delimeats, or cheeses, and a finishing face of vitamin-rich produce and garnishes.
The New Pi sandwich menu selection lacks nothing in creativity, witheverything from Hot Salmon Roast and the Brie Beast to The Sky isFalling in Philly, Papagayo, the Vegan Cajun Tofuwich, Cashew on aHot Tin Roof, and lots of other wildly delicious creations our mothersnever served us.
Our Favorite Comments
"Always fresh, always delicious."
• "Love the freshness, variety, and the flavorful combinations."
• "Fresh organic choices and yummy breads and spreads."
Other Finalists
Fairfield's Revelations Bookstore and Café was a clear second-runnerup, praised for their "great vegetarian choices, great wraps, andpaninis." Regulars were all revved up about Rev's sandwiches,saying they were "Fresh, unusual. Not your average Iowa food," aswell as "Innovative, attractive, a good value, and really TASTY!" Atlas'ssandwiches were hailed for "filling portions" and for being "reallytasty," and one Jimmy Jack's zealot exclaimed, "TheSupreme rocks!" One indecisive Venuto's World Bistro fan mourned, "I'msorry, but I could not possibly choose one of these over the other," andanother Oasis enthusiast philosophized, "A falafel with everythingon it—what else does one need?"
Most Luscious Desserts: Cafe Dodici
Owner: Lorraine Williams; Chef: Adin Wheat. Washington, (319) 653-4012
Mmm, la dolce vita. What better way to top off a delizioso meal thanwith a little slice of heaven? By landslide vote, Café Dodici onceagain takes the cake.
No waxy, half-frozen tiramisu here. Dodici dishes out the real deal,made with the finest ladyfingers, espresso, cream, and other decadentingredients, for a true Italian "pick me up" (the literaltranslation of "tirami-su").
Or perhaps you prefer a creamy slice of Key Lime Cheesecake. A bite oflightly spiced Carrot Cake. Some expertly carmelized crème brulée.Any way you slice it, Dodici will sweeten your palate.
Our Favorite Comments
"Desserts are an important aspect to the Dodici experience; whether a two-serving fruit cobbler with spiced cream or a Chocaholics Dream, great care is taken with preparation and presentation."
• "The freshest, most delicious tiramisu ever."
Other Finalists
Atlas in Iowa City was praised again and again for theirgreat desserts and crème brulée, along with their chocolatecake "withwarm gooey chocolate inside, mmm—it's to die for!" LinnSt. Café was purported to serve "the best, mostluscious, out of this world, melt-in-your-mouth treats to top off a romanticmeal," andone couple exclaimed, "The flourless chocolate torte with espressomouse had us saying 'Wow!' after every bite." Over inFairfield, Regina's desserts are "alwaysrich enough to share!" andPetit Paris has fans gushing, "Between their sweetcrepes, imported French cakes, incredible gelatos, and filled croissants,Petit Paris is definitely Dessert Heaven." Of Devotay,one voter raved, "Haveyou tried their bread pudding with caramel sauce? My God!" LincolnCafé inspired one reader to write, "Small selection,but always fresh, original, and succulent. The sorbets are outstanding."
Best Coffee: Cafe Paradiso
Owners: Steve Jacomini and Merit Amick. Fairfield (641) 472-0856
A musician by trade and a coffeehouse owner by enchantment, Steve Jacominidiscovered good coffee in Berkeley in the late '70s, "andfrom that point on I was pretty much obsessed and always trying to figureout how to make it better." Better? Our readers say he has morethan succeeded on that point.
Years of daily research on the conundrum of the perfect brew convincedSteve that espresso is "the best hands down method of brewing coffee." It'salso the most labor intensive. "You can't just turn on themachine and make a good shot," he explains. "It takes constantattention."
And absolute freshness. Steve uses the best quality free-trade organiccoffee available, roasts it every day, and grinds it fresh for every cup.
As committed to the coffeehouse as he is to the coffee, Steve regularlyhosts concerts, movie nights, and other events on the stage where LynDurham's "Oracle of Delphi" mural watches benignly overthe buzz.
Our Favorite Comments
"Not only the best cup I've had in Iowa—the best I've had ANYWHERE!"
• "Undoubtedly the best tasting espresso around—and such sweet and caring owners!
• "I've brought friends here who didn't like coffee, and they liked the coffee at Café Paradiso."
• "Café Paradiso is my favorite place ever! I spend my whole damn day there."
Other Finalists
Java House's many fans come back again and again for coffee thatis "second to none!" One especially satisfied customer mused, "I swear there must be liquid crack in the coffee for it jumpstarts me like no other! Always brewed fresh and strong." At Cafe Dodici, "their cappucinos are great, but even their regular coffee is divine!