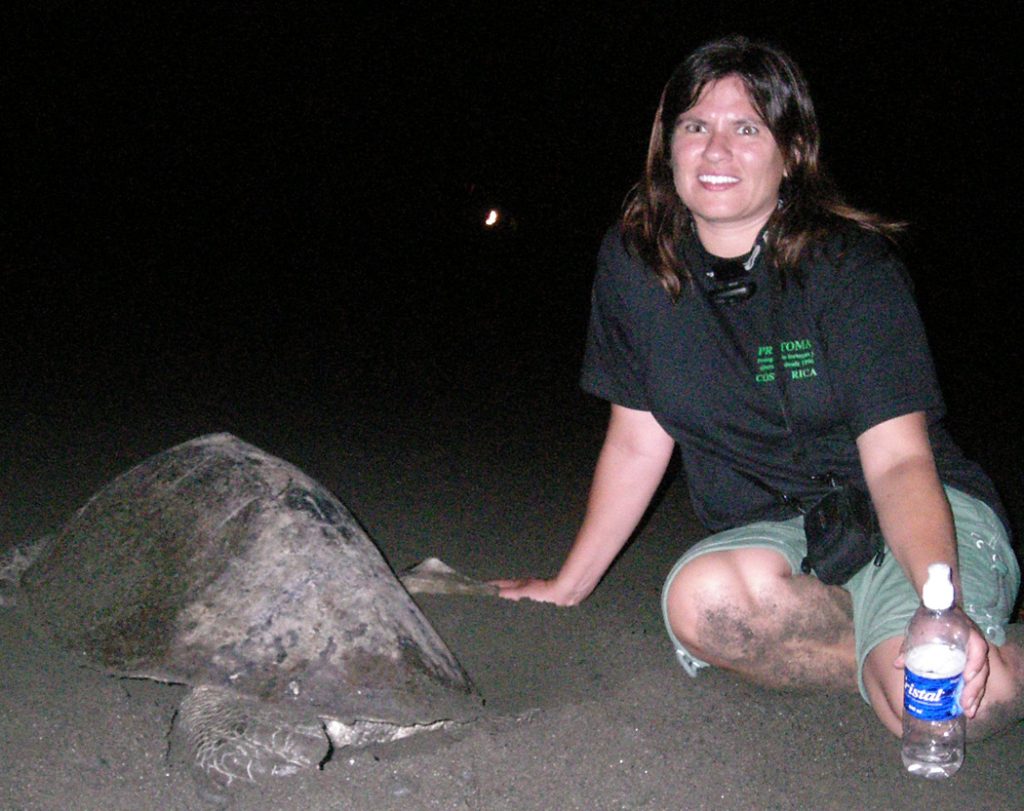 From the moment she first flipped sand in my face until well past when she tried to bury my hand in the sand, I was entranced. I knew I would never find another opportunity quite like the one I had for two weeks in a remote village in Costa Rica.
Just 20 miles north of the Panamanian border, I fell in love with the concept and the course of volunteer vacationing (a.k.a. voluntouring or altourism), in spite of long lines at immigration and a 12-hour bus ride. You see, two friends and I had a sea turtle experience—hands on, in the thick of it, for about half the cost of traditional tourist rates. Moreover, we did some good for our planet, for some of the people on it, made new close friends, and really improved our Spanish-speaking skills.
Sea Turtle Mamas
It started out that I just really wanted to see those gigantic, wise-old creatures who roam the sea with their homes on their back. I wanted to touch them, to help them, to be a small part of that world. I got all that and more.
Just three days after I arrived in Costa Rica with my friends Sara and Ryan, Sara was out on the "early beach-combing shift." Nightly, a trained guide takes volunteers in two shifts to walk a five-kilometer stretch of beach in search of incoming mama Olive Ridley sea turtles or sea turtle nests. On that night in mid-August, Sara came running up through the front garden of the villa we rented ($350 for two weeks, geckos included) around 8 p.m. as I was putting away dinner dishes.
"We found a turtle," she panted, and turned tail to run back down to the beach. With flashlight in hand and flip-flops on my feet, I left primping behind and dashed after her. Not more than 100 yards away, Mama Rita (as we later named her) was trying to dig her second nest.
"The first . . . no good," explained Guillerme, a trained sea-life biologist and guide for PRETOMA, the Costa Rican sister organization of Turtle Island Restoration Network.
The second spot she started to dig was littered with Mother Nature debris—twigs, coconut shells, rocks—clearly not an ideal spot, and Guillerme saw that immediately. As gently as is possible to lift a 70-pound turtle, Guillerme lifted Mama Rita and gave her a little wiggle room. Twenty minutes later after, flipping and fanning sand in a five-foot radius, Mama Rita went into a trance and started to drop her ping-pong shaped eggs.
"Here," said Guillerme, a Brazilian transplant, thrusting a plastic shopping bag in my direction. With a head toss toward the turtle and her nest and a few mimes, I understood . . . he wanted me to collect the eggs as they dropped.
"Oh wow!" I remember thinking. "Oh cool! Oh wow!"
For nearly 30 minutes, Mama Rita dropped eggs by threes and fours. Knowing only one in about 100 turtle eggs make it to adulthood, I gingerly gathered them up and put them in the bag. It was just as she finished and I was scooping up the last dozen eggs or so that we bonded. Her strong back flippers sought to cover her babies with sand and instead met my thieving arm. Surprised by the strength of those flippers, I face-planted on the back of her carapace. She didn't seem to mind, and, well, I sure didneither.
Mesmerized but aware that I needed to wake up in four hours to walk the midnight shift; I headed back to the villa. Sara came in later and announced that Mama Rita had given us 113 eggs, all of which were transported back to the cordoned off square of sand that serves as the PRETOMA sea turtle hatchery.
Touring, Fun & Socializing
Unfortunately, we did not get to meet any of the offspring from Mama Rita . . . or Mama Guaro or Mama Betsy or any of the other eight mamas that graced our small stretch of Costa Rican beach. However, Sara, Ryan, and I experienced a lot more.
While we had set up our volunteer vacation directly with the sea turtle conservation program, our only commitment was to walk the beach once a night every night for two weeks. (Gee, okay; twist my arm – walking along a beach in a tropical paradise??) Otherwise, we were free to do with our time what we wanted. This prospect took a little bit of creativity on our part but it was far more fulfilling than paying thousands of dollars for planned tour trips, because what we saved monetarily paid out in spades.
While Ryan chose to stay at the program station house (kind of like a small dormitory), Sara and I worked with the program coordinators to rent a small villa. This put us directly in touch with the homeowners, their children, their relatives, their relatives' children, and a couple other volunteers in the small town.
We met a French-Spanish-English teacher from Canada who was completely endeared by the children. With his help our Spanish-speaking skills advanced far enough to corral the kids into building una grande castila de araina, complete with a moat! Later that night, we taught the elementary-age kids how to play Loco Ochos—and we played it every night for hours for more than a week.
Another PRETOMA volunteer, a retired Alaskan sailor, introduced us to her friend Elena, a Dutch researcher who had been living there for ten months under a grant to reintroduce macaws to the area. (We got the special treatment and got to see them up close and personal.)
Most days we'd hike up 3.5 kilometers north to a slightly larger town, Rio Claro, best known for its surfing. Luckily, the area had just gotten satellite Internet service so we were able to log on and taunt our friends back in the states. (An hour online cost about two dollars.)
We snorkeled; we boogey boarded; we caught iguanas and lizards; we cleaned up the beach; we were hoping to help build an addition on the school but the materials didn't arrive in time; we went horseback riding; we cheered at the local soccer games; we helped teach English to adults; we had dinner at local family homes; we went out for drinks; we bought local crafts and arts … we did all of this, on our own schedule, with our own agenda.
We were readily accepted into the homes of families that we might never see again. However, they will always be dear to us—through holiday cards and photographs, perhaps eventually telephone and email. We will always be dear to them because of the services we provided. The experience is one that Sara, Ryan, and I cherish, even if only eight turtles out of the 800 eggs we saved will make it. Not just because of us, but because of programs like PRETOMA. As with many volunteer vacation programs, PRETOMA runs year round.
A Sea of Options
Perhaps sea turtles aren't your thing. Maybe you'd rather work with dogs or monkeys or kids struggling to read or maybe you'd like to re-establish a natural habitat, build trails or houses. Maybe you don't want to travel out of your state or your country. Whatever your interest, there is a volunteer vacation that can match it, with thousands of opportunities opportunities out there. So relax, enjoy the people and scenery, and do some good while saving money and directly having a positive effect on the place and the people you are visiting.
Voluntourism Resources
Here are a few websites to get you started on finding your voluntour adventure:
•  Volunteering in Guinea, West Africa
• Global Volunteers
• American Hiking
• Just Give