BY MEGAN CARNEY
Although he left Uganda in the 1970s, Peter Nazareth brings his multi-cultural background to world literature classes. (Photo ©Tom Langdon).
On a cool night during the dry season in Uganda, Peter Nazareth had a dream. He awoke, wrote it down, and included it in his first novel. Days after its release, Nazareth's dream became reality.
Perhaps it was more of a nightmare that Nazareth, former senior finance officer of Uganda, had dreamed of and accurately predicted the former Ugandan president's decision to expel Asians from Uganda. This expulsion was the handiwork of Idi Amin, who grabbed power in 1971. Nazareth's book, In a Brown Mantle, published in 1972, was prophetic. Nazareth, 32 at the time, was initially surprised by the power of his own book. Thirty-five years and a curriculum vitae of 62 pages later, Nazareth is confident literature is powerful beyond its author's consciousness.
"Many, many writers have had this experience," said Nazareth, a professor of English at the University of Iowa. "I was astounded by this."
In a Brown Mantle was so powerful that it became Nazareth's vehicle to a new career and country. Yale University offered Nazareth a fellowship shortly after the novel's release. With intentions of one day living in Uganda again, Nazareth moved to the United States. Nazareth was glad to leave Uganda, which was "chaotic and ambiguous."
Although Nazareth was not directly targeted by Amin's oppression, he was stateless. Nazareth did not return to live in Uganda, yet he did not abandon it.
"Every writer discovers at a certain stage that you get to a point where, in order to expand and even do things for your culture, you have to be someplace else," said Nazareth. "I didn't give up writing as a Ugandan for Uganda, but I expanded it. It's become broader and I am able to dance around to a different perspective here and different perspective there."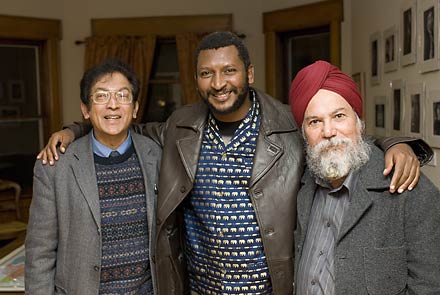 Peter Nazareth with Kenyan journalist Peter Kimani and UI International Writing Program alumnus Kirpal Singh of Singapore, at the book release party in November 2007 for Creating a Nation Through Poetry. (Photo ©Tom Langdon).
Fusing Life and Literature
Nazareth does this through his writing and English classes at the university.
"One of the things being multicultural allows him to do is see all the angles," said Colin Grask, 21, an English major at the UI and a student of Nazareth's.
Grask said Nazareth has discussed his Ugandan origin not only in his African literature class but in many of his classes, which range in topic from classical American literature to Singapore literature, which was born in 1965 when Singapore gained its independence from Malaysia.
Nazareth usually can find some connection to whatever type of writing he teaches, and he often uses his own family as a jumping-off point for class discussions. Nazareth's mother is the eldest of 14 children. Nazareth's grandfather, Mathias Francis Gomes, had three children with his first wife. Most of Gomes's 17 offspring are now married to people of different cultures. Chinese, Portuguese, Eurasian, Indonesian, and Filipino are just a few leaves on Nazareth's cultural family tree. And the tree branches to different religions, too. Many of Nazareth's family members have married into new religions, including Islam and Catholicism.
In a recent class, Nazareth's slip-on tennis shoes shuffled across the tile floor as he described his Uncle Jerry to his Singapore literature students before transitioning to an open discussion on the significance of a character's name in Suchen Christine Lim's Fistful of Colours. Nazareth's eyes looked upwards in thought beneath permanently arched eyebrows as he listened to students' input.
Students said they appreciate Nazareth's teaching style, in which he fuses storytelling and in-depth analysis of literature.
"He doesn't come in and lecture at you," said Grask. "He teaches you about the book that you're reading and the ideas, not only the ones that are at the surface but the ones that are way below. And then he finds a way to relate that to real life."
Appreciating Elvis
Nazareth has never written an autobiography, but pieces of his life are tucked into everything he does. For example, Nazareth said he and many Africans grew up listening to country singers like Roy Rogers and Gene Autry. Nazareth started listening to Elvis Presley in 1957 and was surprised to learn that Presley grew up with the same music he did.
Nazareth teaches a class on Presley, which has received worldwide media attention, including from World News Tonight with Peter Jennings, The Today Show, As It Happens of Canada, and National Public Radio. The class, "Elvis as Anthology," focuses on Presley's relationship to African American history, social change, and aesthetics. It focuses not just on Elvis, but on other artists who inspired him and whom he inspired.
"At the core of the class is the professor's theory of Elvis as a kind of musical sponge who soaked up influences from everyone he heard, from Big Mama Thornton, the blues singer, to Mario Lanza, the Italian tenor," television journalist Chris Bury said in his 1992 story on the class for ABC's World News Tonight with Peter Jennings. Nazareth, whose wispy black hair is often styled roughly like Presley's, has been teaching the class for 16 years, largely as a tribute to his late colleague, Jonathan Walton. Walton had insisted Nazareth teach a class on Presley ever since the pair listened to both versions of a song recorded twice—once by Chuck Willis and years later by Presley.
Walton and Nazareth were stunned to notice that the saxophone solo on Presley's record was technically the reverse of the solo on Willis's. "Nobody in America is listening," Nazareth recalled Walton saying at the time.
Not only do they not listen, but Nazareth said there is a tendency for Americans to mock Elvis. This is not the case in other countries, said Nazareth, who was invited to give two presentations on Elvis and the class for the 17th anniversary of the founding of the National University of Singapore. Additionally, Gene Smith, Elvis's cousin, asked him to write the foreword for his memoir, Elvis's Man Friday, published in 1994.
An Eclectic Reader
Nazareth has never restricted himself in defining who he is or what he reads and writes. However, he did not always know he would be a writer.
When Nazareth was a child, he did not write but read everything. His parents encouraged reading of all kinds.
Nazareth acquired his mother's love of comic books, particularly Superman, Captain Marvel, Archie Comics, and Mad Magazine. Nazareth soaked up much of his smart sense of humor from joke books read by his father, a public speaker for the British Civil Service. Nazareth was already a proficient reader when he reached secondary school in the 1950s, but it was then that he became a writer.
He had no African writers to model, but teachers at his secondary school pushed him into all kinds of writing, including stories, reviews, literary criticism, and biographies. "All my life, I have been fortunate to meet people who draw things out of me," he said.
Nazareth continued writing after secondary school. He also edited PenPoint magazine, a publication started by the English department at Makerere University College in Kampala, and did three radio plays for the British Broadcasting Corporation.
Along with writing, Nazareth also learned he had a knack for teaching when he taught at several secondary schools in Uganda.
He advanced to earn his postgraduate diploma in English studies at Leeds University in West Yorkshire, where he met his wife, Mary, and where they had their first daughter, Kathy, in 1964. Following his graduation in 1965, Nazareth became administrative officer and later senior finance officer in the Ministry of Finance of Uganda. The Nazareths had their second daughter, Monique, in 1966. Nazareth said his daughters are thankful today that Nazareth's first novel earned him a fellowship and a ticket out of Uganda.
Cultivating Inner Greatness
Today, he has the singular title of professor of English, but no doubt Nazareth will continue to teach African and African American literature. This spring, Nazareth, who has advised participants in the UI International Writing Program since 1977, plans to teach the fiction of African American poet and fiction writer Ishmael Reed.
As his teachers summoned greatness from him, Nazareth aims to challenge his students to broaden their minds. "It's my intention to do it by getting them to tap into their own creativeness," he said.
He does not want students to adopt his way of thinking but to build off it to find new thoughts of their own.
Grask recently visited Nazareth in his office, which is engulfed in shelves of books that take up entire walls. Grask wanted to discuss an eight-page paper he was writing for the class. After meeting with Nazareth, Grask decided the paper will be in the 20-page range.
Grask said Nazareth often talks about the concept of a "reticular activating system." "He says your own brain keeps things from you that you know, and it's not just memory, it's also your vision and your sound," Grask said. Nazareth said he wants his students to keep an open mind and not be shy to learn from other people. Nazareth, who wore a bolo tie during one class this year, compared himself to a chef concocting a gumbo.
"You're always taking from others, but, ah, the mix is yours," he said.
Visit the Index for more book reviews and profiles of writers.