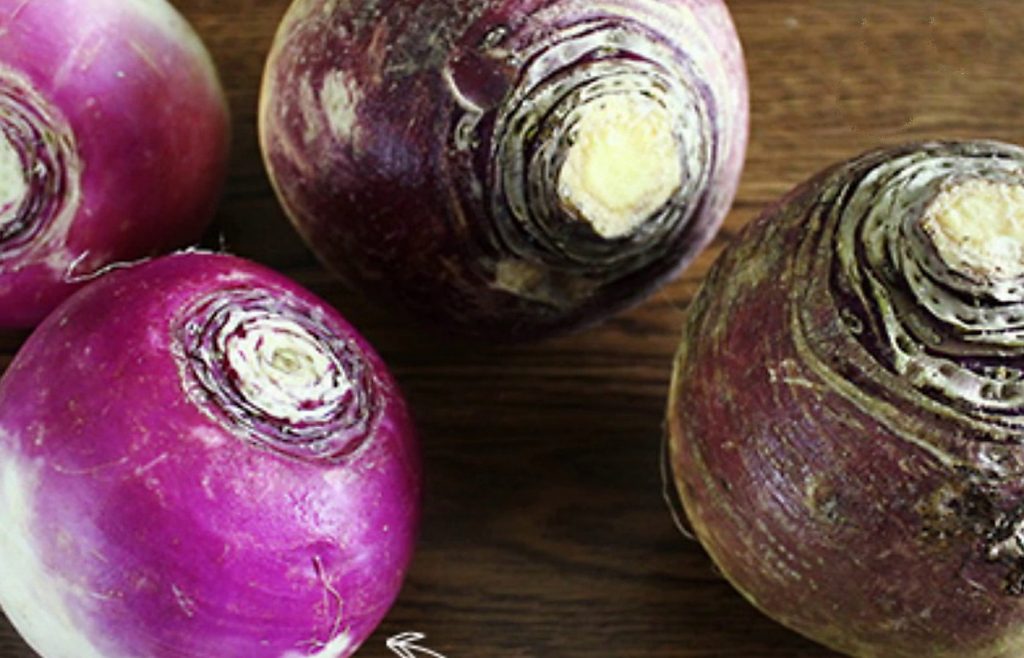 When researching the history and lore of a particular food, something I do with perhaps more frequency than the average person, one of my favorite resources to turn to is the late Waverly Root, an American journalist who had the great good fortune to be assigned to Paris for most of his career. There he penned the indispensable Food: An Authoritative Visual History and Dictionary of the Foods of the World. In it, he describes the "lowly" turnip as having been both maligned and revered throughout history, mostly maligned. He wrote that, in the Middle Ages, "It became popular to pelt unpopular persons with turnips (tomatoes being not yet available), which would seem to indicate scant esteem for the turnip, though it was perhaps more respected than its target." Would have hurt more than tomatoes, too.
Despite the denigration turnips have received throughout history, they and their fellow root vegetables, parsnips and rutabaga (once called the "Swede turnip"), are actually wonderful, hearty winter fare, delicious in a mash with potatoes, in soups, and especially in stews. They are also well appreciated in the lean months because of their long shelf life and low cost.
The rutabaga may be the most maligned of these three; indeed, Mr. Root tells us that they were "more popular a century ago than now." This point was driven home when I bought one for use in this column, and the lad at the checkout counter had to ask me what it was. But they are tasty in soups and stews, and when I was a child, my mother used to make a favorite dish called Rötmös, which was simply a half-and-half mix of mashed potatoes and mashed rutabaga, served with a sweet pea cream sauce. Good for growing boys.
Parsnips get a bit more respect. They are sweeter, and somewhat less daunting in appearance because of their similarity to carrots. Additionally, their high caloric content (74 calories per 100 grams) and high level of potassium and vitamin C make them a perfect winter vegetable. All three of these root vegetables are even in season now, unlike so many others.
Though the skins of rutabaga, parsnips, and turnips are edible, most will prefer to peel them for the stew recipe below, since unless you grew them yourself, they will certainly be covered with wax.
A Hearty Winter Stew with Root Vegetables
2 parsnips, peeled and sliced 1/2″ thick
2 turnips, peeled and cut into 1-1/2″ chunks
1/2 rutabaga (about 1 cup) peeled and cut
into 1-1/2″ chunks
5-7 whole garlic cloves, peeled
1/2 c. olive oil
1 pound beef stew meat, cubed 1-1/2″
1/2 c. flour
1 Tbsp. salt
1 tsp. cracked black pepper
1 carrot, peeled and sliced 1/2″ thick
1/2 cup diced butternut squash (optional)
1/2 cup diced yellow onion
2 stalks celery
1 c. diced Portobello mushroom
(optional)
1 c. dry red wine (I use Cabernet)
1/4 c. chopped Italian parsley
2 Tbsp. chopped rosemary
2 c. beef broth, preferably homemade
Salt and cracked black pepper to taste
Preheat your oven to 400° F.
Toss the root vegetables and garlic with 1/4 cup of the olive oil and some salt and pepper, and roast on a cookie sheet for 20 to 30 minutes, turning frequently, until golden brown to taste.
In a bowl, toss the beef with the flour and the salt and pepper.
Meanwhile, in a large pot, heat the remaining oil over medium-high heat with the bay leaf. Just as the bay leaf is beginning to turn brown, add the beef cubes, half at a time, and brown it on all sides. Remove the beef, set aside, and repeat with the remaining beef. Remove and set aside. Keep the bay leaf in the pot.
Add more oil if necessary, and then add the carrot and squash. Sauté for 3-5 minutes, and add the onion, celery, and mushrooms. Sauté 3-5 minutes more, then deglaze with the wine. Add the herbs and the beef broth. Turn down the heat and simmer for about 45 minutes.
Season to taste with salt and black pepper and serve with a nice crusty bread and the same red wine you cooked with.
Serves 2-4 hungry people.