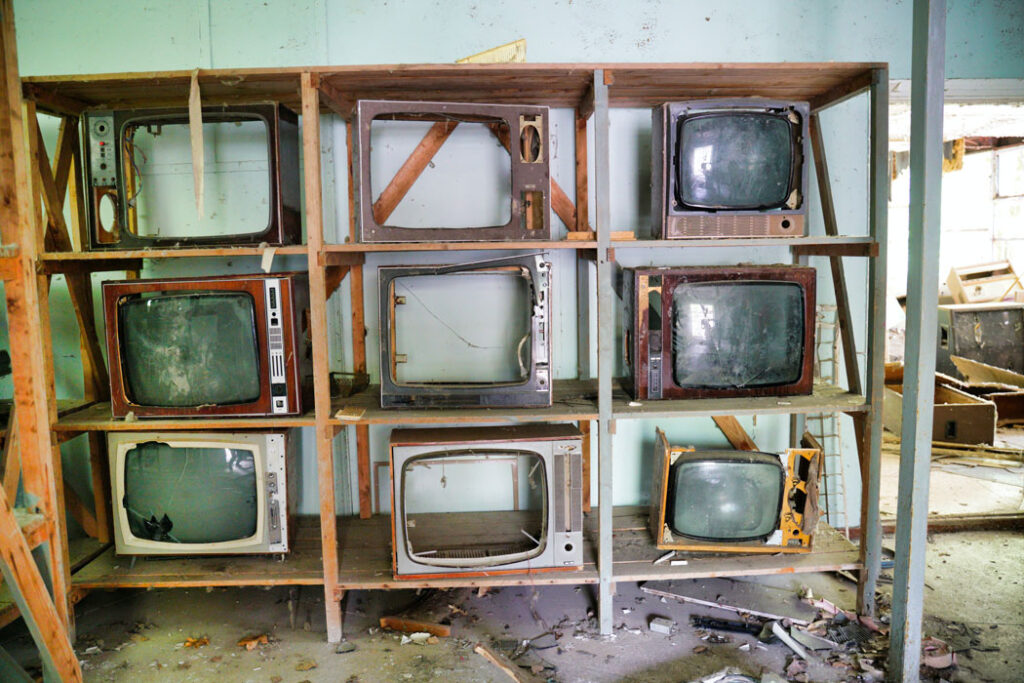 "Orilla is mainly dust," I once wrote. I was about nineteen then, trying to write a short story. In 1979, on summer break from Maharishi International University, I had somehow cut a deal with my father (for whom I was an employee) that allowed me to write part of the day. Frequently, glancing out the big storefront windows, I noted the gravel road cutting through the middle of our "business district." Commonly cars, not recognizing this was an outpost of civilization, sped through, trailing huge plumes of dirt which would hover and then slowly settle, covering everything with a beige, baby-powder-fine soot.
My father had bought a part of this village in 1973. His building had once been an abattoir for Smith's Meat Market and Grocery, a business which still occupied a similar cement block building directly across the road. My father painted his building a baby-powder beige and converted it into a home for "Larson's Television" where he repaired TVs, stereos, and radios, sent technicians out to install antennas, and sold what he called his "custom rebuilts." He made an okay living, kept food on the table for his family. I was not too ungrateful, I hope.
As out-of-the-way the place was, it was close enough to the greater Des Moines area to be a good base of operation for his pick-up-and-delivery vans. Inside his converted abattoir he had an operations room which had a map of the area on the wall. The map had concentric circles measuring miles from the center of the big city like some sort of battle map. It seemed in keeping with his business and life philosophy, that living was a battle requiring a decisive strategy.
He dressed the part, in fact, wearing a waist jacket that resembled General George Patton's. He wore a hat during the cooler months that looked like a Soviet tank commander's. I once sketched him such, spontaneously on a note pad, as he looked in on me sourly as I sat in his office, writing. It's a cartoonish sketch, but it catches an expression of helpless disgust I found priceless. It was probably my mother's influence upon him that allowed my early literary pursuit.
Those days I wrote seriously, joyously, and with gratification, for I had a publisher: The North Warren Town and County News, which was printed in Norwalk, Iowa, about five miles southeast of Dad's shop. Mary, the paper's indulgent editor, published my strange, distorted poetry and opinion pieces that were really bizarre micro-fictions. For example:
Dear Editor and Mr. Sergeant,
At the end of your August 22 article, on the names of Warren County towns, you invited readers to suggest the possible origins of "Orilla" and "Pootsville." Well, I don't know much about Pootsville (though I think Mark Twain might have mentioned it in one of his posthumously published essays . . . nothing quite like posthumous essays . . . I tried one once . . . didn't quite come off . . .) but, if my sources are correct, as I'm sure they are, I offer this on the origin of Orilla:
The legend has it that a long time ago, before the continents shifted, there was a great civilization which sprawled across the expanse of land now known as Warren and eastern Madison counties. The people of this civilization (who some authorities say were the progenitors of such races as the Incas and possibly the Atlanteans) were well advanced. They had many conveniences and luxuries not known to present day man (the hydrogen lawn torch and single-use disposable living room just to mention two) in addition to a quite powerful and enlightened culture. In fact, there was never a culture so enlightened. It united the disciplines of science and art with concepts like the large-scale bacterial sculpture and the nuclear fission class harpsichord. I must say we've got a long way to go before we match such a high level of cultural perfection.
Anyhow, this civilization deplored any form of violence, but, to make up for that, they highly encouraged ridicule. As a result there were many classes of citizens who suffered long, multi-syllabled, nasty titles. Such a group of citizens lived in a community at the northernmost boundary of this civilization. These citizens wore bright red rubber shoes and silk underwear and kept strange pets. They were called Cxamernixwquiopfgeriischnopsaqualudeorilla, which approximately means "fat sissy with rubber shoes, silk undies, and the breath of a bog-elk in labor." Eventually, people began to use only that part of the name which could be commonly pronounced—the last three syllables. Which, of course, was Orilla. Which, of course, means "Bog-elk in labor."
And so, if my sources are correct (and I'm sure they are) this is how Orilla got its name. No one is really sure why this great civilization finally became extinct. Archaeological investigation has uncovered vast deposits of cardboard and plastic junk food wrappers buried several feet underground in the North Warren area—possible evidence of ancient Orilla?! We'll just have to wait until all the testing is through before we can even conjecture why such an amazing civilization fell.
The piece was well received. When I crossed the road to Smith's to buy a Polish sausage for lunch later in the week, Emily at the cash register said, "Hey! I read that funny little thing you wrote in the paper," and chuckled. This, to me, was payment.
***
"Hey," he said. "I read that thing you wrote in the paper." He had some sort of allergy or eye condition that made him tear and continually wipe the corner of his eyes with his sleeve. It gave him a pathetic look and I wondered if it worked with women.
"Yeah," I said. "What did you think?"
"I thought, Why in the world did you publish this?"
I was taken aback. Why? Why not?! The sound of an approaching train made me flick my eyes toward the crossing (it was just a couple hundred feet from where we stood talking).
"Did Dr. Frankenstein question the validity of his monster?" I asked him.
"Huh?!" he rolled his eyes, and wiped more tears. Then he focused on me. "Well, yeah. He did. Did you ever read the book?"
In truth, I had never read the book. I soon would. But I hadn't then. I blushed and said nothing.
"Anyway. . ." the poet was being affable, but then he said something that was obscured by the blare of the crossing freight train.
He patted me on the arm, pulled down his goggles, jumped his motorcycle to start, then sped (after the last car of the train kicked over the crossing) north to Dolky county where the gravel silenced to blacktop.
He was a real poet. He had a poem, about the size of a postage stamp, printed in an anthology of Iowa poets published by Iowa State University Press. The poem was about an arrowhead he had found and he likened the bottom edge of the arrowhead to shoulders one could grasp. God, I thought to myself as the poet and his motorcycle shrunk into the vanishing point. How do such miracles happen to people?
***
I burned my father's paper trash in an old metal oil drum on the south edge of his lot, near the gnarled fence posts and barbed wire that protected a farmer's cornfields from my dad's televisions. As the trash burned, sending a funnel cloud of smoke down to the poet's commune, I sat on the cement lid of a water well and wrote in my notebook. I wrote, imagining the long undulations of landscape south to the best apple orchard I knew, Comito's. I wrote, always mentally on the edge of what I didn't know, because it felt promising and big there. When you are young, the world is entirely possible. (It always is possible, but sometimes we forget or stop believing. And then there are moments we can get it all back.) One unusually warm February day, I wrote about the landscape as if it were a secret code about to reveal itself:
Out there is a field, a whole field
of dry stalks—their faint dead leaves
fluttering in an unusual February mildness.
The field goes neatly out in its
line of dry stalks, and then
curves under and hides itself. Distant and hazy
are the tops of trees,
and then the beginning of another
field, rising. On the
new field is a farm with a black silo,
a white barn,
and trees, leafless, near
tall evergreens.
This poem lived in my notebook for a few years until, one day, in a mood of depressed abandon, I mailed it off. Then one day, in my and my wife's apartment in Silver Spring, Maryland, in 1984, there it was in the September issue of The Writer. The magazine had been on my end table for some days before I had picked it up. But, as I sat sipping a drink, absentmindedly flipping through the pages, there, in Florence T's article, "The Poet's Workshop," it was. My arrowhead. My postage stamp. There was the Village of Orilla, again, come to me from 1500 miles. There I was, again, sitting on a cement well lid, holding the shoulders of what I loved.
***
I remember a day, in 1979 or 1980, when another motorcycle rider came to visit Orilla. It was B.W.: singer, songwriter, poet, painter, ascetic. I remember him wearing on old aviator's helmet and goggles and a leather jacket (underneath which he wore a yellow Hawaiian shirt). He wore blue shorts and his feet were shod in sandals. I happened to be sweeping gravel off the walkway in front of the shop when he pulled up and got off his bike.
"Rocko, my man," he said, doing a 360 degree intake of the scene. "I had to come down to this place to see if it was real."
"It's real. Welcome to the village."
"The village. Whoa. Is there a coffee shop? Are there beatniks giving poetry readings here?"
"No. But that's a meat market over there. They've got a pop machine inside.
"A meat market," he said grinning at Emily who was waving from the cash register. "Well. Hot damn."
• • •
There, to this day, is truly not much in Orilla. You might have no reason to visit other than for a pleasant country drive. I remember seeing some of the most dramatic sunsets of my life there—massive globes of orange silhouetting the orchard trees and skyline of farms. (These directions are probably invalid now. Time marches on and bypasses get built, changing the look of everything. But from my memory: if you are traveling on Interstate 35, get off at the Cumming exit, Warren County Highway G-14, drive east for a mile or so and then turn north at the apple orchard and go another mile or so. You'll be in Orilla.)
Smith's grocery (once half of the economic power of the village) is now a wholesale meat seller servicing the area's finer restaurants. Larson's Television (from where I once haunted the village) is now the Orilla community center, a place you can rent to throw parties or reunions. The countryside is still beautiful with its rolling vistas of field and farm, and there is a cemetery there filled with early settlers, but I liked the place a whole lot better with the rugged roads and fence posts in the late '70s and early '80s and without the manicured lawns and million dollar houses that now encroach. And is it really a village anymore? A sign nearby proclaims it is part of West Des Moines, Iowa. A suburb.
To my memory the place will always be scruffy, stinking of burning invoices and goldenrod. I spent a great many of my waking hours there, miraculously it seems to me, discovering the most unpredictable and reliable parts of my mind on the small blue lines of a note pad.
Rustin Larson's poetry has appeared in The New Yorker, The Iowa Review, North American Review, and other magazines. He currently lives in Fairfield, Iowa.