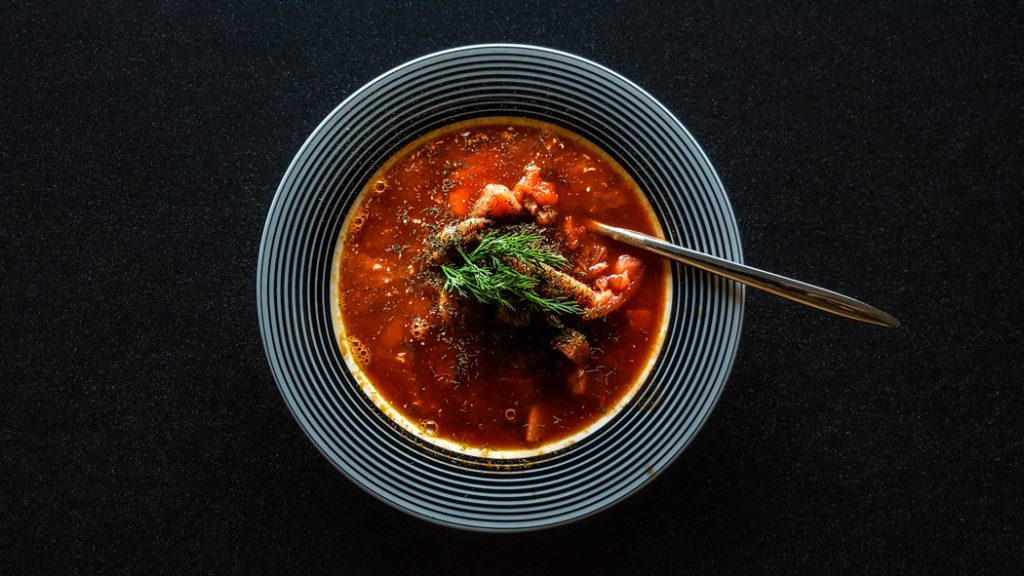 Soups are certainly one of the most satisfying things to cook and eat. Warm and nourishing, filling the house with good smells, they take the edge off winter's chill. The ones we've chosen are simple to prepare, and you can dress them up with garnishes and serve them with delicious quick breads for a meal that will please everyone. If you like, expand the menu with a green salad, some fruit and cheese, or a knockout dessert.
Whole books have been written on both soups and quick breads. Among them are James McNair's Soups, which has an in­teresting selection of hot, cold, savory, and sweet soups and some gorgeous garnishing ideas. Lee Bailey's Soup Meals features soups and accompaniments. Quick Breads by Beatrice A. Ojakangas and Muffins by Elizabeth Alston offer many tempting recipes. Soup's on. Enjoy!
Creamy Green Soup
(4 generous servings)
This quick soup and its variations offer many ways to enjoy a variety of vegetable and limitless opportunities for creative garnishing.
2-4 Tbsp. olive oil or butter
4 Tbsp. chopped onion or leek, optional
4 cups chopped potatoes, peeled if thick skinned
8 cups chopped broccoli florets, asparagus, or green peas
2-3+ cups vegetable broth
1 tsp. each dried thyme and marjoram
2-3 tsp. chopped lemon zest
2-3+ cups milk (or half and half for a
very rich soup)
1. Saute the onion in oil or butter until soft.
2. Add the potatoes and stir to coat with oil.
3. Add thyme, marjoram, salt, pepper, and vegetable broth and bring to a boil. Reduce heat, cover, and simmer until potatoes are almost soft.
4. Add green vegetable, cover, and simmer until tender. Check to make sure you have enough water to cook the vegetable—a small amount at the bottom of the pan will do. Reserve some of the broccoli if you want to garnish with it.
5. Puree vegetable mixture with lemon zest, slowly adding the milk to reach desired consistency. Taste and adjust seasonings, if necessary. If using green peas, you may want to strain the soup through a sieve to make it very smooth.
6. Reheat on low, if necessary, garnish, and serve immediately.
Colorful Variations
Another green: Substitute 4 cups chopped parsley and 6 cups chopped butter lettuce for the broccoli.
White: Substitute chopped cauliflower and/or parsnips for the broccoli, and add potatoes and cauliflower to the oil at the same time. Cumin is tasty with cauli­flower.
Orange: Substitute sweet potatoes, butternut squash, or pumpkin for the potatoes and broccoli. Add 1 tsp. each ground coriander and cumin, 1/2 tsp. turmeric, 1-2 tsp. chopped fresh ginger to the oil or butter, and saute briefly before adding the vegetables. You may also substitute orange zest for the lemon.
Magenta: Cook separately 1-2 cups chopped beets and add to the orange soup when pureeing the vegetable.
"Neon": Make sure that orange and magenta soups are of the same consistency, then ladle one soup in one side of the bowl while simultaneously pouring the other soup in the other side of the bowl. Garnish with chopped fresh herbs or a swirl of thinned sour cream. Stunning!
And so on…the possibilities are deliciously endless! Try other vegetables, different spicing and garnishing. Just watch out for color mixtures that may result in muddy colors.
Spinach-Olive Bisque
(Serves 4)
Frank at The Kitchen in Iowa City shared his recipe with us. Our variations are for the purists among us. It's quick, unusual, and warming on a winter eve­ning.
1 6-oz. can black olives (or 6-8 Kalmata olives, pitted and rinsed)
1 14-oz. can tomatoes with juice
1 10 oz. package of frozen spinach, defrosted (or 2 pounds fresh spinach, washed, stemmed, cooked till tender, drained, and squeezed dry)
1 medium onion, chopped
1-2 cloves garlic, peeled and chopped (or 3 stalks celery, chopped coarsely)
3 Tbsp. butter
2 Tbsp. white wine (optional but highly recommended)
1 cup cream
2 cups milk
1/2 cup white wine (or stock or water)
1-2 Tbsp. paprika
Freshly ground pepper to taste
1. Put olives, tomatoes, and spinach in Cuisinart or blender. Puree till smooth.
2. Saute onions and garlic (or celery) in butter and 2 Tbsp. of wine till soft. Don't let it brown. Add to puree in Cuisinart or blender and pulse till blended.
3. Transfer to saucepan and add milk, cream, wine, and spices.
4. Heat gently over low flame for 10-20 minutes. Don't let it boil. Taste and correct seasonings. Add more milk or cream if you like.

Joan Masover's Vegetarian Chili
Saute in a little oil:
1 tsp. thyme
1 tsp. basil
2 tsp. cumin
2 tsp coriander
Immediately add:
1 grated carrot
1 grated zucchini (if you have some handy)
1 green pepper (important, unless you hate them)
Chopped celery (if you like it and can cook it 2 hours)
Any other veggies you want except cabbage family
When these start to stick, add:
1 or 2 16-oz. cans "stewed tomatoes" and juice (the kind with spices and veggies, not plain tomatoes); cut up the tomatoes if you don't have a long time to cook
1 can dark red kidney beans, drained
2 cans pinto beans, drained
2 bay leaves
Chili powder to taste
Worcestershire sauce
Tamari or soy sauce
1-2 Tbsp. dried cilantro, or 1/4-1/2 cup
chopped fresh cilantro
More thyme, basil, cumin, coriander, if you like
Let chili simmer as long as possible (minimum half hour, better 1-2 hours or more, or all day in a crock pot). It should remain quite liquidy, as the TVP absorbs a fair amount. If you need more liquid, add V8 or tomato juice (or water if you are opposed to tomatoes.) In the last 10-15 minutes, add the secret ingredient:
TVP (texturized vegetable protein), about 1/2-1 cup
Squish TVP down into the juices on top without stirring it all the way in, or it will stick to the bottom and burn. Cook 10 minutes, or you can turn off the burner if it starts to stick and just let it soak in with the lid on.
Serve with tacos, burritos, quesadillas, chips (for nachos), or baked potato and cheese. For tacos or burritos you may want to smash it up a bit with a potato masher. If eating as plain chili in a bowl, add more liquid.
Garnishes
Garnishing adds the final touch and can turn a simple dish into art. In general, the more complex the soup, the simpler the garnish. Complement or heighten the flavors in the soup with your choice of garnish.
• Freshly grated pepper
• A sprinkling of paprika
• Chopped or whole fresh herbs
• Croutons—you can cut out interesting shapes with small cutters, or simple shapes like triangles by hand. Sur La Table in Seattle sells 1″ aspic and jelly cutters that are perfect for cutting out small bread and vegetable shapes. (Ateco #4848, set of twelve 1″ medium aspic or jelly cutters, 1-800-243-0852)
• Grated, sliced, or chopped fresh vegetables, also shapes, as mentioned above. Try red pepper, radishes, jicama, lettuce, avocado, etc. Also roasted sweet peppers
• Yogurt, sour cream, or whipped cream. Try adding finely chopped fresh herbs or zests in any of them
• Citrus zests
• Sliced kumquats, a few berries
• Herb flowers and other edible flowers (The New Basics by Rosso & Lukins has a list of edible flowers on page 163)
• Toasted nuts and seeds
• Toasted coconut
• Grated cheese
• Chopped or sliced olives
• Capers
• A drizzle of extra-virgin olive oil
• A lemon wedge
• Chopped egg or finely crumbled tofu
• A dab of pesto

Pecan Corn Muffins
(Makes 9-12, depending on muffin tin)
1/2 cup whole wheat pastry flour
1/2 cup unbleached white flour
2 Tbsp. dark brown sugar (plus extra for tops)
1/2 tsp. salt
1 cup yellow cornmeal
1 Tbsp. baking powder
1/2 cup toasted chopped pecans (plus 9-12 halves for tops)
1 egg at room temperature
1/2 cup milk at room temperature
1/2 cup plain or vanilla yogurt at room temperature
4 Tbsp. melted unsalted butter, cooled
to room temperature (plus 1-2 Tbsp.
more for tops)
1. Preheat oven to 425 degrees. Coat muffin tin with ghee or oil and put in oven to heat for 10 minutes.
2. Mix dry ingredients together well.
3. In another bowl, mix together wet ingredients.
4. Pour wet mixture on top of dry mixture and combine until just moistened, using as few strokes as possible. This makes a tender muffin.
5. Spoon batter into muffin tin, filling almost to the top. Garnish each muffin with a pecan half, sprinkle with a little brown sugar and drizzle a little melted butter on top.
6. Bake about 15 minutes, until a toothpick comes out clean.
7. Let sit a few minutes then remove from pan and serve immediately. These muffins taste best served right from the oven, or at least the same day, reheated. Good with lots of butter and honey.
Muffin Variations
Fruit: Add 1/2-1 cup chopped apples, or frozen blueberries, in addition to (or in­ stead of) the chopped pecans when adding the wet to the dry ingredients.
Chili Cheese: Omit pecans if desired, and add 1-2 cups grated cheddar cheese and/or 1/4-1/2 cup drained, canned chopped green chilies when adding the wet to the dry ingredients.
Finnish Flat Barley Bread
This simple quick bread is delicious served with butter and jams, honey, or herb butter.
2 cups barley flour
1/2 tsp. salt
2 tsp. sugar
2 tsp. baking powder
1 cup milk or half & half
2 Tbsp. melted unsalted butter
1. Preheat oven to 425 degrees. Grease a cookie sheet.
2. Mix dry ingredients together, then add the milk and butter to form a soft dough.
3. Spoon the dough onto the cookie sheet in two mounds. The dough is soft and sticky so dust your hands with flour and pat into two 6″ rounds. Lightly score the top into wedges. Prick all over with the tines of a fork.
4. Bake 12-15 minutes, until lightly browned. Cool slightly, then cut into wedges. Serve immediately.
Homemade Croutons
Saute cubes or other shapes of good bread in plenty of olive oil or butter on low heat, turning occasionally, until nice and brown. You can add herbs or spices of your choice, and sprinkle with cheese after browning. Pumpernickel croutons are a great addition to squash soup.
Pie Dough Crackers
Add some chopped parsley, cilantro, or basil to your favorite unsweetened pie dough recipe. Roll out and cut into squares, rectangles, or other shapes. Sprinkle with sesame, poppy seeds or parmesan, chill, then bake at 375 degrees until golden.