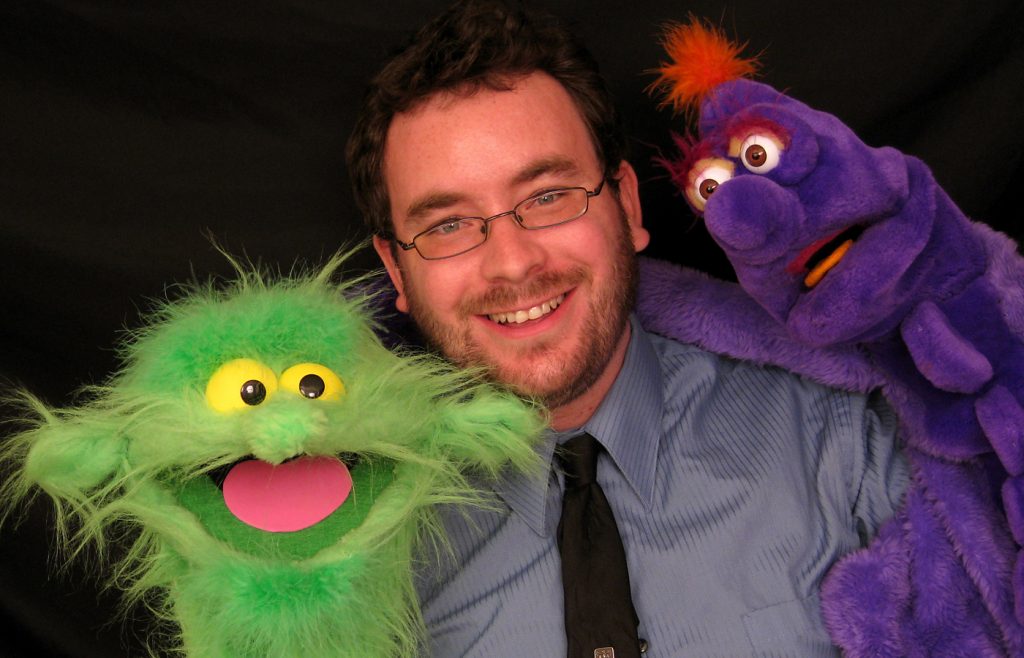 Alex Griffin is currently an award-winning cinematographer, puppeteer, and filmmaker based in Los Angeles. He is president of Puppeteers of America, Vice President of the LA Guild of Puppetry, and has worked for Heather Henson (daughter of Jim Henson) since 2014. A graduate of the University of Iowa in cinema, Alex wrote this piece after attending the Eugene O'Neill National Puppetry Conference in Connecticut in 2009.
Many people have tried to determine exactly what a puppet is. Is it fur, feathers, and a couple eyeballs? Maybe it's made of an old sock, or wood and strings? I think the best description comes from puppeteer Bart Roccoberton, Jr., who said, "The puppet is an empty vessel in which the audience and performer share souls."
I had come to expect these sorts of profound realizations, of course. I was sitting at the Eugene O'Neill National Puppetry Conference, an annual event established in 1990. Its mission: bringing puppeteers together to create and communicate through puppetry. With renowned guest artists and directors, participants create (along with personal projects) a final performance that is presented at the end.
I have always had a fascination with puppets. Their ability to co-exist in a human world through human interaction, or exist as an extension of a puppeteer in real-time, creates a level between fantasy and reality that is unachievable in many other media of stage and film. It is on this level that a bond among the puppeteer, the puppet, and the audience emerges and they are able to, as Bart P. Roccoberton, Jr., said, "share souls."
For over a decade now, I have been studying and performing with Francesca Hoerlein and her puppet creation The Zanimals. I have worked as head puppeteer and occasional director on a number of productions and student films in Fairfield and Iowa City, always with the help of fellow puppeteers Mahesh Chookolingo and Mary Dickins, and always with The Zanimals. When I received my acceptance letter for the National Puppetry Conference, I felt fortunate and honored—my puppet world was about to go galactic.
Not only was I fortunate enough to attend this year's conference but also to work with puppeteer Martin Robinson in his "strand"—Puppet Anarchy. Robinson is best known for his work on Sesame Street as Telly Monster, Mr. Snuffleupagus, and Slimey the Worm, though he has worked on a number of productions on both stage and screen, not to mention being the senior puppet coordinator for Sesame International, hiring and training puppeteers for productions worldwide.
Working with Robinson in Puppet Anarchy was not a step-by-step instructive class. It was an organic exploration of the infinite possibilities of puppets. Our final product felt like something we had truly achieved ourselves, with Robinson our knowledgeable guide though the whole mess. With Robinson, we tried our hands at a variety of puppetry forms. We learned about mouth puppets (like The Muppets), tabletop puppets (full-bodied puppets performed on a table), object puppetry (anything you can get your hands on), and even a crash course in basic marionette manipulation with Phillip Huber (whose talent can be seen in the motion picture Being John Malkovich). At the forefront of this was the idea that anything could be a puppet, and that through relatable characteristics and actions, even a vacuum hose could (and did) build tension within an audience.
During our final night, I performed in three innovative shorts. An opening to our show had seven of us creating a giant face with our arms and hands that welcomed the audience to the Puppet Anarchy. Another performance told a story of life, death, and rebirth using pieces of fabric, a ping-pong ball, an egg, plastic peanuts, a vacuum hose, and a clamping contraption.  We finished with a karate uniform fighting its pads, every class member taking a part of the body. We broke free of the preconceived notions of what you can do with a puppet, and what a puppet can be.
While we worked solely on stage, I can only hope to take what I have learned and apply it to film and video. The O'Neill Puppetry Conference grabbed me by the arm and brought me to a new level of appreciation for the vast talent and innovation in puppetry. And really, you should check it out as well. It's there, waiting to be discovered, waiting for a soul to share a moment, a story, a tear, or a laugh.