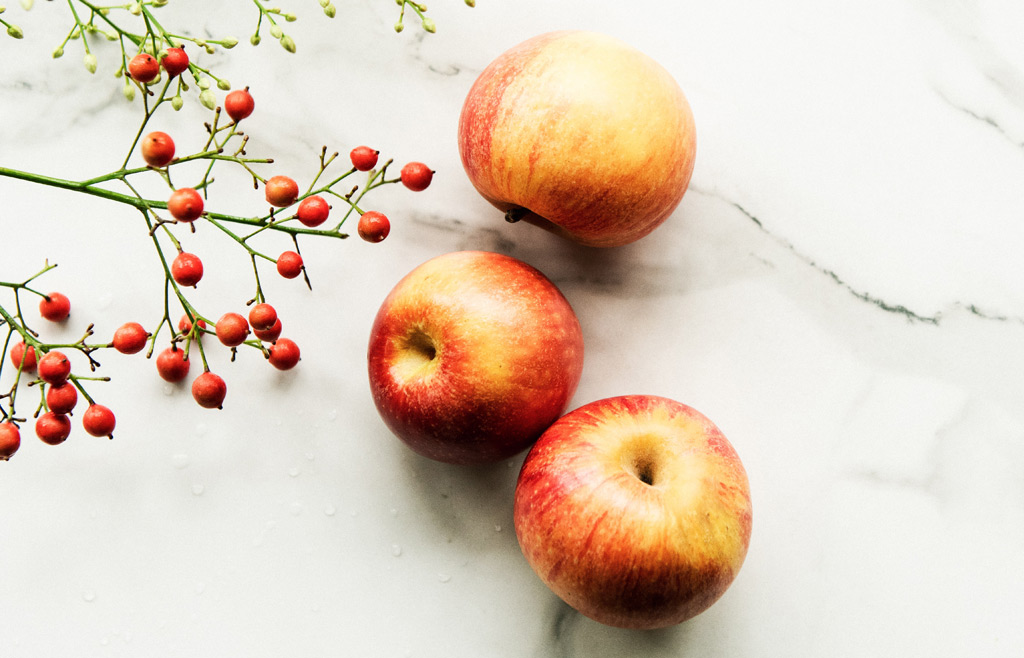 Maybe it's because I was born in the fall. When the leaves start to turn and the nights turn chilly, I crave the juicy crunch of autumn apples. My favorite tart variety is Jonathan—it always reminds me of my childhood and evokes the nostalgic smell of burning leaves.
We're lucky to have a farmers' market where we can sample new varieties as well as older types. Is it just me, or have you noticed a burgeoning choice of wonderful new apples? I just tried a new one called Jazz—firm and crisp, sweet with a spicy, slightly tart undertone. In a word, heaven.
Homemade Applesauce
Nothing is better than biting into a crisp fresh apple, but some folks say that homemade applesauce runs a close second. It's easy to make. Cut the apples up (peel them or not) and cook in a saucepan with a little water. Blend smooth or serve chunky. Single variety or mixed. It really needs no embellishment. However, if you are inclined, there are many luscious additions: cinnamon, sugar, cloves, or raisins. Throw in a handful of blackberries or a grating of citrus peel. Experiment with dried fruits.
European Apple Pancake
Around my house, fresh-out-of-the-oven baked Apple Pancake is a favorite, either as dessert on soup night or as a comfort meal in itself with a salad to make one feel a bit less self-indulgent.
4-6 T. butter
2 apples, cut into thin slices
1/2-3/4 tsp. ground cinnamon
1-2 T. sugar, plus more for dusting
2 eggs at room temperature
1/2 cup milk
1/2 cup all-purpose flour
1/2 tsp. salt
Heat oven to 400° F. Butter a 10-inch pan (a cast iron skillet works well).
In a separate frying pan, melt half the butter. Add the apple slices, sugar, and cinnamon and cook till the apples start to soften, stirring often.
In a bowl, whisk or beat the eggs. Add the milk, and whisk to blend. Mix flour and salt together, then add to the egg mixture and whisk till just blended. In a small pan, melt the remaining butter and add to the egg mixture. Blend until smooth.
Pour the batter into the prepared pan or skillet. Arrange the apple slices over the top. Bake 25-30 minutes until the pancake is puffed up and nicely browned.
Dust with sugar and serve hot.
Serves 2 as a meal, 3 to 4 as dessert.
Of course, there is the perennial favorite, apple pie, in all it's glorious incarnations. Does anything smell more of home and cozy autumn nights?
Here's an interesting and delicious cousin to apple pie from the kitchen of food maven Dorie Greenspan. It combines the sweetness of apples and maple syrup with the savory bite of Cheddar cheese and walnuts.
Apple and Cheddar Turnovers with Dried Cranberries
(8 servings)
2 medium Golden Delicious apples,  peeled and cut into 1/2 cubes
1-1/2 cups (loosely packed) coarsely  grated extra-sharp cheddar cheese
1/4 cup pure maple syrup
1/4 cup chopped walnuts
1/4 cup sweetened dried cranberries
Pinch of salt
1 17.3 oz. package of puff pastry  (2 sheets), thawed
1 large egg, beaten with 1 tsp. water   (for glaze)
Sugar
Toss first 6 ingredients in medium bowl to blend. (This can be done 2 hours ahead; cover and chill.)
Position one rack in top third and one rack in bottom third of oven. Preheat to 400° F.
Line 2 large rimmed baking sheets with parchment. On a lightly floured surface,  roll out one sheet of puff pastry to 11 inches square. Using a 5-inch plate as template cut 4 rounds from pastry. Transfer rounds to 1 baking sheet, spacing apart. Repeat with second pastry sheet, placing rounds on second baking sheet.
Spoon filling onto half of each round, dividing filling among all the rounds. Brush edges of pastry lightly with egg glaze. Fold plain pastry half over filled half and press edges to seal and enclose filling completely, then press tines of a fork along pastry edge to create tight seal. Using tip of a small, sharp knife cut two 1/2-inch-long slits in top crust of each turnover. Brush tops with glaze and sprinkle with sugar.
Bake until puffed and golden, about 25 minutes. Carefully run metal spatula under turnovers to loosen them and transfer to racks to cool slightly.
Have a wonderful autumn, everyone!