Kaitlyn Busbee and Kyle Niemer on the set of Molly's Girl, shot in Ottumwa, Iowa. (photo by Ben Easter)
On a hot sunny day in August, a crew of 40 people descended on Ottumwa, Iowa, to shoot a low-budget feature film called Molly's Girl. The cast and crew arrived mostly from Des Moines, Oskaloosa, and Fairfield. Many of the actors were also natives of Iowa, although some have worked in Los Angeles and New York as well.
Each year, several movies are made in Iowa. Some are independent, low-budget pictures like Molly's Girl, and some are large films by Hollywood studios. Starman, Field of Dreams, The Bridges of Madison County, Twister, Michael, and The Straight Story were all filmed in Iowa.
Between 2007 and 2009, a large influx of out-of-state productions set their eyes on Iowa and its 25 percent transferable Iowa income tax credit. The Final Season, 16 to Life, South Dakota, and The Crazies were all shot in Iowa as a result of the tax break.
On the set of Molly's Girl: Emily Schweitz of Fairfield with Kristina Valada-Viars of Des Moines, now working in New York. (photo by Ben Easter)
While small movies like Molly's Girl employ a crew of a few dozen people, large film productions move into town with hundreds of workers for up to eight weeks. According to the Film Alliance of Iowa, The Crazies, which was shot in Lenox, Iowa, for six weeks, provided work to around 600 Iowans, including carpenters, drivers, and electricians. The production spent about $12 million in the state.
"Probably of any industry, filmmaking has the greatest impact on Main Street cash flow," says John Busbee of Des Moines, who was location manager for The Crazies. "When a production company locates in a community, they rent vacant spaces to set up offices, workshops, and storage. Once they start working on sets, costumes, wardrobe, and special effects, they are going to use the local resources. In addition, the crew gets paid per diem and they are on location for two to three months. They will spend some of their income in the local economy in restaurants, bars, entertainment, shopping, and transportation."
A Little Film History
To attract more film production to the state, the Iowa Department of Economic Development created the Iowa Film, Television and Video Project Promotion Program (IFTVPPP) in 2007. Its generous tax credits resulted in 158 applications and 24 completed projects. Unfortunately, the department was overwhelmed and understaffed to handle that many applications, and mismanagement resulted. The governor suspended the program in September 2009, freezing the whole industry.
Uncertain of Iowa's film-incentive future, many filmmakers turned to other states to create their projects. Others never saw their movies materialize.
The incentive program is on hold until 2013. In the meantime, the Film Alliance of Iowa is lobbying legislators in the State Capitol to revise IFTVPPP in order to establish a new creative industry for Iowa. They argue that maintaining a lively film industry not only supports the economy but helps retain talent. With a regular inflow of out-of-state projects, actors and crew with specialized skills will stay in Iowa.
"There is a desire to have the industry come back, and people are beginning to see what it could mean for their businesses," says Kimberly Busbee, producer and casting director. "Most states have film incentive programs because it's good business. Other states had bumps in the road with their film industry in the beginning phases, such as problems with oversight, and they found a way to solve the problem and keep it moving instead of shutting down the whole industry."
Cultivating Film Skills
Several universities in Iowa offer programs in film, such as the University of Iowa, Drake University, William Penn University, and Maharishi University of Management. Graduates of these programs provide a good base crew on which to build.
On the set of Molly's Girl, the atmosphere was always friendly and colloquial. Even though some of the crew, like myself, were less experienced than others, everything got done without anyone shouting. No one got fired. The filmmakers I worked with don't want to leave Iowa. Some of them have been to Hollywood and returned to their home state. Life in Iowa is less stressful and more family friendly. Living expenses are lower and people get along well.
Although the tax incentive attracted quite a few large-budget out-of-state productions, it did little to help local filmmakers, who already have a hard time raising money in Iowa.
"One of my issues with the incentive program is that it didn't even start until your budget reached $100,000," says writer-director Scott Thompson. "Our budget for Molly's Girl was less than half of that. The smaller the film, the more crucial that help is. Every dollar counts a lot more to us. Very few Iowa movies could qualify for that $100,000."
In addition to a great variety of locations, Iowa also offers a good talent pool. "Lots of Iowa actors have been to other markets, so they have experience and they are tremendous actors," says Kimberly Busbee.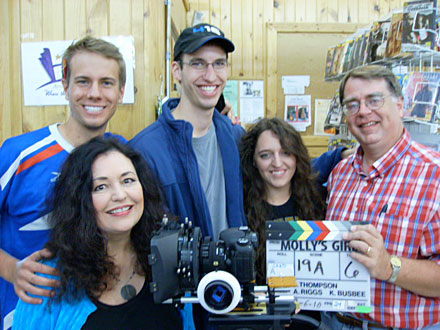 Back row: Kyle Niemer, first assistant camera; Aaron Riggs and Kaitlyn Busbee, both directors of photography; Scott Thompson, writer and director. Front row: Kimberly Busbee, casting director and producer.
Production companies are also able to hire qualified crew in Iowa. However, more specialized jobs such as assistant directors and cinematographers are harder to find. That's where the film promotion program could also help. A regular inflow of out-of-state productions can provide the funds to train local crew according to industry standards.
People in the film industry know that the attraction to movie making is more than just being starstruck. Filmmaking is big business. While the state film incentive program is in limbo, Iowa filmmakers, actors, and businesses are waiting to get back their slice of the pie. A more conservative film incentive program that also promotes local low-budget productions is what they hope for. In the long run, the film industry can boost Iowa's local economies, provide training for creative high-tech positions, and even attract new residents.
See movie reviews for all films reviewed in The Iowa Source.