Laptop musician Flying Lotus (born Steven Ellison) released his third album, Cosmogramma, in May 2010. He's also the great-nephew of John Coltrain.
I consider myself fairly egalitarian when it comes to movies. Sure, I love Fassbinder and Bresson and Mizoguchi, but I also love James Cameron, Judd Apatow, and the movie Point Break. I am, however, an unapologetic music snob—I think Roy Harper is better than Bob Dylan, Judee Sill better than Joni Mitchell, and CAN is probably the greatest band of all time.
This doesn't mean I hate all popular music (love the Big Boi album, for example), but merely that I think music criticism's pervasive groupthink is incredibly dull ("LCD Soundsystem makes dance music for people who don't like to dance!" "Kanye West continues his devastating foray into his internal landscape of loneliness and guilt!"). Perusing year-end lists is the equivalent of looking at cover letters in the application for status quo cool.
So this will be a bit different. All of my picks should be available either by mail order from Forced Exposure or digitally from iTunes, eMusic, or the Other Music download store.
Electronic Music
This is a golden age for electronic music. Consider the "Purple Trinity" scene in Bristol where barely 20-something DJs like Guido and Joker turned up the soul and wobble on the dub-step genre. Guido released the deeply sentimental Anidea, with its new-age cover and swelling saxes. It's undeniably cheesy, but richly and gloriously so, its massive "Mad Sax" the perfect track for being chauffeured somewhere.
Joker released numerous 12"s in 2010, the best being Tron—the slow, sparkling title track a kind of hi-fi, F-Zero soundtrack (videogames are big with these kids).
Best of all the dub-step permutations is Mount Kimbie's Crooks and Lovers. Following the tradition of Cluster, Brian Eno, Harry Hosono, and Simon Fisher Turner, Mount Kimbie make "acoustic" electronic music imbibed with blurred R&B samples. It's the most listenable and warm record of the year and the one I probably spun the most. It's a testament to the glorious free exchange of music in the 21st century that a microgenre like dubstep— which began with a much more embittered sound—has mutated to exotic and downright sexy places.
The best produced record I heard this year was Senking's Pong. Released on the usually austere Raster Noton label, Pong is a cavernous, rumbling noir-dub masterpiece. A midnight album through and through, it demands to be played on a stereo, loud.
Seattle's Jon McMillion produced an ecstatic, cosmic disco house album. Like a warp-speed Arthur Russell, McMillion's 70-plus minute epic (titled Jon McMillion) is exquisitely tasteful and elegant, perhaps the best road-trip record of the year.
And then there's the silver-backed gorilla of the year—Flying Lotus's Cosmogramma. Sprawling and lush, Cosmogramma is the closest electronic album I've heard to those psychedelic Miles Davis classics of the early 70s. It's hard to think of a more ambitious album in 2010 and at times, it can be a bit exhausting. Yet there was no track more exhilarating and joyous than "Do the Astral Plane." In an age where so much feels recycled and tired, Cosmogramma felt new.
Reissues
To call the last few years a golden age for reissues is a gross understatement. This is the Italian Renaissance, the Enlightenment, Paris in the 1920s for reissues. Twenty years ago, if you wanted obscure kraut-rock, Thai pop from the 60s, and African psychedelic funk, guess what? You had to pay hundreds of dollars or spend countless hours on record trips, excavating filthy records from water-logged basements and back-room shops. Now the scope of reissue labels is astounding.
The venerable Mississippi Records based in Portland reissued two gorgeous Malian records from the 1970s soon after Mali gained its independence. Both Orchestre Regional de Moptiand L'orchestre National a de la Republique du Mali are breezy, laid back affairs (they are vinyl only, however, and occasionally go out of print).
Two other labels specializing in African and Latin American releases also had strong years. Analog Africa, which is responsible for those incredible Orchestra Poly-Rythmo compilations (get those now!), released a lovely and unique compilation of Angolan music from 1968-1976. It's striking how Latin this music sounds and, like almost every Analog Africa compilation, it's impressive both for the rarity of the selections and the quality of the remastering.
Soundway, which in past years has released several volumes of Nigerian music from the 60s and 70s, released Palenque Palenque, a compilation of the little heard Afro-influenced "champeta" music of the northern coasts of Colombia. Highly exotic and exuberant, it also doesn't really sound like any other South American or African music I've heard, occupying its own ramshackle coastal vibe. I feel lucky that I now even know what "champeta" is.
Obscure label Dug Out records released perhaps the best reissue of the year. Dadawah's Peace and Love, from 1974, is the most haunting reggae album I've ever heard, eclipsing even the legendary Heart of the Congos album. Four slow-burning, skeletal tracks anchored with icy pianos and mournful guitars make it so different than most reggae, so sad and so deep.
Bombay Connection, which has produced some killer compilations of Bollywood soundtracks, unearthed a startling find. Reputed to be the first "acid house" album: Charanjit Singh's Synthesizing—Ten Ragas To A Disco Beat is a sitar and drum-machine burner that sounds totally out of time, at once corny and cool, familiar yet totally alien. Apparently something like 30 original copies of this album exist, so instead of some weary vinyl nerd loch-ness legend, we actually get to hear it.
There's always a variety of modern classical reissues (including one from my own label, Unseen Worlds), my favorite was DFA's lovely comp of Peter Gordon and the Love of Life Orchestra. Peter Gordon, an avant-pop sax player who was heavily involved in the downtown scene in NYC in the 1980s, released a number of 12"s with the Love of Life orchestra. It's top shelf stuff, emblematic of a scene that's aged exceptionally well. Propulsive, optimistic, and awkwardly funky in a very white and endearing way, it really works as off-kilter party music and something to jam out to on headphones while jogging.
The Rest of It
Most of the hyped critical darlings of the year underwhelmed me or worse (the Joanna Newsom album, shudder), but I did love Hot Chip's One Life Stand. Exquisitely produced and shamelessly square, One Life Stand is like a Real-Genius nerd version of a classic Roxy-Music and Eno album with an icy electronic edge.
Innovative techno-music chameleon Matthew Dear released Black City in 2010.
I also loved Matthew Dear's Black City, which I think is a better album in all ways than LCD Soundsystem's This Is Happening. Where James Murphy's music increasingly recedes into a hyper-aware mid-life retrospection and mortality, a quality I find both exhausting and a little dull, Black City is full throated—risky and sensual and filled with both desperation and glee. Dear nails the Brian Ferry/Gary Numan/David Bowie-sleazy-gentleman vibe with a nice wink of irony and camp. Ultimately, Black City is a lot more fun than This is Happening.
Sun City Girl Alan Bishop's Seattle-based label Sublime Frequencies released some of the very best new music in 2010. Specializing in highly obscure, bad-ass world music (no Gypsy Kings or Buddha Lounge vibes here), SF regularly finds music that can completely floor you.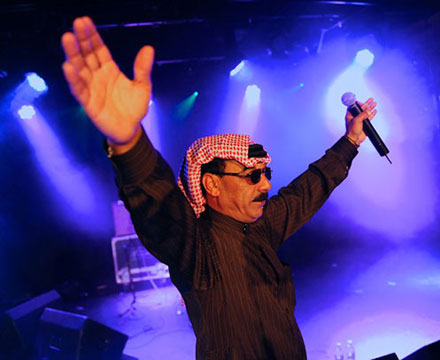 Sublime Frequencies has released three collections by Syrian music legend Omar Souleyman, with the most recent, Jazeera Nights, featuring 15 years of live recordings.
Take Omar Souleyman, a Syrian man who dresses in traditional garb and sings stately folk songs with moody titles like "I Will Dig Your Grave with My Hands" over frenetic drum machines and synthesizers. It's bananas, totally fresh, and global. I had the pleasure of seeing Souleyman live in June, and it was one of the five best shows of my life. SF has released three Souleyman collections, most recently Jazeera Nights, which has the best sound quality yet.
Sublime Frequencies also released another volume from their stellar Guitars from Agadez series. Group Inerane hail from war-torn Niger (one of their members was tragically killed in a raid shortly before the release of their LP) and make impassioned, hypnotic desert blues. Inerane is a bit like the great Tinariwen, but even more raw and primal. Truly "revolutionary music," Inerane's loud, spirited jams are made by actual rebels in a super dangerous country.
Perhaps the most interesting label of 2010 was Black Tent Press. Based in Los Angeles, Black Tent Press began by reissuing some highly eclectic and original albums. First Paz Lechantin's (violinist from A Perfect Circle) Appalachian-folk-minimal gem Songs for Luci, then David Pajo's low-fi acoustic cover album of Misfits songs, Scream With Me. Fun, heady stuff—Black Tent looked to be shaping up as one of the most unique reissue labels out there. But then they found Tonetta, a uber-sleazy Los Angeles 50-something resident almost too grand and horrible to exist. He has an extensive, explicit You Tube channel of "music videos" to his songs. His music is dirty, shoe-gaze, Lee Hazlewood disco. And it rules. I listen to a lot of music, perhaps as much as six hours a day because of all the work I do on a lap-top. Not much shocks and surprises me anymore. Tonetta does. His music is gross and scuzzy yet groovy and catchy, too. It is defiantly outside trends and taste. It exists in the world of Peter Soto and John Waters, but you can dance to it.
I left a lot of great releases off this list for the sake of space and cohesion. But it was another exceptional year for music all around.
A final tip: anytime you feel tired or bored by finding out about new music from NPR or Pitchfork or Rolling Stone or any other publication, just subscribe to the Aquarius Records, Other Music, and Mimoroglu weekly updates. All of these stores do mail-order and stock an unusual array of releases. Their updates have sound samples and they all have their little niche so they don't overlap that much. They're run by passionate, obsessive music nerds and I find them to be an essential resource.
Visit the index for more articles on music and musicians.