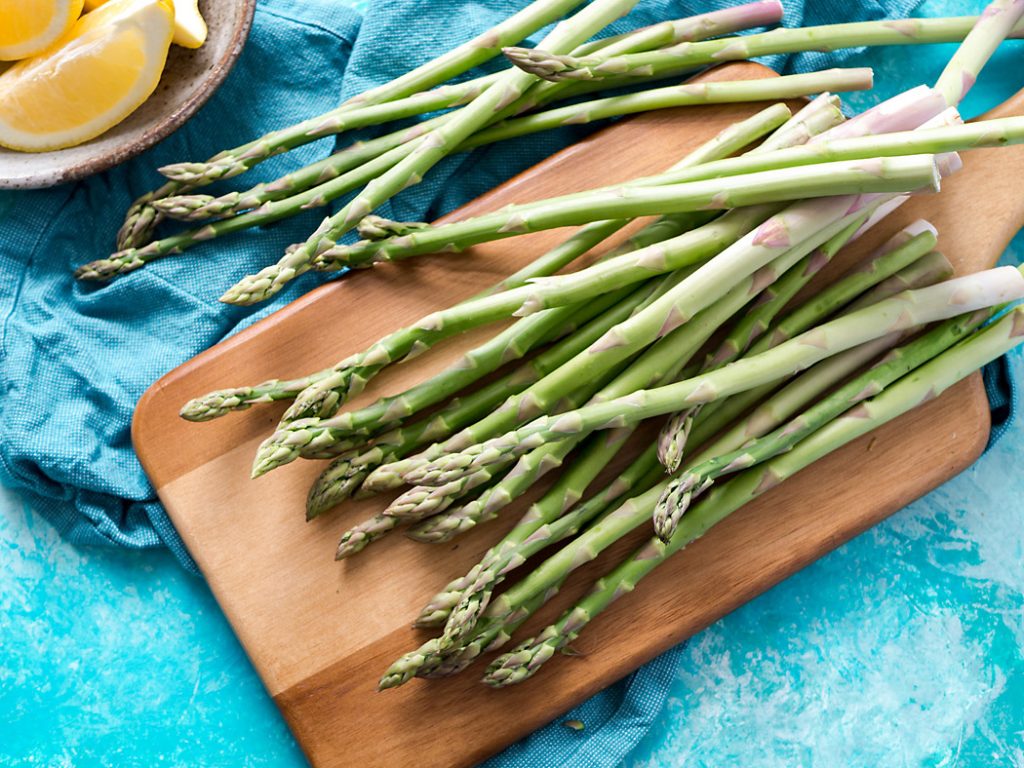 Does anything taste better after a long winter than those first vegetables of spring? By the end of March, I am always yearning for those first tender green gifts from the garden. This pair of dishes highlights two of my favorite spring vegetables, asparagus and spinach.
Whether boiled, steamed, or roasted, fresh asparagus doesn't need much more than a drizzle of lemon juice to make it a stand-out vegetable dish. But if you want to dress it up a bit, try roasting it and serving it with this zesty Lemon Parmesan Dressing, which is adapted from Bon Appétit.
Roasted Asparagus
(Serves 4)
2 pounds asparagus
2 Tblsp. extra virgin olive oil
Salt
Preheat oven to 450° F.
Cut off the bottoms of each spear. Thick spears may also be peeled up to the base of the tip. Place spears in a roasting pan, drizzle with the oil, and sprinkle lightly with salt.
Bake 10 to 15 minutes, turning over halfway through. The asparagus is done when the thickest part of the spear is just tender. Be careful not to overcook.
Lemon Parmesan Dressing
1/3 cup grated Parmesan (fresh is best)
1/3 cup extra virgin olive oil
2 Tblsp. freshly squeezed lemon juice
Zest from one lemon
1/8 tsp. salt
Place all ingredients in a blender and process until smooth. This dressing is also great on salads.
•
With its creamy spinach goodness in a flaky pastry crust, this tart is a longtime favorite of mine. It works well as an elegant and satisfying addition to almost any meal. For a nice color contrast,  brush cherry tomato halves with olive oil and place them decoratively around the edge of the tart before baking.
Spinach Cheese Tart
(Makes 1 9" tart, serving 6-8)
For the Crust:
1-1/2 cups all purpose flour
1/3 cup frozen butter
1/3 cup frozen vegetable shortening
Ice water
Cut the butter and shortening into the flour with a pastry blender or fork until the mixture resembles coarse meal. Add a few tablespoons of ice water gradually, mixing with the pastry blender just until it starts to clump together. Handling it as little as possible, quickly form the dough into a ball.
Press the dough flat into a disk and roll out on a lightly floured surface with a lightly floured rolling pin. The crust should be 2 to 3 inches bigger in diameter than the base of your pie plate.
Carefully transfer the crust by folding the dough in half and quickly lifting it to the pie plate, and then unfolding it. Trim the excess dough and flute the edges.
For the Filling:
4 Tblsp. butter
1/3 cup all-purpose flour
1/2 tsp. dried thyme
1/2 tsp. dried marjoram
1 tsp. dried basil
1/2 tsp. paprika
Pinch of cayenne
1/2 tsp. salt
1/4 tsp. black pepper
2 cups milk
1 cup mozzarella, grated
1/2 cup Parmesan, plus more
for topping
1 lb. baby spinach
3 eggs
Preheat oven to 350° F.
Steam spinach until wilted. Place spinach in a colander, and using a spoon, press out excess water. Set aside.
Melt butter in a heavy saucepan on medium heat. Whisk in flour and seasonings and cook, stirring constantly, for several minutes.
Whisk in milk and cook, stirring constantly, until the mixture is thick and bubbling. Then whisk in mozzarella and Parmesan until melted. Remove from heat.
In a separate bowl, whisk eggs until frothy. Whisk 1/2 cup of cheese mixture into eggs, and then whisk the egg mixture thoroughly into the remaining cheese mixture. Stir in spinach.
Pour filling into pie crust, top with a sprinkle of Parmesan. Bake for 35-45 minutes until crust is golden and filling is set in the middle.
Allow the tart to sit for 30 minutes before cutting and serving.