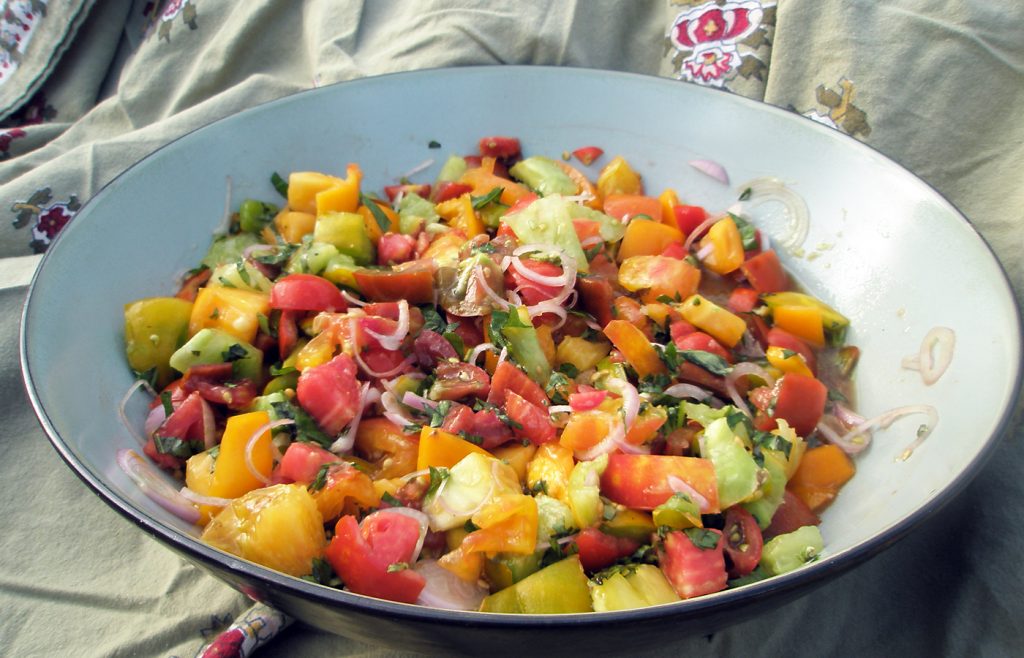 Umami is a Japanese concept that roughly translates as "savoriness" or "deliciousness." Some foods known to have umami are soy sauce, shiitake mushrooms, seared or browned meat, and, of course, tomatoes. It's no surprise that tomatoes have this quality, as many umami foods are used in sauces. Ketchup, for example, is one of the world's most common sauces. The flavor of a tomato can be concentrated by many techniques, such as dehydrating and, since this fruit also has a high sugar content, caramelization. The following recipe for Slow-Roasted Tomatoes does both.
Please note: I do not always list amounts for ingredients, other than the occasional measurement. A good rule of thumb is to use a suitable amount of the ingredient for the task at hand. For example, to sauté, add a few teaspoons of oil to the pan and allow to heat before adding the onions. For the bruschetta recipe below, choose the amount of tomatoes based on how many you want to serve. For you, just two or three should be fine; for a dinner party or potluck, a dozen or more. Add enough of the other ingredients for them to be relevant to the dish. You'll find it's easier to cook this way than you might think.
Slow-Roasted Tomatoes
These tomatoes can be used on bruschetta, as a pizza or pasta topping, in sandwiches, or blended to make a sauce.
Plum-type tomatoes
Garlic
Shallots
Olive oil
Salt
Fresh basil
Fresh thyme
Cut plum-type tomatoes into quarters.  Large tomatoes will have more moisture and will need to be cut smaller. Toss quartered tomatoes in a mixing bowl with salt and a tablespoon of olive oil.
Crush garlic and slice shallots.
Pour a tablespoon of olive oil in a baking dish. Using your hand or a spoon, coat the bottom of the dish with the oil.
Layer the baking dish with basil and thyme. Spread out the garlic and shallots. Place the tomatoes on top of the herbs and garlic so that there is a single layer. It can be packed tight, just make sure that there are not too many slices piling up on each other.
Put in a 180° oven for 8 to 12 hours, or until tomatoes are relatively dry, but still tender. If you leave them too long they may burn.
After the allotted time, remove tomatoes from oven, scoop into canning jars, and can or refrigerate.
Heirloom Bruschetta
Bruschetta, from the Latin bruscare, to burn, is an Italian preparation of toast or grilled bread with a topping, often fresh tomatoes. What sets this bruschetta apart is the use of a variety of heirloom tomatoes, combining their unique textures, flavors, and colors.
Heirloom tomatoes
Garlic
Shallots or red onions
Fresh basil
Hot chili pepper
Olive oil
Lemon
Salt
Dash of good balsamic vinegar
Choose 4 to 6 varieties of tomatoes. Try to get a diversity of sizes and colors. For the large tomatoes, first cut them into 1/4-inch slices, then cut the slices into a rough dice. Smaller tomatoes such as plum and little round ones can be quartered, then diced into cubes. For pear, cherry, and currant-size tomatoes, simply cut in half.
Put the chopped tomatoes in a mixing bowl. Crush one small clove of garlic (or or as much as you like), then chop finely. Crushing the clove first helps release the flavor compounds and makes it sit flat for easier chopping.
Finely dice one shallot or red onion.
Chiffonade a small bunch of basil.
Finely dice a mildly spicy ripe chili such as Jalapeno, Chinese Five Color, or Serrano.
Mix the chopped herbs, garlic, shallot, and chili with the tomatoes, add a few teaspoons of good olive oil, a squeeze of lemon, and salt to taste. Set aside and let marinate for a few minutes, although a day is better.
Slice your favorite bread—a good crusty baguette or a New Pi Zano work exceptionally well. Toast the bread on high to give it some color or, if grilling, grill until dark grill lines appear.
Put the tomato salad on the bread and enjoy. You can add slices of fresh Mozzarella, Feta, or Parmesan cheese—all of  which enhance the colorful topping.
Succotash
Succotash is a preparation indigenous to North America. Although it consists primarily of fresh corn and beans, it is relatively common to find tomatoes rounding out this dish. My version is a sauté that relies heavily on tomatoes as a background for the fresh beans, squash, and corn. The fresh beans are heirloom varieties such as Scarlet Runner beans, which are picked once the seeds are full size but before they dry out.
Shallots, garlic, leeks, onions, to taste
1 cup fresh corn kernals
1 tsp. cumin seed
1 tsp. coriander seed
2 cups fresh chopped tomatoes
1/2 cup white wine
2 cups fresh shelled beans
1/2 cup sweet peppers
1 mild to hot chili pepper
1/2 cup green beans, chopped
1/2-1 cup summer squash, chopped
Fresh herbs (see suggestions below )
In a heavy-bottomed sauté pan or any wide cooking vessel, caramelize shallots, garlic, leeks, and onions in a liberal amount of good oil over medium high heat. The alliums can be in any proportion of what is available and to your tastes.
Once a color appears on the alliums, add a cup or a little more of fresh corn kernels sliced from the cob. Continue to sauté until the corn takes on color as well. Add a teaspoon each of cumin and coriander seed (ground or whole—it's up to you).
Turn down the heat and add two cups of chopped tomatoes, pour in a half cup of white wine, and deglaze the pan. Cover and let the tomatoes begin to break down.
Add two cups of fresh shelled runner beans, limas, or mature green beans, whatever is on hand. If using dry beans, first cook them until they're soft. You can also parboil the fresh beans in salted water, although there should be enough liquid from the tomatoes to cook the beans.
Stir the fresh beans into the tomatoes and corn. Add water or broth if there's not enough moisture in the pan and allow to simmer for a few minutes. After a few minutes of simmering, check the beans for tenderness.
When tender, add chopped sweet peppers, one mild to spicy chili, a handful of chopped green beans, and chopped summer squash such as patty pan, zucchini, or crookneck. Salt the dish to taste and continue to simmer for a few more minutes.
Turn up the heat to medium and with the lid off, allow the excess moisture in the pan to evaporate. Once the tomatoes have thickened and the vegetables are tender, mix in a handful of fresh chopped herbs, such as oregano, cilantro, basil, and thyme. Transfer to a serving dish.
This can be eaten as a side dish, or rolled up in tortillas either as a burrito filling or an enchilada filling. It even works well on toast. Serve with rice and salad for a light meal or with grilled venison and roasted potatoes for a full native meal.
Fire-Roasted Salsa
This salsa not only has the flavor of the grill and the caramelization of the tomato,  it also has a spicy zing and tartness that makes eating with good corn chips a pleasure.
Selection of ripe heirloom tomatoes
A few unripe tomatoes
Tomatillos
Selection of sweet and spicy chilies
Large bulb of garlic
Shallots or small onions
Lime juice
Cumin
Salt
Fresh herbs
On a hot grill char garlic, tomatoes, onions, tomatillos, and chilies. Turn as necessary to evenly brown on all sides. Ripe tomatoes will not brown as easily as unripe, so just make sure at least one side is good and charred and that the skin can slip off.
Set the tomatoes and chilies aside in a mixing bowl and put on a lid. Place tomatillos aside as well.
Once the onions and garlic have been browned and then allowed to cool, peel off the charred skin and set the alliums aside with the tomatillos. When the tomatoes and chilies have cooled, slip off the charred skins as well.
Note: It's helpful to wear rubber gloves when handling chilies so you don't get the capsaicin oil on your skin. Do not touch your eyes until you have thoroughly washed your hands!
In a food processor or blender, blend all the ingredients, adding lime juice, cumin, and a little olive oil. Add more lime if needed and salt to taste. You can add fresh herbs to the salsa if you like.
Since it is very time consuming to char all the ingredients, it works well to make large batches and can or freeze them.