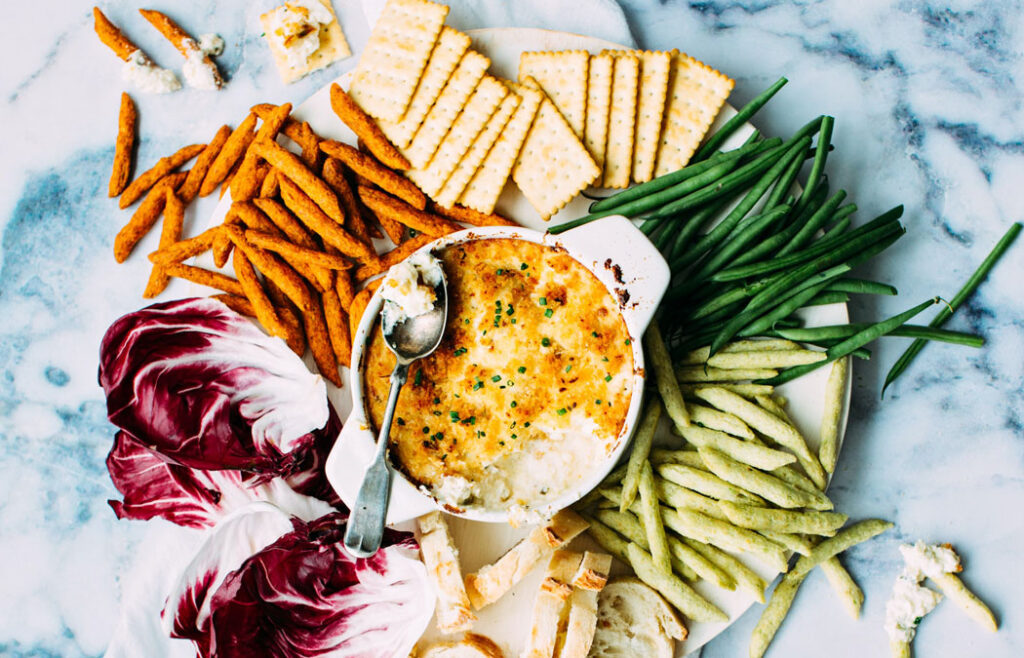 When summer temperatures are soaring, nothing delights a hot, hungry diner more than a cool, easy-to-make meal. Heli-Claire Witherspoon of the At Home Store, Judy Kingsbury of Savvy Vegetarian, and Pam Whitworth of KRUU-FM's Great Taste radio show have all contributed simple, delicious dishes that will help you beat the August heat.
Tunisian Potato Salad
from Heli-Claire Witherspoon
This simple and quick summer salad is Heli-Claire's favorite for potlucks and picnics. She loves it because the little garden potatoes are a great way to feature her favorite condiments from the Mahjoub family in Tunisia. She encourages readers to get creative, saying, "I don't think I have ever made it the same twice. I rely on what I have at the moment and what I'm craving most."
1 quart new potatoes
1/4 of a preserved lemon, seeded and minced (about a tablespoon)
6-8 sun-dried tomatoes, diced or sliced thinly
2 tsp. salt-packed capers, roughly chopped
1-3 tsp. harissa (Tunisian chili paste)
Handful of Sahli olives (small, flavorful black olives from Tunisia)
2-3 sprigs fresh mint
3-4 sprigs fresh parsley
Squeeze of fresh lemon
Olive oil
Salt to taste
Scrub potatoes. Boil potatoes in lightly salted water. While the potatoes are cooking, chop the lemons, sun-dried tomatoes, capers, and fresh herbs. Mix the harissa with a few drops of water. This allows the flavors to open up, and also makes it easier to mix evenly into the potatoes.
Drain the potatoes and chop them roughly. Put the potatoes in a mixing bowl and add the condiments, olives, and herbs. Mix thoroughly. Add a splash of lemon brine from the preserved lemons as well as a squeeze of fresh lemon, some olive oil, and salt to taste.
Serve warm or at room temperature.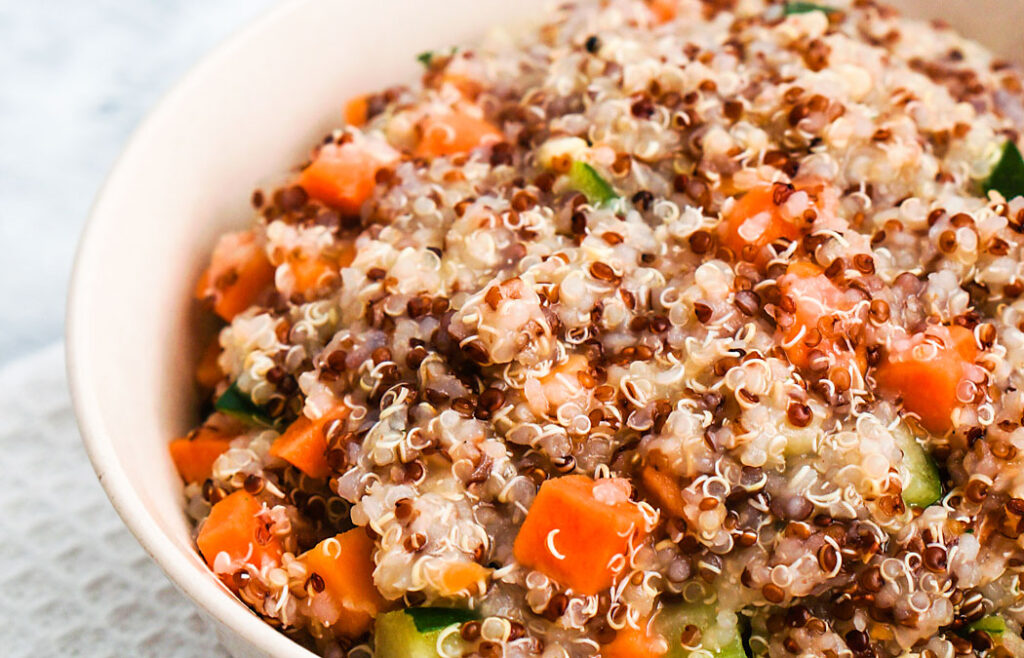 Quinoa Salad
from Judy Kingsbury
If you cook the quinoa ahead of time and keep it in the fridge, you can make this  tasty summer salad in about 20 minutes.
1 cup quinoa
1-1/2 cups water
1/4 tsp. salt
1 cup snow peas
1–2 small carrots, peeled and sliced thin
1/2 green or red pepper, sliced thin
1 medium ripe tomato
1 medium cucumber, peeled and diced
1/4 cup chopped fresh basil
1/2 cup chopped walnuts
Optional: Chopped scallions, dried unsweetened cranberries, raisins or apricots, Greek olives, minced jalapeno pepper, fresh mint
Soak the quinoa for 15 minutes.
Rinse thoroughly and drain through a large fine mesh strainer. Place quinoa and water in a 2-quart pot and bring to a full boil. Add salt and oil.
Cover the pot, let boil another minute, turn the heat down to very low, and cook for 15 minutes.
Remove from heat and allow to sit for five minutes with lid on. Then fluff gently with a fork, cover, and allow to cool to room temperature.
Steam the carrots and snow peas for 5 minutes until tender-crisp, then immerse the vegetables briefly in cold water to stop the cooking.
Chop the tomatoes, basil, cucumber.
Whisk together dressing ingredients:
2 Tbsp. freshly squeezed lemon juice
1/4 cup olive oil
1/4 tsp. salt
Fresh ground pepper
Optional: Pinch of cayenne, garlic powder or fresh minced garlic, minced fresh or dried ginger
Gently combine veggies, walnuts, quinoa, and dressing in a large bowl. Cover and chill.
Crudités
from Pam Whitworth
This is a great room-temperature dish for the heat of summer. It can be a simple supper or an elegant party display with multiple dipping sauces. The main idea is to set out an assortment of raw and cooked vegetables in an eye-pleasing arrangement  accompanied by cool, flavorful sauces.
Ideas for crudités: artichokes, asparagus, broccoli, cauliflower florets, cherry or grape tomatoes, baby potatoes (or chunks of regular ones), string beans, snow peas, zucchini, olives, radishes, and hard-boiled egg wedges. Most any vegetable will do and you can choose which ones to pre-cook. Slice, chop, and cook ahead of time and all you need to do is lay out the items on a pretty platter and garnish with fresh herbs and flowers with dipping sauces.
These sauces are adapted from The Silver Palate. For special occasions Pam suggests serving them in hollowed-out vegetables, like red or yellow peppers, to make edible bowls.
Fresh Herb Dipping Sauce
Makes 2 cups
1/2 bunch fresh dill
1/4 bunch parsley
1/3 cup drained, cooked spinach
1/4 bunch watercress (optional)
1 green onion, sliced
1 cup mayonnaise
1/2 cup sour cream (or yogurt)
Salt and pepper to taste
Chop herbs in a food processor and add to the mayonnaise and sour cream.
Tapenade Dip
1/2 cups imported pitted black olives
1/4 cup green Sicilian olives, pitted
4 anchovy fillets (optional)
1 garlic clove
2 Tbsp. capers, drained
1-2 Tbsp. lemon juice
1 cup fresh basil leaves (or more)
1/4 cup olive oil
1/4 cup mayonnaise
In a food processor, using a steel blade, blend olives, capers, anchovies, garlic, lemon juice, and basil till smooth, then add the olive oil in a stream with motor still running.
Blend in the mayonnaise and correct, if needed, to taste.