TV Shows: February 15-21
President Clinton greets citizens of Charleston, West Virginia, August 9, 1993. (Courtesy of William J. Clinton Presidential Library)
In 2008, American Experience presented a whitewashed portrait of President George H.W. Bush's presidency, presumably to avoid Republican charges of liberal bias. Bush's successor, Bill Clinton, gets a more balanced treatment in a new two-part documentary (Monday, Feb. 20, 8 p.m.; and Tuesday, Feb. 21, 7 p.m.). I guess PBS doesn't worry about Democratic charges of conservative bias.
In any case, "Clinton" is the juiciest soap opera you'll see on TV all week. In hindsight, Bill Clinton looks like an outsized character from American folklore, with his string of catastrophes and reversals of fortune. Commentators identify "resiliency" as his central quality. "He disappoints [supporters] every time on some level, but he always gets up and tries to make it better," says former press secretary Dee Dee Myers. "What else can you ask of a sinner?"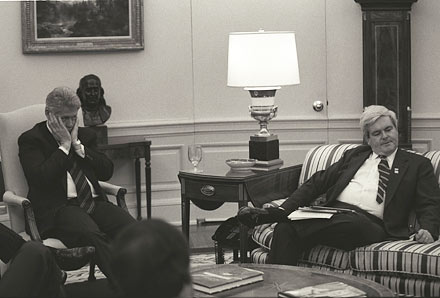 President Clinton with Speaker of the House Newt Gingrich, December 19, 1995.
(Courtesy of William J. Clinton Presidential Library)
The documentary doesn't stint on sin, particularly Clinton's love of the ladies. But commentators across the political spectrum can't help acknowledging his gifts, both intellectual and political. Staff members from his early Arkansas days refer to the "extra battery" that allowed him to campaign for 20 hours at a stretch. He wouldn't leave a factory or a restaurant until he'd met every person there, making each one feel like the most important person on earth.
Even if you lived through the Clinton presidency, you'll find this an entertaining rerun. Part one focuses on the monumental failures of his first two years, from the scandals to the foreign policy missteps to the health-care fiasco. When gleeful Republicans won both house of Congress at the midterms, it looked like a comeback was finally beyond Clinton's reach.
Or did it? Part one ends with a quote from cabinet member Robert Reich: "Bill Clinton was constitutionally incapable of not coming back."
Masterpiece Classic: Downton Abbey
Sunday, February 19, 8 pm (PBS)
Everyone's dying to know: what future do these two have together on Downton Abbey? On episode 7, Matthew Crawley (Dan Stevens) dances with Lady Mary (Michelle Dockery). (photo courtesy Carnival Film & Television Limited 2011)
Downton Abbey, TV's most elegant melodrama, wraps up its second season on the eve of the 1920s. Masters and servants on the Yorkshire estate have survived World War I, more or less, and now face the further erosion of the age-old British caste system. The topnotch actors, along with the beautiful costumes and sets, compensate for a certain shallowness in the writing. They make it easy to get caught up in the characters' romantic, lega,l and financial problems: Will Bates the valet (Brendan Coyle) beat a murder rap? Will Lady Mary (Michelle Dockery) wed the odious Sir Richard (Iain Glen)? Will Sir Anthony (Robert Bathurst) hook up with Lady Edith (Laura Carmichael) despite his war wound?
"When I think what the last 10 years has brought," says the Countess (Maggie Smith), "God knows what we're in for now!"
Season three, anyone?
Billy the Exterminator
Saturday, 9 pm (A&E)
The reality series has lost none of its crazy intensity in season five. Billy Bretherton still holds your attention as he deals with a variety of pests, decked out like a heavy-metal roadie in stringy blond hair, shades, and tattoos. In this week's episode, he visits New Orleans to remove a bee colony from a condominium. Things start out promisingly enough, as Billy takes measures to protect himself. "I'm trying to calm them down with this smoker," he says, letting the smoke waft into the second-story hive.
But as usual, the situation gets out of hand, and Billy gets hysterical. Perched on a shaky ladder, he becomes a target for 30,000 very angry bees. "I've started to wonder if I've stirred up a hive of bad-tempered little assassins," he says after the first few stings. After a few more, his language turns apocalyptic. "Holy hell! I'm staring into the mouth of the DEVIL HIMSELF!"
Clearly, Billy needs a sniff from the smoker to calm himself down.
Life's Too Short
Sundays, 9:30 pm (HBO)
Life's Too Short is a faux documentary from HBO starring Warwick Davis (center) as a fictionalized version of himself. Stephen Merchant (left) and comic Ricky Gervais (right) also star. (photo by Ray Burmiston)
Ricky Gervais can be a master at wringing comedy from uncomfortable subjects; see Extras and his hosting gig at the 2011 Golden Globes. But Gervais can also miss the mark with this approach; see his standup specials and his hosting gig at the 2012 Golden Globes. When he fails to make you laugh at things you're not supposed to laugh about, he comes across as pointlessly mean. That's the case so far in Life's Too Short, a faux-documentary series about little person/actor Warwick Davis—"the U.K.'s go-to dwarf," as he describes himself.
Davis holds the screen as a pompous ass who won't acknowledge how pathetic his life is. But Gervais and co-writer-director Stephen Merchant haven't figured out how to make that scenario funny. Davis can't reach doorbells, can't get out of a car without stumbling, and can't wriggle through a doggie door without getting stuck. We're asked to laugh at him, and that's just gross.
Ice Loves Coco
Sundays, 9:30 pm (E!)
Keeping Up with the Kardashians presumes to entertain us by simply turning the cameras on a banal semi-celebrity family. Ice Loves Coco, which begins its second season, works a bit harder to justify its existence.
Rapper/actor Ice T and blond-bombshell wife Coco merrily turn reality TV into unreality TV. Ice is adept at playing a part, whether it's a menace to society (remember "Cop Killer"?) or a detective on Law & Order: Special Victims Unit. Here, he hams it up as a doting husband. Meanwhile, Coco drapes her Jayne Mansfield curves in outfits that make Nicki Minaj look understated. Each episode features an amiably trumped-up situation, set to punchy brass on the soundtrack.
In other words, Ice Loves Coco is a cartoon—and a fun one. Bugs Bunny, eat your heart out.