TV Shows: March 14-20, 2012
Ashley Judd is a woman you don't want to mess with in Missing.
In Missing (Thursday, 7 p.m., ABC), Becca (Ashley Judd) is a normal middle-aged mom who sends teenage son Mike (Nick Eversman) off to school in Rome. We feel their strong bond as Becca talks to Mike long-distance from the flower shop where she works. Then, Mike uncharacteristically stops returning her calls. In a panic, Becca flies to Rome and stumbles on an armed intruder in Mike's apartment. To our shock, she disarms and strangles him in a jiffy.
The normal middle-aged mom, it turns out, has skills. She's an ex-CIA agent who can speak multiple languages, handle a firearm and ride a motorcycle through a glass window.
Becca can apparently do anything, and that includes worming her way into our hearts. Judd has movie-star presence, and she creates a character who is both believably tough and believably vulnerable. She's the kind of superwoman who smarts from bruises after her fistfights.
The production, meanwhile, efficiently establishes its premise. Every scene is assured, whether aiming for humor, pathos, romance or action. The pilot ends with a cliffhanger, but Missing had me hooked long before then.
Bent
Wednesdays, 8 p.m. (NBC)
David Walton as Pete and Amanda Peet as Alex in Bent ( Photo b: Neil Jacobs/NBC)
Alex (Amanda Peet) is a beautiful newly divorced single mom/harried lawyer looking for a fresh start in life. Pete (David Walton) is a handsome recovering gambling addict/cocky contractor looking for a fresh start himself. When Pete gets the job of renovating Alex's house, romantic sparks fly, even though the two of them hate each other at first.
I realize I've just described the plot of nearly every sitcom. But Bent is something altogether different. When I say "sparks," I'm talking about the kind that can melt your TV screen. Peet and Walton have extraordinary intensity, hurling insults at each other like thunderbolts. The script delivers up-to-the-minute irony, but also real emotion. And the supporting cast offers exquisitely absurd touches, including Jeffrey Tambor as Pete's Fleetwood Mac-loving dad.
I hope Alex's renovation takes at least five years and 100 episodes.
Interior Therapy with Jeff Lewis
Wednesdays, 8 p.m. (Bravo)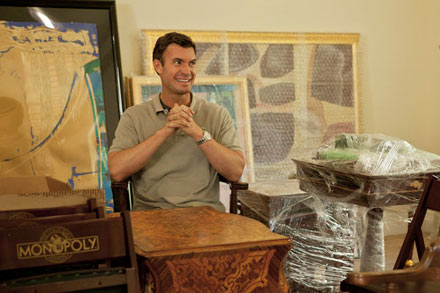 Jeff Lewis in  the "Charity Begins at Home"episode airing March 28 from Bravo's Interior Therapy with Jeff Lewis. (Photo by Isabella Vosmikova/Bravo)
We've developed a love-hate relationship with obsessive-compulsive house-flipper Jeff Lewis after five seasons of his reality series Flipping Out. And the new Interior Therapy gives us more reasons to both love and hate him. As usual, Lewis holds the screen, this time while moving in with families who live in ugly homes. The premise is that he has five days to redo the house and the family's life. He rides herd on the project with assistant Jenni Pulos, taking care of business with his amusing perfectionism.
On the other hand, Lewis' self-satisfaction can be off-putting. "I'm known for two things," he brags. "Beautiful design and brutal honesty."
Interior Therapy can get bogged down in details, just like Jeff himself. For example, it's not always exciting to watch the construction crew grind through its work. I think Jeff needs to spice things up a bit here, if I may be brutally honest.
In Plain Sight
Fridays, 9 p.m. (USA)
U.S. Marshal Mary Shannon (Mary McCormack) returns for the fifth and (boo!) final season of In Plain Sight. The season premiere is a typically gripping story about a guy who needs government protection after witnessing a murder. The episode is also typically funny and touching. Mary returns to work after two cataclysmic events: shooting a suspect and then going into labor. She's now a single mom who must somehow balance her baby and her rough-and-tumble job. Motherhood seems to have softened her, but whenever things get too sappy she comes through with a bitingly sarcastic comment.
That's what I love about In Plain Sight. It gets into heavy-duty emotions without taking itself too seriously. When the series ends, I'll certainly miss McCormack's outsized character – big gun, big mouth, big heart.
I'm sure Mary would consider that sentiment too sappy. Insert bitingly sarcastic comment here.
Fashion Star
Tuesdays, 8:30 p.m. (NBC)
This new reality series pits 14 fashion designers against each other to create a clothing line. Nothing unusual about that, but Fashion Star distinguishes itself from similar shows through pure shamelessness. Each week, buyers from major retail stores set up their billboards onstage and make offers on the designers' creations. The clothes you see on the screen will go on sale online and in stores immediately.
In other words, Fashion Star is nothing more than a commercial, using the designer competition to make the whole thing seem vaguely like entertainment. The conceit is that we viewers have the privilege of buying clothes created by people who might be future fashion icons!
What's next. . . Investment Star, in which we have the privilege of buying swampland that might be future prime real estate?