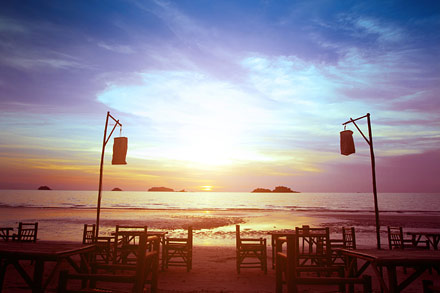 We asked voters  in the 9th annual Regional Restaurant Contest what sort of restaurant they'd dream up if money were no object. We asked them to imagine everything from the restaurant's name and menu to the decor and music. Here's the winning essay, plus some of our favorite entries. Thanks to everyone for their contributions to the world of fantasy restaurants!
THE WINNER
Caveman Chic
My dream restaurant would be called "Paleo" and would cater to those following the contemporary paleo diet, as well as those who simply want to eat healthier. Paleo's menu would consist of gourmet recipes featuring fish, grass-fed pasture-raised meats, eggs, vegetables, fruit, fungi, roots, and nuts, organic and locally sourced whenever possible.
Paleo would be situated on the edge of town with large windows looking out over Iowa pasture or prairie. The décor would be "caveman chic": every table would be circular, with a small fire in the middle to provide light and mimic a Paleolithic cookfire. There would also be a large central fireplace with a small stage in front of it, for storytelling and music. The walls—stone for the first five or six feet—would be decorated with cave paintings, maybe with modern frames set around them. There would be no televisions.
Each member of the (well-paid!) waitstaff would be assigned to one of the local farmers who provide food to the restaurant, and for a day every month, s/he would help out on that person's farm, to learn firsthand about the way the food is raised.
Each night, dinner would be accompanied by live instrumental music, and every weekend, I would book a storyteller for an after-dinner storytelling performance, to reconnect people with that wonderful, age-old tradition.
—Jenna Hammerich, Oxford
HONORABLE MENTIONS
A Quiet Enclave
A labyrinth leads you to a door covered in bright green moss. A plump woman opens the door and leads you into a private booth, semi enclosed (for lovers, mobsters, and writers). The waiter is handsome and greets you in any language you like.
Quietly, courses are brought one at a time . . . spring onion soup, fresh rosemary bread, salmon baked with yogurt, lemon, and dill, asparagus, sparkling lemonade, a salad of fresh baby greens dressed with olive oil and just a touch of balsamic and herbs, chocolate mousse decorated with Johnny jump-ups, and Turkish coffee.
The bill is sent to your home and paid in advance—that's to help the digestion. And out the back door . . . a beach, or Paris, or the aurora borealis. . . .
—Raven Garland, Fairfield
Pie Fidelity
What would you call a restaurant that combines great music and pies of the world in a lively setting? I'd call it Pie Fidelity. Picture vintage 1940s Wurlitzer jukeboxes with all the classics playing (for example, "Sugar Pie Honey Bunch") and add over 100 types of meat, veggie, and sweet pies—from locally grown chicken pot pie to Shepherd's Pie to gluten-free empanadas and quiches lining a long glass front case so that you can eat in or take them home.
Who'd say no to Key Lime Pie, Kentucky Derby Pie, homemade Moon Pie, and Oh Mai Tai Pie? How about a refreshing Hamburg Inn-style Pie Shake at the lunch counter, where the swivel stool covers look like lattice-topped pies?
The rest of the decor would be like a shiny car showroom from the 1950s, bright and open, and would include hanging lamps shaped like floating meringue, and the food would be served in pie tins. Fresh pies would be cooling in the "hot stuff" window and the fresh-baked smell of them would waft over the diners. The floor would be primary-colored linoleum squares and have pie-slice-shaped inlays. The high-energy waitstaff would have serving aprons embellished with quotes like "Pie is the slice of life" and "Pie are round."
It would be the perfect place to bring your Sweetie Pie (or Sweetie Guy) for a meal that definitely wouldn't be pie-destrian or half-baked.
—Garry Klein, Iowa City
Dining in the Theater District
My dream restaurant would be decorated in a musical-theater theme and feature famous Broadway musicals from the past and present, with each dining section showcasing a different musical.
The menu offerings would include offerings associated with each musical, like Austrian foods for The Sound of Music, a "trash" burger for Cats, French selections for the Phantom of the Opera, etc. The aim would be to make patrons feel like they were right in the heart of the theater district in New York or London.
The lighting used in the restaurant would be actual stage lighting to make the patron feel like they were right on stage, and each dining section would incorporate actual set pieces, costumes, and props from the featured musical. In an effort to keep it fresh, each dining section would change the featured musical every quarter to encourage the patrons to return to get a different musical/dining experience.
All waitstaff would be selected based on their singing and dancing skills, along with their ability to manage the dining experience for their tables, as they would be expected to provide entertainment from the featured musical and general Broadway history for their patrons.
I think it would be fabulously fun and successful!
—Jason Deprey
Letters and Treats
Letters and Treats—the only restaurant  where paper is on the menu. For the lost art of communication by long-hang, customers choose their favorite stationery and writing instruments with which to complete their correspondence while waiting for their order.
On the dining menu: Jane Austen rose macaroons, Marcel Proust cucumber baguette slices, Goethe's Summer Dream Sandwich, and an assortment of locally sourced organic confections, fine organic teas brewed from bulk leaves and served in china, and fair-trade coffees and lattes.
—Anna-Maria, Fairfield
Airstream Pop-Up
My dream restaurant is converting my old Airstream camper into one of those pop-up mystery restaurants. It would serve a new menu every time it sets up and would bring in guest chefs from the community and elsewhere. Only open a few nights a month, it would offer something new and different to the community. For example, I would tap into my Persian heritage for great Middle Eastern food and would recruit one of my chef friends to treat us to his winning competition food. Low overhead and high potential for fun!
Okay, who's next?
—Peter Kaboli, Iowa City
Jazz and Spice
Imagine the lively rumbling of drums, mellowed out by an aching monster bass and the sultry sweet sounds of a voluptuously writhing jazz band sweeping your hair back as cooks call and waiters sway about the room in their own rhythmic dance.
You ordered a spicy Moroccan dish you can't remember how to pronounce, but, man, is it good. Your date ordered an Italian classic, a porky, savory Saltimbocca. Just taste the curried lamb swooshing around your taste buds mingling with the music—your senses have never been so in tune. White gloves deliver you a tangy fig-and-saffron soufflé accompanied by a glimmering port.
You thought this was just another mom-and-pop, hole-in-the-wall dive? Were you surprised. Turns out the old marble dance floor and silk curtains hadn't slipped through the ol' imagination station. You'll definitely be returning to Il Blu again very soon.
—Jesse Fell, Wellman
Beachside Paradise
My dream dining experience includes a beach-side setting, an intimate adobe-style hideaway with fresh local ingredients, and a juice bar for infusions and alcohol-free cocktails. The focus is on freshness, a mixture of sushi-grade fish and vegetarian options that integrate the tang of citrus, the sweet and calming nurture of fresh fruits, savory accents from locally grown herbs, the pungent "aha" of garlic, spices, and chilies, and just the right amount of sea salt to heighten taste. The lighting is natural, enhanced by the moon and soft candlelight in the evenings. Live music on the weekends with classical guitar or a jazz trio—sensual, alive.
And always the offering of thanks after paying the bill: chocolate to savor and anchor the memory of a perfect meal.
—Sharon Bousquet, Fairfield
Bacon & Blues
My dream restaurant is called Bacon and Blues. There are no vegetarians among the clientele (not that there is anything wrong with vegetarians), but pork-belly lovers will be in hog heaven. Every dish will feature bacon in some way, shape, or form, from rumaki appetizers to candied bacon desserts. The special house drink is the BLTini, made with bacon-infused vodka and tomato juice and garnished with an endive leaf and, what else, a slice of bacon. The dining room will be decorated in a pig motif and the live musical entertainment will feature internationally renowned blues artists playing sets that sizzle like bacon in a frying pan. Bacon and Blues, because everything is better with bacon.
—Deborah Neyens, Swisher
Soda Fountain Redux
There is a closed restaurant on the north side of the square in my hometown. I have always dreamed of opening it as a soda fountain/lunch counter just like the one in my grandfather's pharmacy. I can see it in my mind: black-and-white checked tile floor. Glass shelves on the wall facing the lunch counter, filled with a wide variety of glasses, dishes, and bowls, perfect for the right treats. Shiny, bright red vinyl covering the stools at the counter and the seats in the booths and tables.
The tables would have to be white Formica with large metal stands under them, strong enough to hold old lunch-counter cuisine and delectable frozen goodies. Paint colors and lighting would be bright and clean feeling, and ceiling fans would circulate the wonderful aromas. Placed in each booth and several prime locations on the lunch counter would be miniature jukeboxes.
I would serve typical sandwiches, salads and soups: egg salad, tuna salad, BLT, Cobb and chef salads, burgers of many types and sizes, maybe a little bit like the A&W ones (papa, mama, and baby sized). French fries and onion rings, of course. I would decorate it with memorabilia from the '40s through the '60s that are memorable to individuals in my hometown. What a great conversation starter. Music would definitely have to be from that time period. And I would love to be able to get customers into the shop representing a large variety of ages. When I walk by the storefront windows, I can see it all in my mind, and it's amazing.
—Stacy A. Sturdevant, Washington
Kitchen of the World
It would be called Cocina del Mundo (kitchen of the world), and each month we would highlight a different country. There would be a consistent menu that featured authentic but varied choices from a host of countries. We would also have a menu that changed each month, featuring several appetizers, entrees, and desserts from the highlighted country.
Music would be instrumental and eclectic, but tasteful. Decor would be classy, but not overwhelming to the senses. Clientele would be open to new things, but would always be able to get their favorite menu items. We would serve weekend brunch, plus lunch and dinner Monday through Saturday.
—Taylor Fulton, Crawfordsville
The Greenhouse
I would buy land right off Highway 1 just outside of Fairfield and build a home and large greenhouse. The restaurant would be called the Greenhouse, and I would serve fresh, local, organically grown food prepared with love in accordance with the seasons, supplemented with locally sourced whole grains and fresh, organic meats raised with dignity. I would serve people outside in the warm seasons with tree-shaded seating, and in the cold seasons, inside the heated greenhouse.
The food would come directly from what was being grown in the greenhouse: fresh vegetables, fruits, squash, legumes, etc. I would strive to create a rustic, welcoming-as-family ambience, and a fully nourishing, satisfying, savory and sweet epicurean adventure. I would connect people back to the earth where their food grows by taking them there directly. I would build everything out of recycled materials and the tables would be made out of pallets/reclaimed wood with a cutout to hold herbs that could be cut and added to any dish.
The home would be completely off the grid and designed with eco-friendly materials, and would have a great room that seated at least 30 people for those who would prefer to eat indoors. The entire home and greenhouse would be a learning center for those who would like to know more about how to grow their own food. Cooking classes would be taught. A cob oven for baking breads, pizzas, etc., would be on site. Goats and chickens would provide cheese and eggs for food as well as manure for compost to enrich the soil. This is my ultimate dream and one that my beloved and I will bring to fruition one day.
—Brandy C. Lee-Jacob, Fairfield