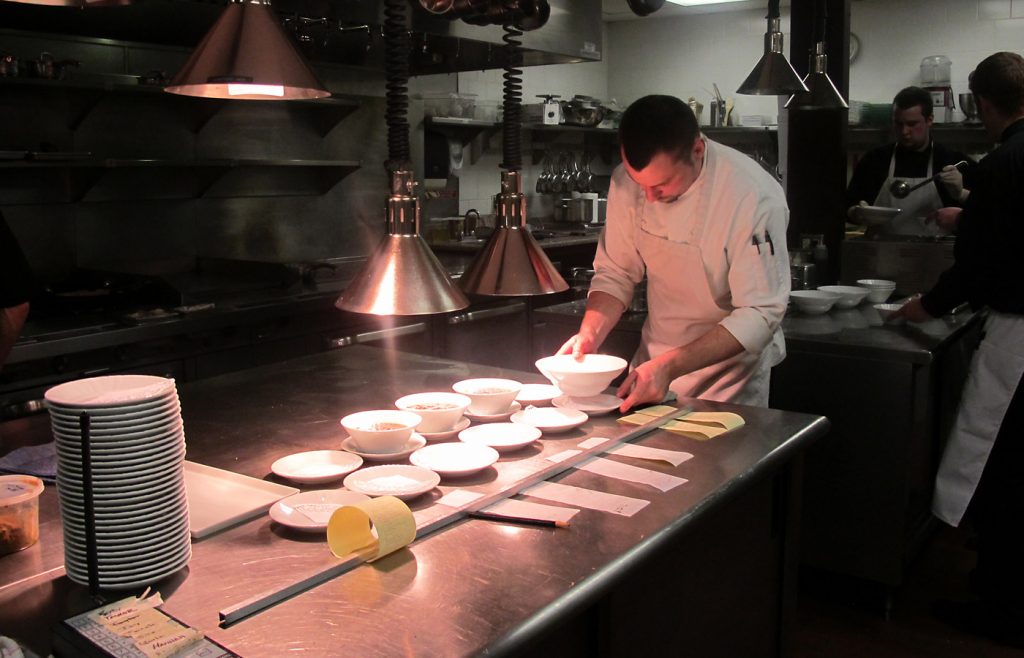 XIE (pronounced "shay") is a fusion restaurant that boasts a unique blend of Asian, French, and American cuisines. Located in downtown Iowa City, XIE is open for both lunch and dinner. For more info, visit xierestaurant.com or call (319) 338-3889.
Please give us a little background on your training and career highlights.
Andrey Lavrenko: I graduated from the Kirkwood Culinary Arts program in 2010. I had the pleasure of studying under wonderful chef instructors, who taught me the basics of cooking, scratch production, and different cooking techniques. One of the turning points in my professional life, which gave me a head start in my career and brought me to where I am now, was becoming a cook at Chef's Table restaurant when it opened in 2009. I worked under amazing executive and sous chefs, whose culinary knowledge and wisdom helped me to enhance my skills and learn new techniques, especially in French cuisine.
Who or what inspired you to become a chef?
All my life, I was around food and cooking. My mom was a great cook and my grandmother had a garden, which I helped her to grow. I always liked to cook for myself and my friends, and in 2007, I decided to go to culinary school.
What has been your most exciting experience as a chef?
One day I was cooking for one of my dear friends and his girlfriend. We prepared a nice tasting menu and later I found out that he proposed to her that night. I was very delighted to know that he did it at my restaurant and that the night was special enough for them to remember for their whole life.
Any crazy or memorable stories you'd like to share?
Every day is crazy and memorable for a chef.
What is your favorite kind of food to prepare?
I like to experiment with different ingredients and techniques; that's what makes cooking interesting for me. I just like to cook in general.
If you could create a dream menu of three courses, what would it include?
I am not sure on the exact dishes, but it would definitely include caviar—preferably black—fois gras, and truffles, and in that progression as first, second, and third course.
What do you end up eating at home by yourself?
Instant noodle soup. It has to be from an Asian market and loaded with whatever veggies I have in my fridge, some seafood if I have it, and finished with soy sauce, sesame oil, fish sauce, and sriracha, unless I already bought a kimchi flavor.
What advice do you have for aspiring chefs?
Keep your head down, learn from your superiors, and work, work, work. Never stop improving.