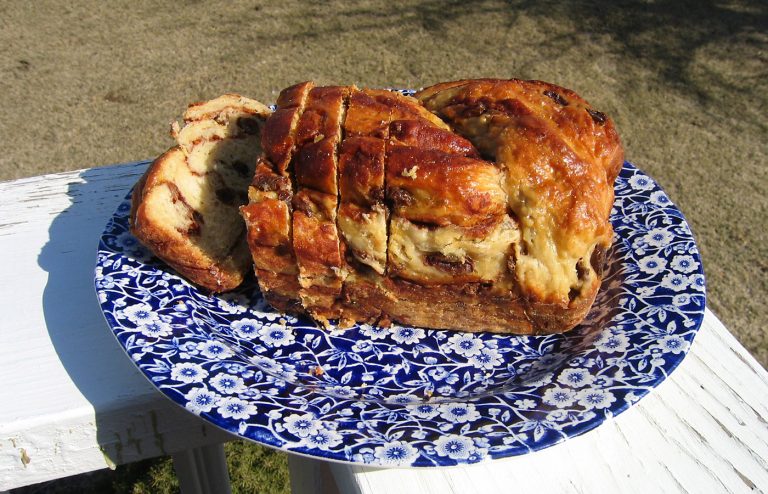 Nothing says home more than the smell of freshly baked bread. And no freshly baked bread smells better than cinnamon-raisin bread.
This recipe is inspired by the Cinnamon Swirl Bread recipe published in the March-April 2012 issue of Cooks Illustrated. I've simplified it by changing it from a labor-intensive, five-hour process to a no-knead method requiring just three to four hours of mostly hands-off bread making.
This moist dough is easiest to handle when cold from the fridge. Make sure you use nonstick pans.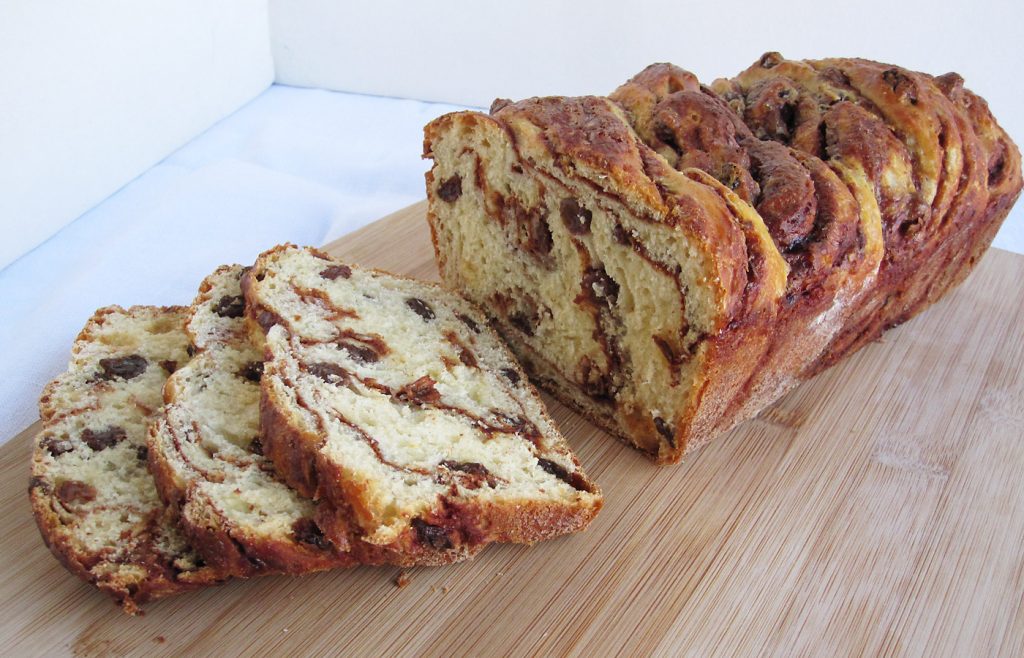 Cinnamon Raisin Bread
Makes 2 loaves
For the dough:
5-2⁄3 cups bread flour, plus more for rolling and shaping
1-1⁄8 cup nonfat dry milk powder
1⁄2 cup white sugar
2 packets active dry yeast (1½ Tbsp.)
2-¼ tsp. salt
1-1⁄2 cup raisins
1⁄2 cup melted butter
2 cups plus 2 Tbsp. water
2 large eggs, lightly beaten
Filling 
1-½ cup powdered sugar
5 Tbsp. ground cinnamon
Egg Wash
1 large egg, lightly beaten
Place flour, milk powder, sugar, yeast, and salt into a large mixing bowl and whisk together. Stir in raisins and set aside.
In a small bowl, whisk together 2 beaten eggs, melted butter, and water.
Pour wet ingredients into dry ingredients and stir until well mixed. Scrape down the sides of the bowl. Cover the bowl loosely and refrigerate for at least eight hours but no longer than three days.
Assembling the loaves:
For the filling, whisk together the sugar and cinnamon and set aside.
Coat two nonstick 9×5-inch loaf pans with butter and dust with flour.
Place half of the dough on a lightly floured surface. Form it into a ball and then roll into a 7×18-inch rectangle. Using a spray bottle, lightly mist the dough with water. Sprinkle half of the filling onto the dough, leaving a ¼ inch border on the top and bottom, and a ¾ inch border on the ends. Mist the filling with water. Starting with a short end, tightly roll the dough into a cylinder. Pinch the seam and ends together.
Repeat assembly process with the other half of dough to form the second loaf. Dust loaves with flour and allow to rest for 10 minutes.
Stretch each loaf to 12 inches, and using a bench scraper or chef's knife, cut in half lengthwise. Keeping the halves cut-side up the whole time, press the bottom ends together and braid the left side over the right, repeating until you have formed a tight twist. Press the ends together and place in the prepared loaf pan. Repeat with second loaf. Cover with plastic wrap, and allow loaves to rise 2 to 3 hours in a warm place until doubled in size.
Preheat oven to 350°.
Brush loaves with egg wash and bake for 25 minutes. Turn oven down to 325° and bake 20 minutes more.
Cool loaves in pans for 5 to 10 minutes, then remove and cool completely before slicing.