TV Shows: Oct. 30-Nov. 5, 2013
Jimi Hendrix (photo: Graham F. Page / EMP Museum / Authentic Hendrix, LLC)
Hard to believe, but in the four decades since Jimi Hendrix died, no one has made a great documentary about him. Jimi Hendrix: Hear My Train a Comin' on American Masters fixes that problem (Tuesday, 8 p.m., PBS). It capably tells the story of Jimi's rise from impoverished Seattle youth to rock star to drug casualty — an extraordinary journey of just 27 years.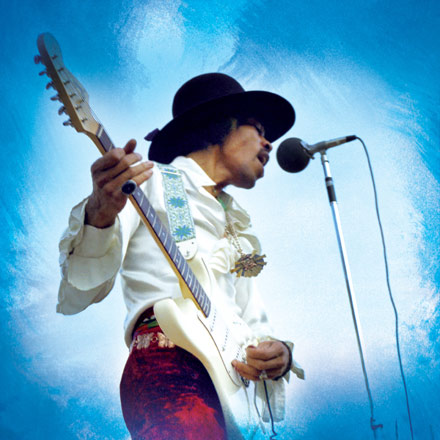 Jimi Hendrix Experience performs at the 1968 Miami Pop Festival. Performance footage from the festival is among the previously unseen treasures featured in American Masters: Jimi Hendrix – Hear My Train A Comin'. (Photo: Ken Davidoff/Authentic Hendrix LLC)
The film is a treasure trove of rare photos, previously unseen concert footage, intimate letters and revealing home movies. Hendrix's friends and colleagues (including a star-struck Paul McCartney) describe a shy young man who utterly transformed when he walked onstage with an electric guitar. Indeed, it's hard to connect the quiet Jimi in archival interviews with the strutting psychedelic god who slashes through "Purple Haze" and "Foxy Lady." None of the commentators can adequately explain the power of his music, whose mix of the earthy and the ethereal still raises hairs on the back of your neck.
Jimi Hendrix (Photo: MRPI / Authentic Hendrix, LLC)
I can't explain it either. Stop reading this review and just watch Hendrix in action on Tuesday night.
Grimm
Friday, 8 pm (NBC)
I know a lot of people like this drama about a Portland detective who, as a descendent of the Brothers Grimm, fights ancient evil in the modern world. I want to like it myself, but as an infrequent viewer I struggle simply to understand what's going on.
Bree Turner as Rosalee Calvert, Silas Weir Mitchell as Monroe on Grimm, airing November 1 on NBC (Photo: Scott Green/© NBC Universal, Inc.)
In this week's episode, our hero, Nick (David Giuntoli), turns into an animal. Sort of. Then all his friends inexplicably begin calling him "Thomas." Meanwhile, a medium with a thick accent makes a pretty blond woman perform weird rituals with a corpse. "You must become accustomed to zee smell of death!" she insists. Why this is true, I never figured out. I was too busy trying to decipher the bits of German dialogue.
By the end of the episode, I was more confused than when I started. But I admit I had become slightly more accustomed to zee smell of death.
Time of Death
Friday, 8 pm (Showtime)
Time of Death is a reality series, but not the fun kind. Call it a grim-reality series. It brings us close to terminally ill people facing their mortality and follows them up to the last minutes of their lives. In the premiere episode we meet Maria, a single mother, and Michael, a Navy vet, both of whom have cancer. We know from the outset that their stories won't end happily, at least in the conventional TV sense. But given that we'll all be in their boat one day, we can find inspiration in their humor, their sense of perspective, and their concern for their loved ones.
Maria and Michael look unflinchingly at the transience of life, and Time of Death asks us to do the same.
Dracula
Friday, 9 pm (NBC)
Last week I denounced Dracula's premiere episode while eagerly looking forward to episode two. Why would I look forward to another hour of preposterous plotting, nonsensical dialogue and cringe-inducing characters? Because Dracula is not simply bad, but deliriously, entertainingly bad. What makes it a trash-TV classic is that the filmmakers take the would-be horror seriously, not realizing that viewers at home are howling with laughter.
This week's episode is even nuttier than the last. Dracula (Jonathan Rhys Meyers), disguised as an American industrialist, tries to foil members of a demonic sect who are themselves disguised as 19th century oil barons. (Bear with me here.) Over the course of an hour, he exercises his vampire power over all the women except a medical student named Mina (Jessica De Gouw). To bend her to his will, he hatches a complicated plot involving her fiancé, Jonathan Harker (Oliver Jackson-Cohen). "Why engage Harker to bring the woman into your orbit," asks Dracula sidekick Renfield (Nonso Anozie), "when surely you have the power to simply take her?"
You know your Dracula series is in trouble when even the main characters are confused about the plot points.
Civil War 360
Sunday, 7 pm (Smithsonian Channel)
In each of its three parts, this documentary series offers a different point of view on the Civil War. Actress Ashley Judd tells us about the Union, actor Dennis Haysbert about the slaves, and country singer Trace Adkins about the Confederacy. In this day and age, representing the Confederacy's perspective is the tricky part. Adkins can't go so far as to celebrate their cause without offending most of the national audience.
Believe it or not, he celebrates their cause. Adkins insists that the South merely "wanted to define freedom on its own terms," without acknowledging that such "freedom" involved owning people. A single, sensible sentence about the evils of slavery would have gone a long way toward making the episode palatable.
As it is, we'll have a bad taste in our mouths until Haysbert's installment next week.