TV Shows: Nov. 20-26, 2013
Breeanna Speicher with the Jacobson family in Generation Cryo on MTV. (MTV)
Breeanna, a 17-year-old from Nevada, is on a mission to find her biological father. She knows him only as donor #1096 — the guy who happened to provide the sperm for her lesbian mothers. Through a website, she has tracked down 15 half-siblings scattered throughout the country. Generation Cryo (Monday, 9 p.m., MTV) is a video diary of her journey to meet them and, ultimately, to solve the riddle her birth. "It's like this incredible mystery," Breeanna tells the camera, "and all my half-siblings are a different piece of the puzzle."
MTV layers on poignant images and music, helping us feel that Breenna's quest is our quest. In the premiere, we channel her anxiety as she travels to Atlanta to meet half-siblings Jonah and Hilit. Will they have anything in common with her other than DNA? Perhaps a desire to swap hopes and dreams with someone who sort of is and sort of isn't a family member?
Generation Cryo is all about making connections, and Breenna is one of the most connection-minded people you'll ever meet. She's sweet and gentle, with an open heart always in danger of being broken.
I'm proud to call myself part of her TV family.
Lee Harvey Oswald: 48 Hours to Live
Friday, 9 pm (History Channel)
TV networks have shown a lot of documentaries about President John F. Kennedy this month. By today, the 50th anniversary of his assassination, most Americans will have had enough. They'll go out and have fun, the way they do most Friday nights. But a few of us dead-enders and conspiracy buffs will sign on for one more round of analyzing the available evidence.
Lee Harvey Oswald: 48 Hours to Live spends two hours obsessively tracking Oswald's moves, from the moment of the assassination to his own death two days later at the hands of Jack Ruby. The History Channel mixes archival video and audio with artful reenactments filmed in the actual Dallas locations where they occurred, like the room where police grilled Oswald.
Go ahead and enjoy your Friday night on the town. Me, there's nowhere I'd rather be than that claustrophobic interrogation room.
Sarah Silverman: We Are Miracles
Saturday, 9 pm (HBO)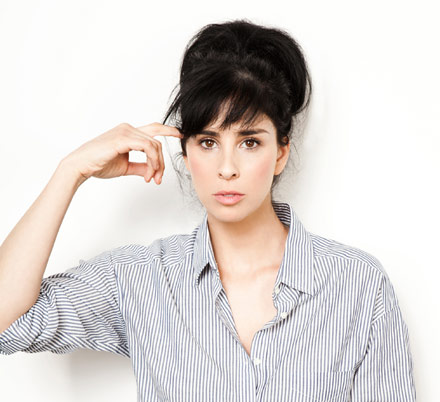 Sarah Silverman (photo by Robyn Von Swank, HBO)
Don't let that sweet face fool you. Or that pouty, innocent delivery. Sarah Silverman wants to gross you out, scandalize you, and take you to the edge of turning off the TV. The comedian specializes in saying things that are never said, regarding rape, incest, porn, Hitler, race, you name it. Her goal – and it's an ambitious one, worthy of Lenny Bruce – is to get us laughing about the things that make us most uncomfortable.
Sarah Silverman (photo by Janet Van Ham, HBO)
In the standup special We Are Miracles, she succeeds, most of the time. Given her approach, 100% success just isn't in the cards. Silverman will always see how far she can go, which means she'll occasionally go over the line. That's what happens with a 9/11 joke that just made me sad. But she distinguishes herself as a social satirist in bits about religion and feminine hygiene products.
Every once in a while Silverman even grosses herself out. "That's disgusting – erase!" she shouts following a line about father-daughter relations. I agree with her in that case, but there are about 45 minutes in this 55-minute performance I wouldn't erase for the world.
Getting On
Sunday, 9 pm (HBO)
HBO apparently wanted its own darkly comic hospital series to compete with Showtime's brilliant Nurse Jackie. Getting On has impressive producers (from Big Love) and cast members (Laurie Metcalfe, Niecy Nash), but it's dead on arrival. The series is set in a creepy extended-care unit where the staff members squabble and the patients sink into hopelessness. Having fun yet? Add ghastly lighting and an obsession with feces and you have, arguably, HBO's least enjoyable comedy of all time.
Major Crimes
Monday, 8 pm (TNT)
This spinoff of The Closer puts Captain Sharon Raydor (Mary McDonnell) in charge of the L.A.P.D.'s Major Crimes Division. Raydor is a calmer presence than her predecessor, Brenda Leigh Johnson (Kyra Sedgwick) — not necessarily a good thing, dramatically speaking. Still, I got swept up in this Monday's episode, which kicks off an eight-week run.
Two teenagers turn up dead in a gruesome crime involving Ecstasy and cyanide, and the investigation leads to their high school. Meanwhile, Raydor frets over Rusty (Graham Patrick Murphy), the homeless boy for whom she serves as guardian. Their relationship provides some heart to what would otherwise be a routine police procedural.

Major Crimes is a minor TV pleasure, but those are nothing to sneeze at.