TV Shows: Dec. 4-10, 2013
Holliday Grainger stars as Bonnie Parker in the new miniseries Bonnie & Clyde. Part one premieres Sunday, December 8, followed by part two on Monday, December 9. (Photo by Adam Taylor ©2013)
The real Bonnie and Clyde were grotesque killers with no redeeming qualities. But the new TV movie Bonnie & Clyde (Sunday & Monday, 8 p.m., A&E, Lifetime & History) swathes them in glamour. As played by Emile Hirsch and Holliday Grainger, they're Depression-era hotties who look fabulous while robbing banks and breaking out of jail. They even take time to have sex in their getaway car, with the police hot on their trail.
Emile Hirsch stars as Clyde in Bonnie & Clyde. (Photo by Adam Taylor ©2013)
This is no cinematic classic, like 1967's Bonnie and Clyde. Director Bruce Beresford overdoes the dreamy images and the slo-mo. The script dabbles in cheesy sociology, letting our miscreants off the hook as much as it can. (Hey, times were hard in the 1930s.) It even has the nerve to paint Bonnie as a proto-feminist heroine.
Holly Hunter (Emma Parker) and Holliday Grainger (Bonnie Parker) star Bonnie & Clyde. (Photo by Adam Taylor ©2013)
But I can't get too upset. The movie passes the time, and Hirsch and Grainger just keep looking fabulous, no matter how silly the plot. They're much more fun to hang out with than the real Bonnie and Clyde would have been.
Six by Sondheim
Monday, 8 pm (HBO)
Stephen Sondheim (photo: Matthu Placek/courtesy of HBO)
This documentary profiles Stephen Sondheim, composer/lyricist of Company, Sweeney Todd and other innovative musicals. It's artfully organized around six songs, which we hear in archival clips as well as new restagings. Sondheim himself provides sophisticated commentary in interviews from different periods of his life, with and without beard and cigarettes.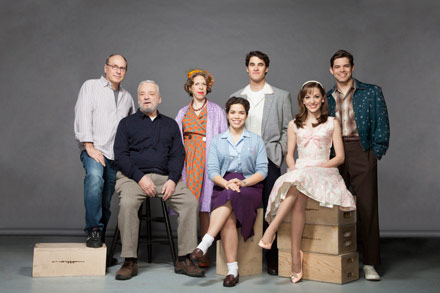 Stephen Sondheim, Jackie Hoffman, America Ferrera, Darren Criss, Laura Osnes, James Lapine. (photo: Matthu Placek/courtesy of HBO)
Along with learning about his working methods, we hear stories of his horrific childhood — a contributing factor to his sometimes dark worldview. Sondheim quotes a letter he got from his mother in his 40s: "I have only one regret in life, which is giving you birth."
James Lapine, Darren Criss, America Ferrera.( photo: Matthu Placek/courtesy of HBO)
In wishing that Stephen Sondheim never existed, his mother is squarely in the minority.
Mob City
Wednesday, 8 pm (TNT)
This miniseries is set in 1947 Los Angeles, where a hardboiled detective (Jon Bernthal) battles fedora-wearing mobsters for the soul of the city. Clearly, writer-director Frank Darabont (The Walking Dead) has watched too many Humphrey Bogart movies. Mob City is a compendium of film noir clichés, from the jaded hero to the slinky dames to the two-bit losers. One of those losers (a miscast Simon Pegg) is even more hapless than Darabont intends. He quotes James Cagney in White Heat, even though nobody in 1947 would have heard of that 1949 movie.
So it goes in Mob City, which botches every element of the film-noir genre. Worst of all is the sub-Raymond Chandler dialogue. "This city, it's a sky full of stars!" says our two-bit loser, grasping for tough-guy poetry. "Up close, it's all gutter!"
At times like this, you begin to think that Darabont hasn't watched quite enough Humphrey Bogart movies.
Killer Contact
Wednesday, 9 pm (Syfy)
Syfy's new reality series features a team of investigators who solve crimes from the distant past, committed by legendary criminals like Jack the Ripper. How do they find answers where others have failed? They have a foolproof method: talking to ghosts. You'd be surprised how chatty the spirits of dead evildoers can be when a group of good-looking American TV personalities come calling.
This week, armed with the latest in paranormal-detection gadgets, our gullible young heroes head to a Romanian castle to figure out if the 15th century tyrant Vlad the Impaler was really a vampire. For all their thermal cameras and infrared sensors, however, the kids try to rouse Vlad's ghost the old-fashioned way: by screaming at him. "Let's see how tough you are now!" one of them bellows in a gloomy castle chamber. "Get your ass out here!"
Vlad "responds" only with faint crackling noises on the electromagnetic doohickey — the kind of crackling that, honestly, might also be caused by a slight breeze. Nevertheless, the investigators are satisfied that they've solved the mystery. Vlad was, they conclude, a vampire.
No, these folks don't seem terribly bright. But come on — they can't be too stupid if they convinced a major cable network to base an entire TV series on faint crackling noises.
Tequila Sisters
Tuesday, 7 pm (TV Guide Network)
The TV Guide Network has stumbled on a reality-show goldmine: a wealthy Southern California family with four sexy, spoiled, sassy, TV-ready sisters. The Marin girls are blond counterparts to the Kardashians, and they give them a run for their money in the banal self-absorption department. Tequila Sisters (named for the family's tequila-importing fortune) has no trouble finding plot points, given the sisters' nude photo shoots and $40,000 birthday parties. Then there's the parents' strict Mexican value system, which clashes with the girls' libertine lifestyles.
In a month dominated by wholesome holiday fare, I appreciate a series that's unabashedly tawdry.