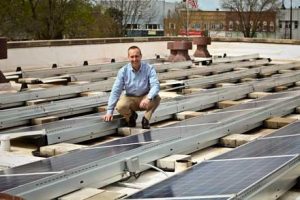 With a new solar energy system just installed by Ideal Energy, Inc., Iowa State Bank & Trust Company of Fairfield became Southeast Iowa's first solar-powered bank, drawing nearly half of its power from sunlight. The 35.95 kW solar array at the bank's 4th Street location will generate about 49 percent of the building's total energy needs. The bank's Court Street location, where Ideal Energy installed solar power last year, draws 29 percent of its electricity (28.56 kW) from sunlight.
These renewable energy systems will have a cumulative effect on the environment over the next 25 years equivalent to saving 1,361 tons of carbon — or planting 54,432 trees.
When Ideal Energy co-founder Troy Van Beek approached Iowa State Bank president and CEO Aaron Kness last year with the idea for the new solar array, no introduction was needed. The two men had met in 2009 when Van Beek, a U.S. Navy SEAL-turned-environmentalist, and his wife, entrepreneur Amy Van Beek, approached Kness for financing to help start their company.
The Van Beeks took that seed money and over the next years grew Ideal Energy into one of the region's premiere providers of solar and wind energy technologies. To the Van Beeks, both graduates of Maharishi University of Management, their business plan doubled as a mission toward sustainability: to transform energy production in the region to clean, cost-effective sources.
And they are making headway. Since its founding, Ideal Energy has installed renewable energy systems at businesses, farms, and municipal entities throughout southeastern Iowa. In Fairfield alone, their solar energy systems help to power Aeron Lifestyle Technology, KatieRam Office Park, Everybody's Whole Foods, and the Fairfield Public Library. The huge 3,500-square-foot solar array they installed at the Sky Factory is a "net-zero" installation, generating fully 100 percent of the building's electrical energy needs.
So, when Troy Van Beek proposed a second solar energy system to CEO Kness for Iowa State Bank's 4th Street location, Kness knew exactly what he was getting. "In addition to going green, the decision was based on economic benefits," said Kness. "At the end of the day, this will lower our overhead costs, which in turn will allow us to pass on the savings to our customers."
Iowa State Bank will likely see a return on its $200,000 investment in as little as four years, according to Amy Van Beek. In fact, through rebates from Alliant Energy and grants, the bank will experience savings almost immediately.
According to David Neff, Iowa State Bank's head of business development, a key factor in the go-ahead was the endorsement of Fairfield Mayor Ed Malloy, for whom Ideal Energy had installed a residential 10.5 kW ground-mounted solar array.
Like many Fairfield businesses, Iowa State Bank is a participant in the town's Go Green Initiative, which incentivizes local investment in energy-efficient technologies. To demonstrate its commitment, the bank may include a monitoring portal on its website that will show customers exactly how much the array is saving on electrical costs.
This project has brought together two Fairfield companies working toward a cleaner, more sustainable future. "Our bank is proud to support one of our local businesses, Ideal Energy, Inc., and see them providing such a transformational service to southeastern Iowa residential and commercial properties," said Neff.
Ideal Energy, continuing its rapid growth, has several solar and wind energy projects slated for 2014. One will power a 1920s brick schoolhouse that is being repurposed into an energy-efficient, 41-unit apartment. When completed, the 300-kW array will be the largest privately owned solar energy system in the state of Iowa.
Contact writer:
info@warrengoldie.com
www.WarrenGoldie.com