TV Shows: July 2-8, 2014
Sixteen-year-old Carter (Kathryn Prescot) finds out that the parents she grew up with were actually her kidnappers in Finding Carter.
In the opening scene of Finding Carter (Tuesday, 9 p.m., MTV), 16-year-old Carter (Kathryn Prescott) shares a tender moment with her mother over frozen yogurt, then heads off to party with her friends. A bit of low-level recklessness lands them briefly in jail, but the authorities don't release Carter along with the others. A fingerprint check reveals that she was abducted at age 3, and that the woman she considers her mother is actually her kidnapper. Her parents — a.k.a. strangers — arrive to take her back to a place that feels nothing like home.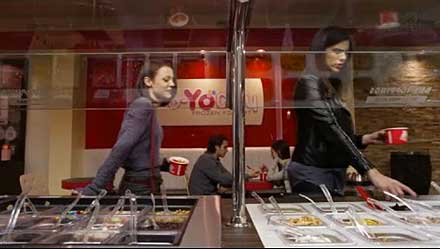 Kathryn Prescott in Finding Carter
That's a lot of drama for the first 10 minutes, but Finding Carter is just getting started. Carter yearns for the woman she's always known as her loving mother, especially when her birth mother emerges as cold and controlling. She herself is wild and playful, and she has a hard time fitting into a family that has been paralyzed ever since she disappeared.
In other hands this subject matter might have been grim, but MTV has a knack for making tense teenage dramas fun to watch. Plus, it's easy to relate to Carter's plight, even if you don't have an abduction in your own past. At 16, I was convinced my own mother and father couldn't possibly be my real parents. You can bet I'm rooting for this troubled heroine as she struggles to find her place in the world.
Mystery Girls
Wednesday, 7:30 pm (ABC Family)
Holly (Tori Spelling) and Charlie (Jennie Garth) were stars of the 1990s TV hit Mystery Girls, where their characters investigated crimes and delivered their famous tagline: "Mystery solved!" Now they're has-beens with no love lost for one another—until Holly gets the crazy idea of opening a real detective agency with Charlie, trading on their celebrity status. She's the kooky Lucille Ball type, while Charlie is more grounded in reality. Add a flashy gay assistant (Miguel Pinzon) and you've got a recipe for a broad but enjoyable sitcom.
Fourteen years after Beverly Hills, 90210 ended, it's nice to see Spelling and Garth working together in a vehicle just for them. Each has been kicking around Hollywood as the industry struggles with one of its perennial problems: what to do with talented actresses after they grow out of young-babe roles?
Thanks to ABC Family: Mystery solved!
Taxi Brooklyn
Wednesday, 9 pm (NBC)
Tough Brooklyn detective Caitlyn Sullivan (Chyler Leigh) is demoted to foot patrol for her reckless driving, so she hooks up with an illegal-immigrant taxi driver named Leo (Jacky Ido) who can ferry her around the city on the sly. That improbable conceit could have been saved by charming characters, but Taxi Brooklyn is fresh out. Caitlyn is cranky and snide, calling her colleagues "d-bags" and her own mom "a tramp." "I would rather not make you any angrier," Leo tells her.
I know how he feels. Leigh's unpleasant performance makes we want to clear out of Brooklyn as fast as possible. Taxi!
The '90s: The Last Great Decade?
Sunday, 8 pm (National Geographic Channel)
Why not take a break from the distressing 2010s to relive a simpler decade — one in which Vanilla Ice mattered? National Geographic gives the 1990s the deluxe treatment, with three episodes and interviews with over a hundred key players. Colin Powell reflects on the Gulf War, Monica Lewinsky on Bill Clinton, and Vanilla Ice on his relationship with Madonna. He's surprisingly thoughtful on the subject, as he is on his unlikely role in the rise of hip-hop. Am I just being nostalgic, or were even cultural footnotes of a higher quality in the '90s?
"The only problem with the 1990s is that they didn't last long enough," says Clinton strategist James Carville. You tend to agree with him while watching still-funny clips of Friends and Roseanne, but the series doesn't stint on the decade's dark side. The Waco massacre, the Anita Hill hearings, the L.A. riots, the Macarena…maybe 10 years of the 1990s was enough after all.
Tyrant
Tuesday, 9 pm (FX)
Barry (Adam Rayner), the son of a Middle Eastern dictator, has become a solid citizen in his adopted home of California. He has a respected pediatric practice, a sweet blond wife (Jennifer Finnigan) and two mouthy teenage products of the American public school system (Noah Silver, Anne Winters). Despite painful memories of his father's cruelty, he flies back home with the family to attend his nephew's wedding. It's a terrible mistake, landing Barry in the middle of national, familial and psychological chaos that proves hard to escape.
Tyrant has a fascinating premise, allowing us to feel what it's like to be Barry's wife and kids: abruptly transported from comfortable American life to a dangerous culture they know little about. It also allows us to feel what it's like to be the upright physician Barry, whose trip home puts him in touch with long-suppressed parts of his personality. You realize, with a shiver, that the title is most likely referring to him.