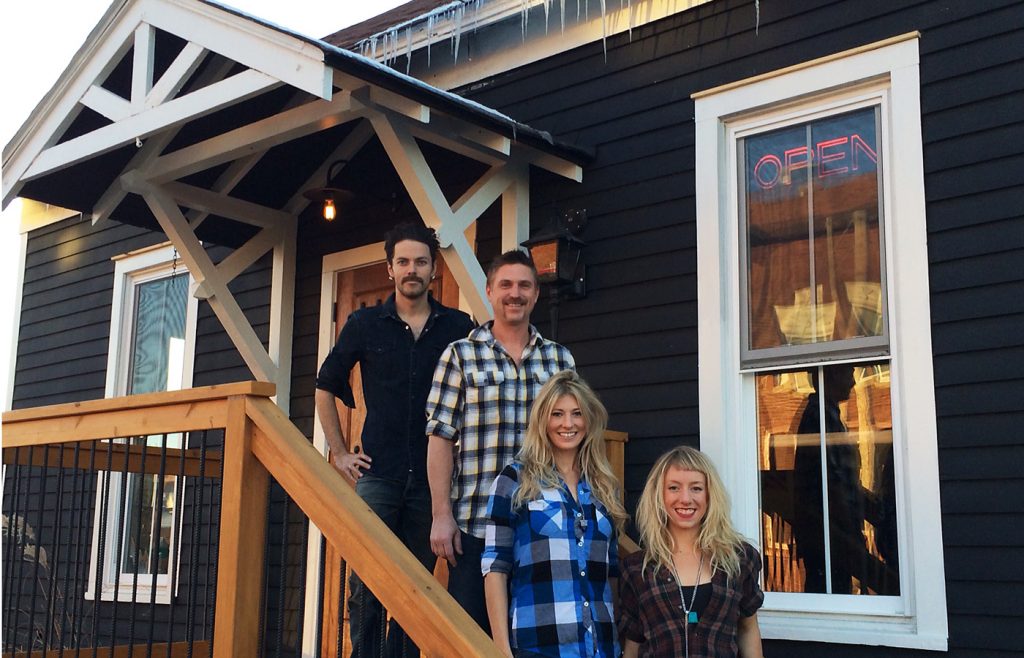 The Cider House was created by four friends united by a love of good food and hard cider. Clint Stephenson, Cole Fishback, Annalisa Thompson, and Hopi James have lovingly renovated and restored the building on 2nd Street that formerly housed Ron's Barbershop. Now an inviting rustic pub, the Cider House offers a warm, cozy atmosphere, with a beautiful bar, made of salvaged lumber, and a satisfyingly homey menu.
Several decades ago, Clint started an orchard in Libertyville, and in recent years he has been making his own cider. After inspiring his friends to get involved, they spent the fall picking apples, making cider, and creating the perfect burger. Clint's home became a congregating spot to sample home-brewed cider and eat burgers. The gatherings got so large and the burgers were so popular that the friends decided to open a restaurant.
"We want it to be an experience," says Hopi James. "The moment you walk in the door, from the food, to the cider, to the decor, we want people to feel connected."
The menu at the the Cider House (expected to be available by mid-December) focuses on simple pub fare, with burgers, fish and chips, French fries, potato salad, and coleslaw. "We have a very simple menu," says Cole Fishback. "It's very American cuisine based, very Iowa based. It's simple, but high quality, well made, and satisfying."
Everything is made fresh, from scratch. The beef for the burgers is all local, grassfed beef, grown and processed in Jefferson County. Fishback has created a veggie burger loved by vegetarians and meat eaters alike, and hopes to perfect a vegan, gluten-free version. Most things on the menu are gluten free.
The Cider House serves a range of drinks, including their in-house hard cider, another cider brewed in Iowa, beer from  Kalona and the Amana Colonies, and a variety of whiskeys. It's been important to the owners to support local producers and local businesses.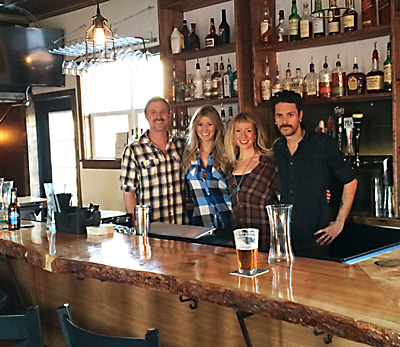 They also employed skilled local craftsmen during the renovation process. A lot of the woodwork was done by Tom and Tyler Jalinski. All the metal work was done by Bryce Vorhies, who made the beer tap and foot rail. The landscaping is done by Terry Klein of Oakwood Nursery.
"We're proud of where we live and I think Iowa is kind of overlooked," says Cole. "We believe people farm here for a reason."
The Cider House exists to provide a homey community hangout and to showcase the wonderful things about Southeast Iowa, especially the good food and good drinks. "The clientele we've had so far have been very diverse," says Clint. "Students, people from the surrounding towns, farmers, people from Cambridge. The age range has been 21 to 82. The crowd has been great." James adds, "It's really been a melting pot—we get an eclectic group of people. It's really fun."
Annalisa Thompson adds, "Everyone expresses they just feel comfortable here. An older gentleman from Ireland came in, looked at me, and said, 'I've found my  new home.' "
The Cider House is open 4 to 10 p.m. every day except Tuesday, with late hours on Friday and Saturday nights.