JOAQUIN PHOENIX as Larry "Doc" Sportello and BENICIO DEL TORO as Sauncho Smilax in Inherent Vice.
It's no surprise that Paul Thomas Anderson is the first person to adapt a Thomas Pynchon novel to the screen. The two have a cosmic connection: they both construct kaleidoscopic worlds of pop-culture pastiche, lewd humor, and unsparing depictions of human cruelty tendered by a deep sense of melancholy. They are both also something of boy wonders. Pynchon was 26 when he wrote his wondrous first novel V; Anderson the same age when he directed the deliriously entertaining and rewatchable family epic Boogie Nights.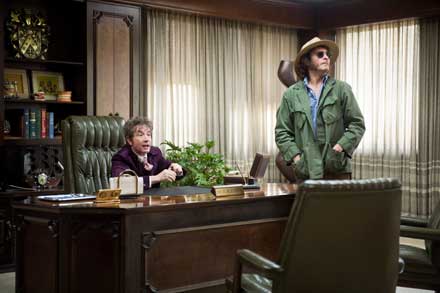 JOAQUIN PHOENIX and Martin Short in Inherent Vice.
It's also not surprising that Inherent Vice, Anderson's adaptation of Pynchon's meandering Los Angeles stoner novel from 2009, has been met with confusion, apathy (the film made a mediocre $2.9 million in its first weekend of wide release), and even hostility. We are a few years removed from the universal consensus of Anderson as The Best Living American director, who crested with the steely and brutal There Will Be Blood. After the willfully elliptical The Master (that ending!) and now the circuitous, absurd, and narcotic Inherent Vice, consensus seems to be shifting that Anderson has become an indulgent enfant terrible, with little regard for pacing, narrative, or audiences. I understand this reaction, but I bristle at its overreach. For some, myself included, the last two Anderson films have launched him into a rarefied echelon of cinematic shamanism. As much as I love Boogie Nights (it's probably one of five favorite movies in terms of the number of times I've watched it), it is still a film of influence and reference, deeply indebted to Scorsese. The Master and Inherent Vice mark an ascension for Anderson to a singular, unique film fluency.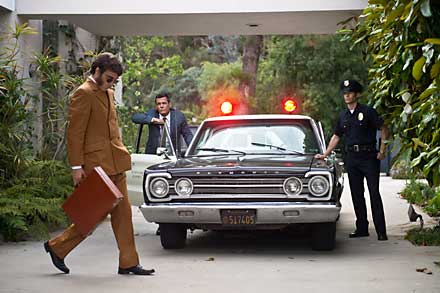 JOAQUIN PHOENIX as Larry "Doc" Sportello and Josh Brolin in Inherent Vice.
Inherent Vice at heart is a shaggy dog noir in the vein of Altman's sublime adaptation of Chandler's The Long Goodbye, the massively underrated Cutter's Way, and the oily, tough crime fiction of James Grumley. Doc Sportello (a fantastic, physical performance by Joaquin Phoenix) is a perpetually stoned, hippie private eye who becomes entangled in a widespread conspiracy of rot and intrigue involving cults, heroin smugglers, dentist syndicates, and neo-Nazis after an unexpected visit from a flower-child ex-girlfriend (a haunted Katherine Waterson).
Inherent Vice
I will not give too much of the plot away, but I do advise to ignore the chatter that the film is needlessly confusing and impossible to follow. That's a patronizing assumption, and it's untrue. Inherent Vice is complex and packed with characters, but it is by no means a baffling film experience (like, say, the last third of the film Primer). It is however, often hilariously ribald, beautiful, surprising, and ultimately immensely  moving. Inherent Vice pinpoints with aching accuracy the tide of corruption, decadence, opportunism, and rank greed that swallowed the brief moment of utopian "free love" until the division between hippies and "the Man" became an imperceptible morass of sleaze.
Inherent Vice
It's not all heartbeak, though. Inherent Vice is regularly, spectacularly zany, and funny. A uniformly excellent cast delivers memorable performances. In particular, Josh Brolin as scenery chewing "super cop" Bigfoot Bjornsen delivers what may be the defining performance of his career. Brilliantly subtle cinematography by Robert Elswit and canny song selection (kudos to using Can's great track "Vitamin C") establish a mood of authenticity.
These are grim times for theatrical films, when modestly entertaining adult fare like Gone Girl, the sort of film made regularly in '90s, is now hailed as a "masterpiece." There's a seemingly never-ending pipeline of comic book nonsense to look forward to. It is no surprise that by far my three favorite films of the year (Under the Skin, Inherent Vice, and Birdman) aggressively break out of this tedious mélange. I understand why people would be turned off by these films (in particular the first two), but really, ask yourself, do you want to live in a world where they don't get made? A