Tracy Chipman traveled to the far reaches of Scotland to gather and preserve ancient stories.
"Once upon a time . . . there was a woman with a great love in her heart for a land of mountains and sea, of heather and wind, and the old ways, a place called Alba. . . ." Thus begins former Fairfielder Tracy Chipman's quest to drink from an ancient wellspring and draw a map to buried treasure.
Born amongst the forests and lakes of Wisconsin, this wild-eyed wisp put one foot in front of the other till she found herself in Scotland in 1992, transfixed by the soul-searing beauty of the land and sea and the strong-hearted inhabitants there. She returned a couple years later and was invited to accompany an ornithologist friend to the outer Hebrides, a remote archipelago in the North Atlantic.
On their last night there, they went out for a pint at a small pub in North Uist. The barman asked what a young American woman was doing in the Isles, and she told him of her interest in Scottish folklore and her regard for another American—Margaret Fay Shaw—who had been an inspiration. He said, "Well if you're interested in the folklore, you'll have to come back and do something about that."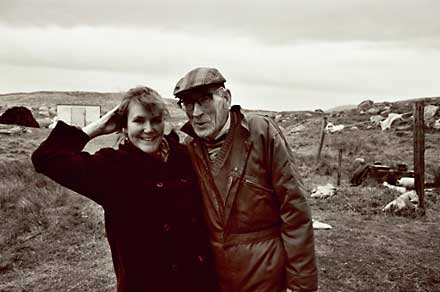 Tracy Chipman with Hebridean bard Donald MacDonald.
He proceeded to go on for hours, sharing his version of the local history and folklore and how things were quite desperate now, with the old folks passing, the young folks leaving, and the politics of academia. She left the next day knowing she'd be back but not knowing how or when. She returned the next year, cassette recorder in hand, to sip strong tea in the kitchens of a handful of a dying breed of seanachies (storytellers) in the remote outer islands of Barra, South Uist, Benbecula, North Uist, Berneray, and Harris.
In surprisingly recent memory, however quickly forgotten, friends would gather in the evenings, faces lit not by the cold blue glow of computer screens, nor even that of televisions, but by the warm orange of the peat fires. There, in the quiet intimacy known to all whose lives are rooted in the land, they entertained each other with well-worn wit and things passed down lovingly through countless hands. There were those gifted with an ear for the old songs, maybe a piper or fiddler, accompanied by the inevitable rhythmic battering of the dancing. Then there were the ones who could recite word for word the epic tales of times when magic dripped from every leaf and hid behind every stone, sometimes pulling you underground to live your life among the sidh (shee), never to be seen again by mortal eye.
Mary MacLean.
It was these latter elders of the wild isles that Tracy Chipman walked to visit by day, via the single-track roads and moors on foot, bus, and ferry. By night she pulled pints as a barmaid at the Dark Island Hotel in Benbecula, making many a daytime contact. "Oh you're looking for stories, well you'll have to speak with my auntie. Here's her number . . . give'r a ring."
The path unfolded before her like the yellow brick road, and although she didn't meet any wicked witches, munchkins, or flying monkeys, she did receive the hospitality of a menagerie of unexpected allies at every turn. Sometimes a young person from the isles would come along with her, eager to be privy to the proceedings. Sometimes Tracy would tell a story that she'd heard in Barra to someone in North Uist. Over five years, 35 folks from the islands took the time to sit and share their stories. Some are personal narratives from their own family history, like that of an extraordinary collie named Fly, told by Hugh Matheson of Baleshare. Some are centuries old, like the story of the Beastie's Causeway, told by Donnie MacRury. Many have only lived in the telling, meaning they have not been written down. Some survive in the telling of others.
Seamus and Lain.
In 1996, with the kind support of hundreds of friends from across the U.S. and UK, Tracy founded the Hebridean Folklore Project to formalize her efforts to "help keep Scots Gaelic folklore alive and accessible." Twenty years and many trips and donations later, most of the tradition bearers Tracy befriended have gone to the island beyond the sea, their voices living on only in the memories of all too few, and on a couple dozen cassettes lovingly stowed in a Dress-Stewart-tartan-covered picnic bag. Tracy shifted her attention from the gathering of tales to the caring and sharing of them, making it her mission to pass them on as an inspired storyteller in her own right. Some of the stories collected on her aforementioned forays appear on her first CD, As It Was Told To Me.
Being a recording engineer, Celtic musician, and sometimes storyteller myself, I was approached by Tracy to edit, mix, and master her CD, as well as contribute background music. She approached me again last year to convert the fragile field recordings she made in Scotland to a digital format for further distribution. These tapes are an invaluable portal into a world that has all but slipped away with the riptide of modern consumerist culture. In the soft lilt of the island dialect (barely recognizable as English), or sometimes in their native Gaelic, itself endangered, their words rise and fall melodiously like the sound of the nearby surf, quietly recounting the old yarns and surrounding ways once common. Whether understandable or not, the effect is always mesmerizing.
Tracy Chipman returns to Fairfield in February for an evening of storytelling and song.
Tracy returned to Scotland this last October to reconnect with the island community. Though the editing has only just begun, the initial samples have already excited significant anticipation. Some money has been raised to cover the costs of putting the recordings into shape, but more is needed. A fundraiser concert is scheduled for Friday, February 26, at 8 p.m. at Café Paradiso in Fairfield featuring storytelling by Tracy, Irish and Scottish piping, song, and story by myself, a stunning slide show of Tracy's travels in the islands, and examples of the actual field recordings. Traditional Scottish shortbread will be available, as well as scones and other pastries and drinks regularly available at the café. Admission will be $10 in advance, $12 at the door.
For more information, visit Listen to a Tale.