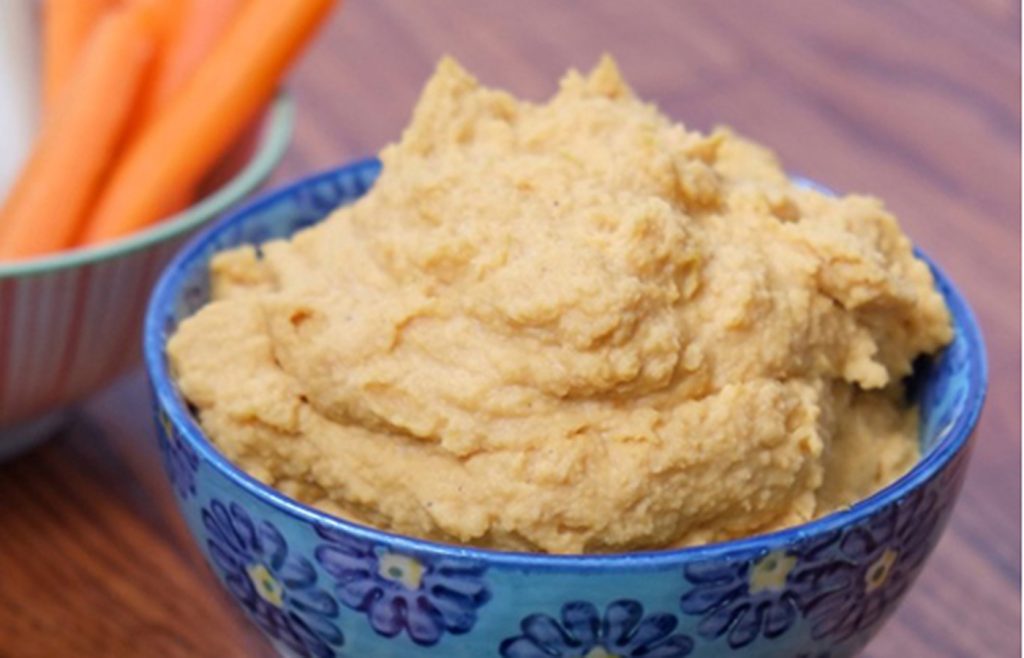 There is a lot of talk about protein these days. As a vegetarian, I frequently get asked how I get enough protein. I don't believe that there's a set amount or percentage of protein that people should eat each day—everyone has different needs. There are many options, and these recipes highlight a few: beans, seeds, eggs, and dairy. Experiment with different sources and amounts of protein and see how they make you feel. Also, consider  hiring a health coach or nutritionist to help you tailor an eating plan to your specific needs.
Sweet Potato White Bean Hummus
The sweet potato adds a sweet creaminess to this hummus, making it a fun change from regular hummus.
1 can cannellini beans, drained and rinsed (or 1 ½ cups cooked beans)
1 cup chopped, peeled sweet potato (or yam)
1/4 cup tahini
1 tsp. curry powder
2 Tbsp. olive oil
2 Tbsp. lemon juice
2 Tbsp. water
½ tsp. salt
Pepper
Dash of garlic powder (optional)
1.    Boil or steam the sweet potato until it is soft. Let it cool.
2.    Combine beans, sweet potato, and tahini in a food processor and blend.
3.    Add curry powder, lemon juice, water, salt, and pepper, then taste to adjust seasoning.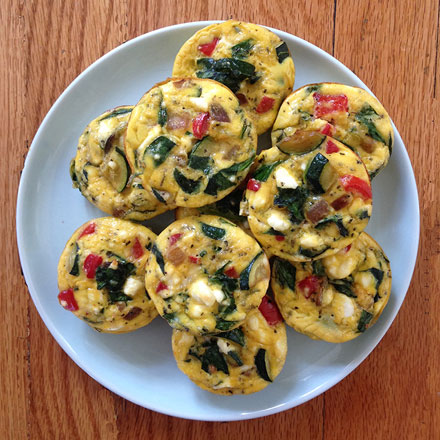 These mini frittatas are easy and quick to make.
Mini Frittatas
(Makes 12 muffin-sized frittatas)
Cute and delicious, these are great for brunch or a snack.
6 eggs
1 Tbsp. cooking oil
½ cup chopped onion
1 small zucchini, chopped
½ cup chopped red pepper
Large handful of spinach
1 Tbsp. herbs of your choice
½ cup feta cheese
1 Tbsp. sour cream (optional)
½ cup milk
Pepper
1.    Preheat oven to 350° and grease muffin cups.
2.    Add oil to pan and sauté the onion.
3.    When onions are golden, add red pepper, zucchini, and herbs. Sauté for 5 minutes. Add spinach, and once it's wilted, turn off the heat.
4.    Beat eggs, milk, sour cream, and pepper in a bowl. Crumble the feta into the mixture. Add the cooked veggies. (Note: I have omitted salt because the feta is salty.)
5.    Add the mixture into the greased muffin cups. Fill almost to the top.
6.    Bake for about 20 minutes or until it has set. Try not to overbake.
7.    Let the frittatas cool for five minutes and then serve. Save any leftovers in the fridge.
Chocolate Protein Smoothie
(Serves one)
This smoothie is perfect after a workout or as a mid-afternoon pick-me-up. It tastes decadent like a milkshake, but it's full of vitamins and minerals. I like using hemp seeds instead of protein powder. Hemp seeds have a pleasing taste and blend smoothly (not grainy, like protein powder). Four tablespoons pack 15 grams of protein. Be sure to get raw cacao powder, not cocoa. Raw cacao doesn't have sugar and is full of antioxidants and minerals.
1 banana (frozen or fresh)
1 cup nut milk
4 Tbsp. hemp seeds
1 Tbsp. raw cacao powder
1 Tbsp. chia seeds
1 Tbsp. almond butter
Blend all the ingredients together and enjoy!
Annalisa Fredrickson is a health coach and yoga teacher (annalisamarie.com). This can be your year for increased energy, weight loss, and vitality!