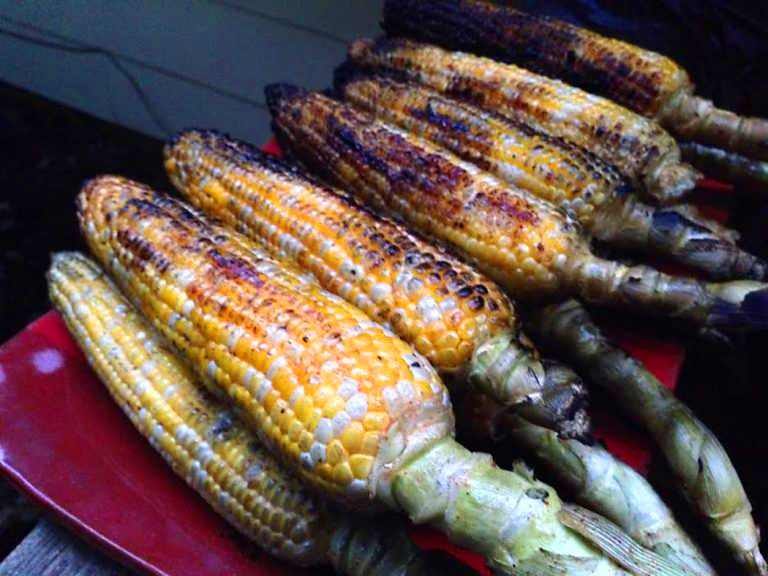 Midsummer in Iowa is full of delights. Corn from the corn stand, sweet Muscatine melons, fresh watermelons, Missouri peaches. Beans climbing up the poles in the garden, freshly dug potatoes, lots of cucumbers and tomatoes. If you don't have garden space, you'll find an abundance of produce at local markets, farm stands, and farmers' markets. By the way, have you thought of joining a CSA (Community Supported Agriculture) in your area? Every week brings a new box of freshly picked surprises.
Summer is also a time to try out a new recipe or two, ones that aren't too much fuss and that bring out new flavors to bolster appetites in the summer heat. Here are some of my current favorites.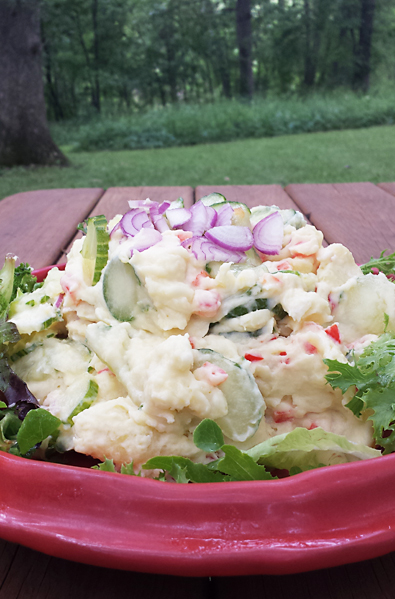 Japanese Summer Potato Salad
While in Japan, I was served a surprisingly delicious potato salad sandwich at a local train station restaurant. In Japan, the train station is a gathering place that has delicious food, small shops filled with all kinds of useful and fun items, as well as seasonal fruits, sweets, and teas.
The main difference between Japanese and Western potato salad is that you mash the potatoes before adding vegetables and mayonnaise. Japanese mayonnaise is also a good addition, if you have time to either make it or find it. I used Vegenaise with the addition of Dijon mustard, and it was a good substitute.
This recipe is adapted from Japanese Farm Food.
8 Yellow Finn potatoes
3 small Japanese or Persian cucumbers, sliced (try the farmers' market)
1 red, yellow, or green pepper, chopped
1 tsp. salt, plus more to taste
2 very small red onions, chopped (I like using chopped scallions)
1 cup mayonnaise or more, combined with 2 tsp. Dijon mustard
1–2 Tbsp. rice vinegar, or to taste
Peel the potatoes and cut into large chunks. Boil in salted water, until the centers have no resistance (about 15 minutes or more).
Sprinkle the cucumber slices with 1 tsp. salt, toss, and let sit for 5 to 10 minutes. Then squeeze out the extra cucumber water.
Smash the hot potato pieces until fluffy and cool, then add the cucumbers, peppers, and onions. Blend the mayonnaise and Dijon together, then fold the mixture into the potatoes. Add salt and rice vinegar to taste.
Grilled Corn With Chili & Lime
On summer evenings when the children were small, we would prepare this corn (our version of a delicious South Indian street food) over a fire made from hickory sticks that we found in the woods. It was, and still is, a very exciting event. The flavor of lime, salt, and cayenne, combined with butter and olive oil, is a sure winner.
8–10 ears sweet corn
½ cup sweet butter
½ cup olive oil
½ tsp. cayenne
1 tsp. salt, or more to taste
Juice of 2–3 limes (make sure they are juicy ones)
Prepare corn by completely removing husk and silk, leaving the long stalk intact.
Add the remaining ingredients to a small pot and heat until melted.
When the fire or grill is ready, grill the corn on a grate, basting often and turning every 30 seconds, until corn is evenly roasted and partially blackened. Serve hot! The stalk serves as a handle.
Watermelon With Feta and Mint
There's nothing better than sweet, perfect summer watermelon, except maybe watermelon paired with feta. The sweetness of the watermelon, paired with the creaminess and salt of the feta, is a perfect combination.
Watermelon was first grown in Egypt, and feta is a staple in Lebanon, Greece, and Turkey. Although there are many variations of this salad, often with the addition of olive oil, black pepper, and even olives, my favorite version by far is the simple dish that Steve Boss prepared in July on his live radio show Great Taste, using only three ingredients.
½ watermelon
7 oz. feta cheese (Steve used Mount Vikos, a combination of sheep and goat's milk)
Generous handful fresh mint leaves
Using a spoon, scoop the watermelon into bite-size pieces. Remove any seeds.
Crumble the feta over the watermelon.
Break the mint leaves into pieces and scatter over the melon. Toss to combine.
Raw Thai Citrus Crunch Salad
(Serves 4)
This salad, which can be found in my current favorite cookbook, A Modern Way to Eat by Anna Jones, is a perfect summer dish. It's filled with flavor and crunch, and is both light and filling at the same time. It's modeled on a traditional Pad Thai, although there are no noodles.
1 zucchini
3 medium carrots, peeled
½ head green or napa cabbage
1 red pepper, seeded
2 scallions
1 pink grapefruit
1 lime
Small bunch of fresh basil
Large bunch of fresh cilantro
2 good handfuls of fresh bean sprouts
3½ oz. cashews, crushed
For the Dressing
2 Medjool dates
3½ oz. cashews, soaked in water for several hours (or overnight)
1¾" fresh ginger, peeled and chopped
1 red chile, seeded and finely chopped
Juice of 2 limes
2 Tbsp. soy sauce or tamari
½ clove fresh garlic, chopped
Use a vegetable peeler to peel the zucchini and carrots into ribbons, and place them in a big bowl. Shred the cabbage finely, slice the red pepper and scallions finely, and add them to the bowl.
Use a knife to peel the grapefruit and lime. Then roughly cut out all the segments from both, leaving the pith and membrane behind. Mash the segments so you are left with little juicy jewels of lime and grapefruit. Add these to the big bowl.
Roughly chop the basil and cilantro, then add all the basil, half the cilantro, and all the bean sprouts to the bowl.
When ready to serve, make the dressing by adding all the ingredients to a blender or food processor with â…" cup water and blending until you have a dressing thick enough to coat the vegetables.  Pour the dressing over the salad, mix well, and top with crushed cashews and the remaining cilantro.
Rosie Witherspoon is the owner of the At Home Store in Fairfield.