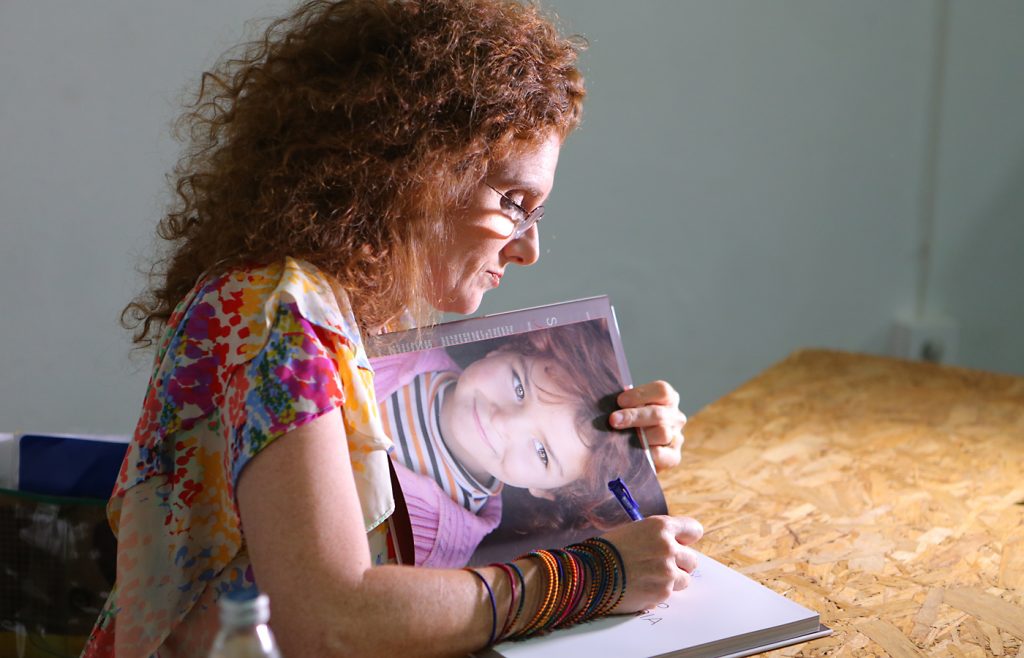 "When I visited the Syrian refugees in Lebanon, I said to them, 'Had I been a barber, I would have cut your hair. Because I am a cookbook writer and photographer, I am doing what I can do to help through my work.'" —Barbara Abdeni Massaad
Barbara couldn't sleep. The photograph she had seen on the news was haunting her—an image of a Syrian girl lying in the snow.
Beirut was bitterly cold that night. Even with the heater on, it was frigid in Barbara's apartment. And if she was cold, that meant the hundreds of women and children living in tents at the Beqaa Valley refugee camp in the Lebanese mountains must be freezing. Literally. It was an unbearable thought.
Barbara Abdeni Massaad decided she had to "get closer to the problem." The problem being that one-quarter of Lebanon's population is now made up of Syrian refugees who began flooding into the country two years ago after their homeland erupted in a massive civil war—and then some. The conflict continues. Cities are in ruins, the country is in chaos, and families are still fleeing their homes as a matter of survival. Many countries have turned their backs on this humanitarian disaster, while Syria's neighbors—Lebanon, Jordan, Turkey, and Iraq—have collectively absorbed more than four million refugees. To say that the need for relief is great is an understatement.
Although she felt she wouldn't be of much use, Barbara had to visit the Beqaa Valley camp. "It was like a calling. I had to go and see it," she said. She started talking to families and getting to know them. She started gathering clothes. She started taking photographs.
It Started with Soup
Barbara Massaad is a founding member of the Slow Food Beirut movement, which has established markets in Beirut and a little further southeast in Hammana. A Portuguese-American friend of hers said, "Let's do a soup kitchen and let's make soup for the refugees." Warm, homemade soups. Barbara thought it was a great idea. "We went every week," she says. "They were very grateful."
Barbara wanted to do more. Using her extraordinary gifts as a photographer, culinary artist, and award-winning cookbook author, Barbara published her fourth book, Soup for Syria: Recipes to Celebrate our Shared Humanity, a collection of delicious soup recipes contributed by top chefs from around the world. One hundred percent of the profits from Soup for Syria book sales goes towards refugee food-relief efforts.
On the night of the first book-signing event in Beirut, Barbara was pretty nervous. "For many people here in Lebanon," she explains, "Syrian refugees are a burden to them and they don't want to get involved. . . . I was scared that not a lot of people were going to show up." To her amazement, the event was a huge success.
"I also invited refugees . . . and they did theater skits and they sang. It was really touching. There is a little girl whom I love very much, her name is Aya, she signed books for people. . . . It was an amazing, amazing, amazing night. That I'll never forget." Barbara sold 560 copies of the book that evening. And bowls and bowls of soup.
Barbara Massaad with Syrian refugee Aya (photo by Christina Ghafari)
One week later, the book sold out entirely, raising a total of $30,000. Soup for Syria has now been republished in the U.S., UK, Italy, and the Netherlands, and will soon be available in Germany. "A lot of people understood the message," Barbara said, "and I saw that out of nothing, something can come out."
Soupe, Zuppa, Sopa, Surba, Soup
When Barbara first had the idea for the book project, she initially wanted to collect recipes of Syrian food. A cool idea, but she ultimately decided "it would be too niche, and not everybody would be interested. So soup," she says, "because who doesn't love soup? Soup is comfort food. It's food not only for the body but for the soul. It feels like home. And everybody can identify with it—soup is an international word."
The recipes in her book—contributed by world-famous chefs like Yotam Ottolenghi, Alice Waters, and Anthony Bourdain, to name a few—were tested and hand-picked as the best of the best. They are all mouthwateringly tasty, but if pressed to pick a favorite, Barbara says, "There is one that I particularly love because it's different. It's the Red-Beet Gazpacho with pistachios," a recipe contributed by Patrick Herbeaux. "It's so good."
Some of the soups may sound exotic, but don't be intimidated; you can make these no-fuss soups at home from ingredients found at your local grocer. Take a closer look at the book online at SoupForSyria.com.
American Tour
If you want to get your hands on a signed copy of Barbara's cookbook, you won't have to go far—she's coming to Southeast Iowa this month! Beth Howard, the Iowa native, world-famous baker of pies, is hosting Barbara for an American book tour this October. Among the planned stops are a book-signing and soup-tasting event from 7:00 to 8:30 p.m. at the At Home Store in Fairfield on Thursday, October 20; Doug Seyb's Music Under the Water Tower concert on Saturday, October 22, in Donnellson, where the two women will be hosting a potluck Soup & Pie Supper in the American Legion Building at 6 p.m. (music by Sally Weisenburg Band begins at 8 p.m.); and a 1 p.m. soup lunch and book signing at the Uptown Ivy café in downtown Burlington on Friday, October 21. Coincidentally, Ivy Bake Shoppe discovered Barbara's book last month, started posting about it on their Facebook page, and began serving its recipes to their customers.
Friendship Without Borders
How did Beth and Barbara meet, you're wondering? "It's a great story," says Barbara. She explains that, not long ago, she was hired as a menu planner for a modern Lebanese-Syrian restaurant in Seattle called Mamnoon. "Sundays I would go to Barnes and Noble . . . and saw a book with a coffee stain sitting on the table." The book was Beth Howard's Making Piece: A Memoir of Love, Loss and Pie. If you haven't read it yet, it's a beautiful story about turning tragedy into triumph.
Barbara picked up the book . . . and couldn't put it down. In spite of the coffee stain, she bought it, read it from cover to cover, and loved it. She decided to contact the author on Facebook to tell her as much.
"Beth has this passion for her American pie," says Barbara, "and I have a passion for my Lebanese pizza"—which happens to be the subject of her award-winning first cookbook, Man'oushé.
Beth and Barbara became pen pals and, very quickly, friends. "Realizing we were kindred spirits, we stayed in touch," says Beth, "and when I embarked on my round-the-world pie-making trip last summer, I stayed with Barbara in Beirut. I made a dozen apple pies in her kitchen . . . which we delivered to the refugee camp."
"As soon as she came, it felt like we'd known each other forever," says Barbara. "We spent a week together, and it was wonderful! And now I'm coming to her in Iowa. I can't believe it. I can't wait."
Be sure to catch Barbara Massaad when she is in the area this autumn, grab a cookbook, and warm your belly and your heart with soup, knowing that you've also provided nourishment to your world family.