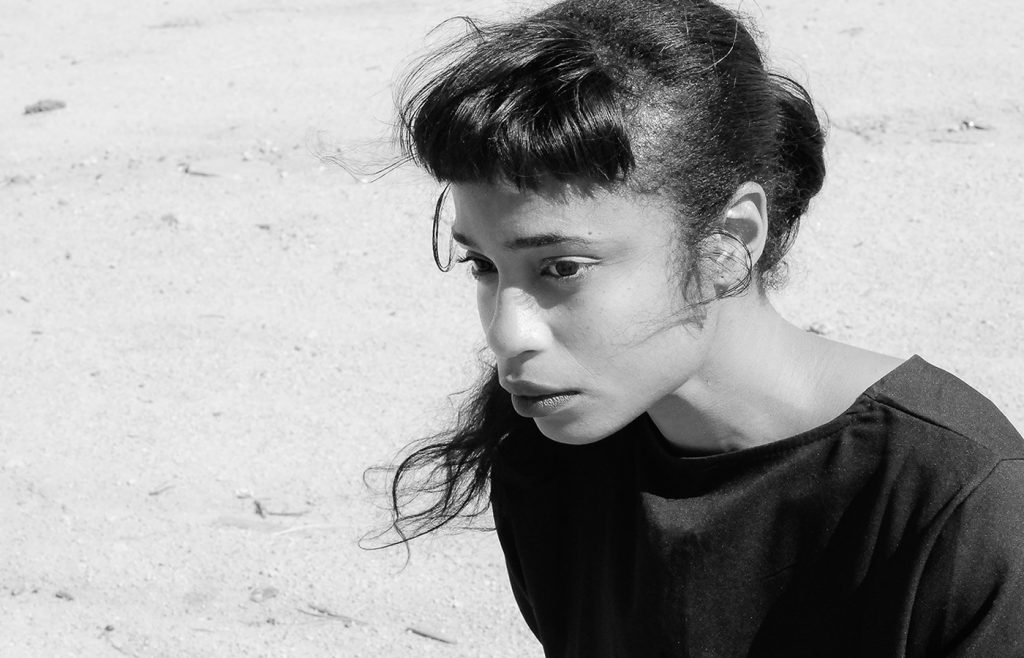 The new CD Beyond  the Bloodhounds is a brilliant journey into "poetic gothic blues" and social commentary from Adia Victoria, who was born in Spartanburg, SC, and now lives in Nashville. The title is based on a line from Harriet Jacobs's book Incidents in the Life of a Slave Girl.
From an early age, Adia Victoria wrote poetry and short stories to deal with the divorce of her parents. After leaving the Seventh Day Adventist Church in high school, she found the freedom to explore music and ballet. At 21 she picked up the guitar. After a few years in New York City, she moved to Nashville in 2010 "to live an anonymous life" while working in restaurants and retail stores. She began writing songs and performing around town, and by 2016 she was invited to South by Southwest. Along the way, Vogue magazine labeled her look as vintage "Afro-pop Roots."
Now, with her first official CD, Adia is garnering increasing attention for what she calls "back-porch-blues-swamp-cat-lady-howlin'-at-the-moon." Her approach is a blend of mysterious, slow-burning trip-hop and blues. The Village Voice describes Adia as an "eerie, intriguing songwriter [who generates] bone-chilling guitar riffs and lyrics topped with candid scorn."
Writes Adia on her website, "There is a brat in some of these songs—selfish, naïve, vengeful, but there's also a tender eye that just wants the listener to feel seen and understood. . . . It's an album of falling in love, dealing with loss, confusion, anger, love, and loving myself."
Adia's team includes bandmates Tiffany Minton (drums), Alex Caress (keys), Mason Hickman (guitar), and Jason Harris (bass). The album was produced by Roger Moutenot and recorded at Tennessee's Haptown Studios. Adia's voice reminds me of world-music poster child Bajka (reviewed November 2015), with its smoky-sweet, slightly rasping style perfectly pitched for tossing lines of social commentary.
Start your exploration with these tracks:
•       "Mortimer's Blues." It begins like a pop song about lost love until the electric guitar amps things up at the halfway mark, leading to a strong finish.
•       "Sea of Sand." Adia makes spooky dedications to places she's never been and condemnations of "friends" she's left behind. Trailing off, she sings: "If I was an angel I'd be sweet / But I ain't holy honey that ain't me / I ain't nothing but a no-good small-town girl / Hell bent on ruling the world."
•       "Howlin' Shame." Resurrecting the swampy down-tempo feeling of the band Morcheeba, Adia sings the blues in a way that convinces you she's a star in the making.
•       "Horrible Weather." The perfect companion piece to "Howlin' Shame," this one simmers and cooks with slightly echoed and waahed guitar that invites ghostly keys and soft percussion to cast the spell: "Well the rain don't fall, sun don't shine / At least your black thunder cloud is the same as mine / It's the horrible weather that ties me together to you / It ties me to you."
•       "Stuck in the South. Swinging on the palmetto tree and thinking about leaving the oppressive South, Adia has had enough. The deeply hooked electric blues guitar reflects both her anger and her hope for a better life.
Adia Victoria is now conducting her Me & the Devil tour around the U.S. In late September she played the Mill in Iowa City. Look for other small-venue dates in the region to enjoy this gifted young artist who offers such a wonderful upside.