Richard Shindell
BY THE TIME YOU READ this, it'll be old news that singer-songwriter Bob Dylan won the Nobel Prize for Literature. But it's still a big deal. The Nobel is the highest prize a writer can win, and giving it to someone who is known for words that are sung rather than read on a page is shocking and new.
Singer-songwriter Richard Shindell thinks that the honor is well deserved. Speaking over a crackling cellphone from soggy Seattle, where he would perform that night, he said, "I thought the demarcation between high literature and songwriting would never be crossed. Dylan's honor acknowledged that writing is more than just what can be simply read."
Shindell then mentioned another songwriter worthy of a Nobel prize. "Leonard Cohen would be a great choice," he said, "for his music and for his life, the way he carries himself and his posture towards the world—loving and graceful. Leonard is a particular idol of mine."
Like Dylan and Cohen, Shindell himself enjoys a reputation as a top-notch songwriter and performer whose words shimmer poetically. His work has been covered by many notable musicians, including Dylan's former partner, Joan Baez. Shindell creates inspired acoustic story-songs with a minimum of language and an imaginative heart. His characters have depth and complexity in a world full of choices. The songs are difficult to describe because while they can be narrative, they can also be ambiguous and defy simple interpretations.
As a side note, I first interviewed Shindell about 15 years ago. My whole article was on one song called "Transit" from his wonderful Somewhere Near Paterson album that I had placed at the top of my Village Voice Pazz & Jop ballot. "Transit" was my favorite track. I thought the song was about transcendence. Shindell disagreed, but granted that a listener can come up with an interpretation that's just as valid as the writer's intention. Discussing Shindell's songs allows for various viewpoints.
Shindell will be showcasing songs from his latest album, Careless, at CSPS in Cedar Rapids on November 10. He is on a double bill with pop folkie Dar Williams. The two will do separate sets but will join each other's performances for a few songs. While the two have performed together many times in the past, especially as two-thirds of the trio Cry, Cry, Cry, this CSPS show is a one-off gig as a result of serendipitous scheduling that put them in the same vicinity.
"This is the 25th anniversary of Legion Arts [the organization that runs CSPS]. This will be a celebration," Shindell said. He mentioned he loved playing at CSPS, although he has not performed there for several years.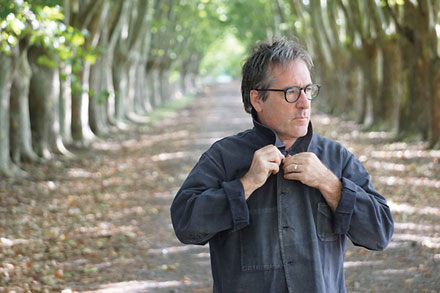 Richard Shindell (photo by Radoslav Lorkovic)
Careless differs stylistically from Shindell's previous records. First of all, he plays an electric guitar. Shindell is not trying to be the next Jimi Hendrix, but he said that the electric guitar opened up ways to approach the guitar. "Hearing what one can do with an electric guitar makes one more sensitive to nuances of sound and texture. It has also clearly affected my acoustic playing," he said. Good evidence of this can be heard on the YouTube video he's made of the title tune, on which he uses guitar tapping.
"I arrived at playing the guitar that way as a matter of expedience," Shindell explained. "I had just written the song. It was late at night. I was in my Buenos Aires apartment, a small one, with my wife and kids sleeping down the hall. And I wanted to record it, and this was a quiet way in which I could do so." Since then, Shindell said he has used that technique and variations of it to ornament his songs.
The song "Careless" concerns a person looking back and realizing the consequences of his past actions—or inactions, as the case may be, as neglect and abuse can be closely connected. While the track offers a powerful portrait of its own, Shindell said the album was conceived as a whole rather than just 11 separate tracks. "Once I have a collection of songs . . . I see connections, musical and lyrical, that inform each other and how the songs sound as a unit."
Shindell understands that most people today stream songs rather than whole albums. However, he conceives of his music as a disc in terms of length and format.
"This is also the first record in which I brought some of the songs to the studio in an incomplete form," Shindell said, "and used the studio and the other musicians to help develop them. Some went through a significant metamorphosis in the process." He didn't identify which songs he was referring to, in part because he thinks of them as of a single piece.
"Careless isn't careless," he wryly noted. "It's carefully made. Don't let the title confuse you."