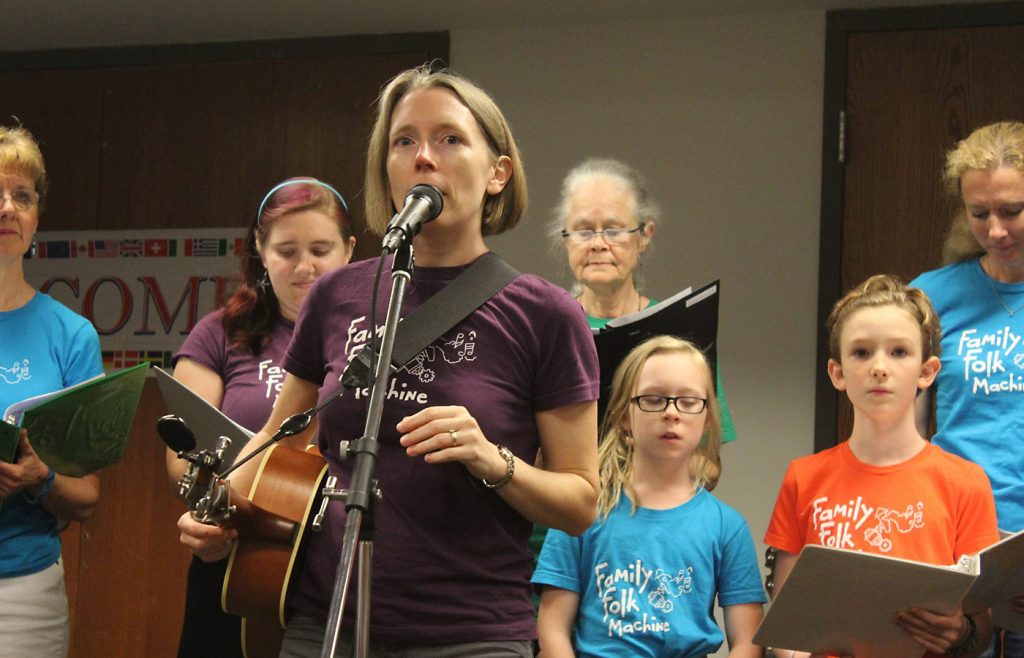 Singing together fosters camaraderie, boosts oxytocin levels, and even increases life expectancy. So it's not surprising that every culture embraces some form of choral singing. The Family Folk Machine, Iowa City's intergenerational non-auditioned choir, knows the value of making music in a group. Supported by the Iowa City Senior Center, it welcomes kids and adults of all ages and backgrounds to sing together with a folk band.
You can hear the group's fall program at two free concerts this week, on Friday, November 17, at 7 p.m. at the Iowa City Senior Center, and Sunday, November 19, at 3 p.m. at the Old Capitol Senate Chamber, on the top floor of the building.
Director Jean Littlejohn started the Family Folk Machine in 2013, when she and her family moved back to Iowa City from Boston. She had participated in an intergenerational choir in Boston and thought Iowa City would be the perfect place to start their own group.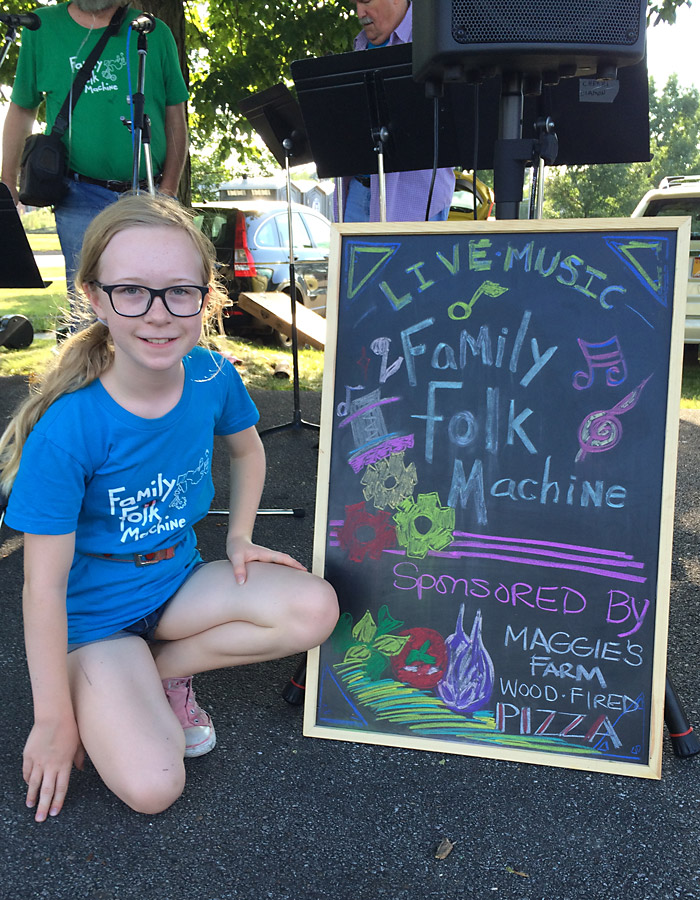 As a non-auditioned choir, the Family Folk Machine welcomes everyone to join, at any experience level. Members range from four-year-olds to eighty-somethings, with tweens, teens, twenty-somethings, thirty-somethings, parents, non-parents, and grandparents all represented. There are currently about 75 singers accompanied by a four- to six-member folk band playing guitars, bass, fiddle, mandolin, slide guitar—and pretty much whatever else is called for. Littlejohn says sometimes they're augmented by a kids' band, which plays violins, cellos, and ukuleles, with harmonicas in the works.
Community Building & More
But the Family Folk Machine thinks of itself as more than just a choir. First, it's a community building organization. Intergenerational choirs bring people together from different walks of life and provide valuable enrichment opportunities. Littlejohn has noticed firsthand how the choir builds relationships between generations.
"It's really neat to see the kids having relationships with older adults who aren't from their own family," she says. "It's neat for some of the older adults—there are a few who are grandparents but their grandkids don't live in this area, so it gives them a chance to have relationships with kids who aren't their own grandkids."
According to recent Stanford research, intergenerational relationships are a win-win proposition for everyone: they provide attention and mentoring to younger people while giving older folks a chance to share accumulated wisdom, gain a sense of purpose, and spend time around an up-and-coming generation.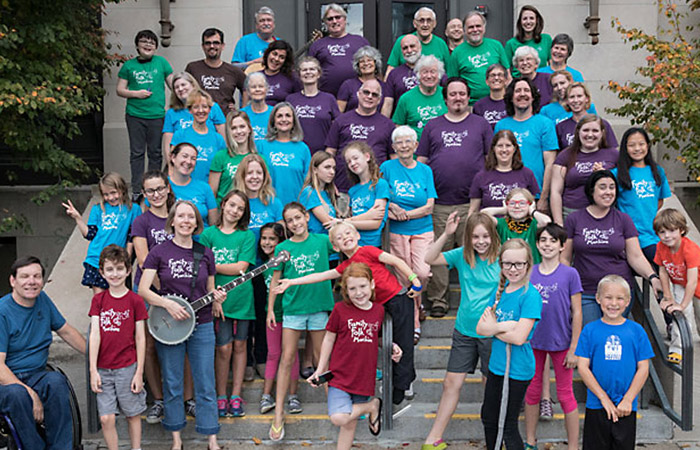 The choir's second goal is to explore American culture and history through its songs. "I often try to include some historical songs and some older songs that can teach us about things that happened in the past in our country as well as things that reflect on current cultural issues," Littlejohn says.
Third, the Family Folk Machine fosters individual growth. "When we're performing as a group," she says, "I'm always looking for ways to help each individual find something they can do in the group that stretches them musically." That can be participating in a choir for the first time, just showing up and learning parts, trying a solo part, or taking on leadership roles in rehearsals or arrangements. "We've got people at all these individual levels, on their own individual musical journeys, and we try to find ways everybody can grow a little bit."
Finally, the Family Folk Machine strives "to be the best musical ensemble we can be, to grow as a group and really perform at a high level," Littlejohn says, "so that's something we keep working toward."
The Power of the Group
Littlejohn explains that intergenerational choirs sound different than other choirs, noting that a special quality arises when mixed generations sing together. "There's something really powerful in hearing kids, adults, and older adults singing together," Littlejohn says. "The expression of the songs is quite different than it would be if it were just a bunch of twenty-year-olds singing them." She adds that while the end result may be less unified, "we get taken by surprise by the powerful effect of that type of musical expression by a mixed age group."
Littlejohn has a Masters in Organ Performance and a Ph.D. in Music Theory, which she says comes in very handy "with arranging all the songs." She finds her work with the Folk Machine fun and stimulating "because it uses so many different skills all at once."
The Fall Program
The year is divided into two sessions, and this year's fall session is "all about home, losing it, finding it, and coming home," Littlejohn says. "We have a really great set of songs about home," with a wide range of songs from artists like Willie Nelson, Bonnie Raitt, the Carolina Chocolate Drops, Rodney Crowell, Greg Brown, and Woody Guthrie. The songs range from nostalgia about home to sorrow about leaving home to "how you feel like you're at home when you're with your friends." Littlejohn adds "the Machine is bigger than ever this fall and includes 250 percent more ukuleles."
The Family Folk Machine is coming up on its fifth anniversary in January, and is planning a celebratory performance in the spring. The beginning of a session is the best time for new members to join, and the next session starts January 8.
The Family Folk Machine also hosts Community Folk Sings at Uptown Bill's on the second Saturday of each month.
For more information, find Family Folk Machine on Facebook, or check out their webpage.