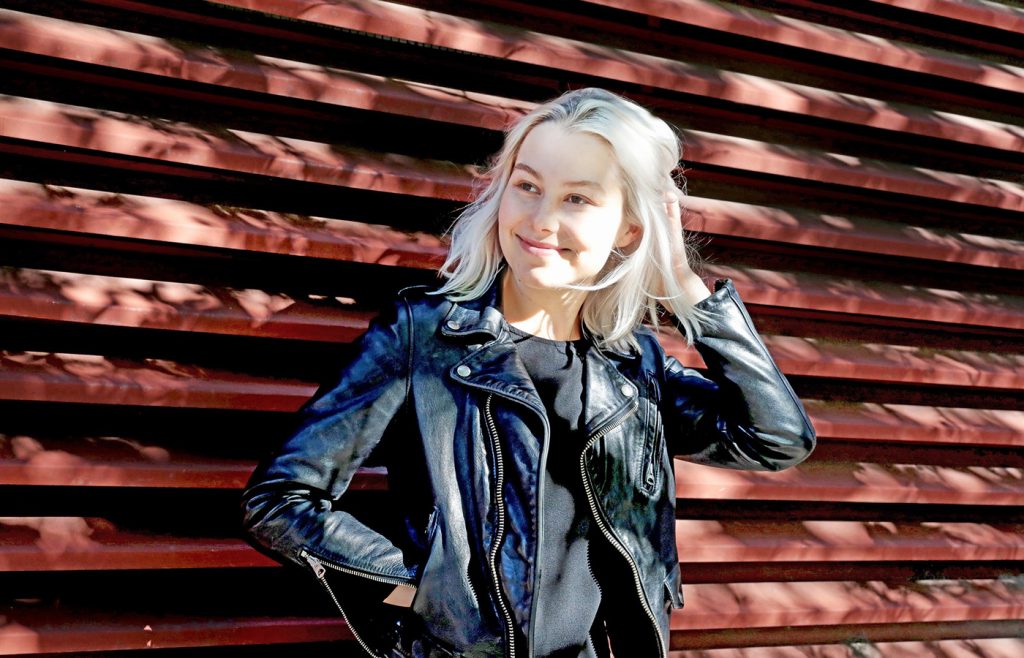 In late 2017, gifted 23-year-old Los Angeles singer-songwriter Phoebe Bridgers released her debut album, Stranger in the Alps. It offers a promising future for the acoustic-electric guitarist and vocalist.
Bridgers started performing at local LA venues as a teenager. Well-known multi-instrumentalist and record producer Ryan Adams took notice and helped release her first single. In 2014, Bridgers's songs were selected as background music for television advertisements and several ABC series. In 2016, she supported Julien Baker's national tour. Now, with her debut CD, Phoebe Bridgers has officially arrived.
According to reviewer Andrew Bloom (consequenceofsound.com), "Sometimes [Phoebe's] voice is clear and arresting, standing out starkly amid the pleasing arrangements underneath. At others, it's double-tracked and full of echoes, creating an ethereal, otherworldly vibe that helps conjure the spooks and specters that populate almost every corner of the album." For me, Bridgers's singing evokes the vocal timbres of Gillian Welch and Frally. Bridgers also admits to a passion for the music of the late Elliott Smith.
Stranger in the Alps conveys a strangely beautiful sonic experience in juxtaposition with the sad overtones of the lyrics. Here are the tracks I recommend.
"Georgia" addresses a boyfriend's mother who disapproves of their relationship: "If I had breathed you / will it kill me. . ." The song's magnificent beauty and Bridgers's serene voice push aside the real story of heartbreak. At the intro and exit, a drifting instrumental with subtle electronics and pedal-steel guitar communicates a mood of love for the boy despite the mother's hesitations.
"Scott Street" reflects on a stroll down Scott Street in LA with a friend where Bridgers is "feeling like a stranger, with an open heart, an open container." As in many of her songs, a melancholy yearning prevails for something seemingly unattainable. Such is the pain of young love.
"Funeral," which begins and ends with a droning electric guitar, recalls the day that Bridgers actually sang at the funeral of a friend lost to heroin overdose. Listen closely and you can imagine Gillian Welch singing such a song with simple accompaniment and slightly echoed vocal overlays. "I have a friend I call / When I've bored myself to tears / And we talk until we think we might just kill ourselves / But then we laugh until it disappears."
"Motion Sickness" is perhaps the best track on the album, with its upbeat feeling and hopeful tone, despite the lyrical message about a breakup.
Phoebe Bridgers has such marvelous talents, as amply demonstrated on Stranger in the Alps. The more you listen to her songs, the deeper the hooks sink into your being. Enjoy this album and tell your friends about it.