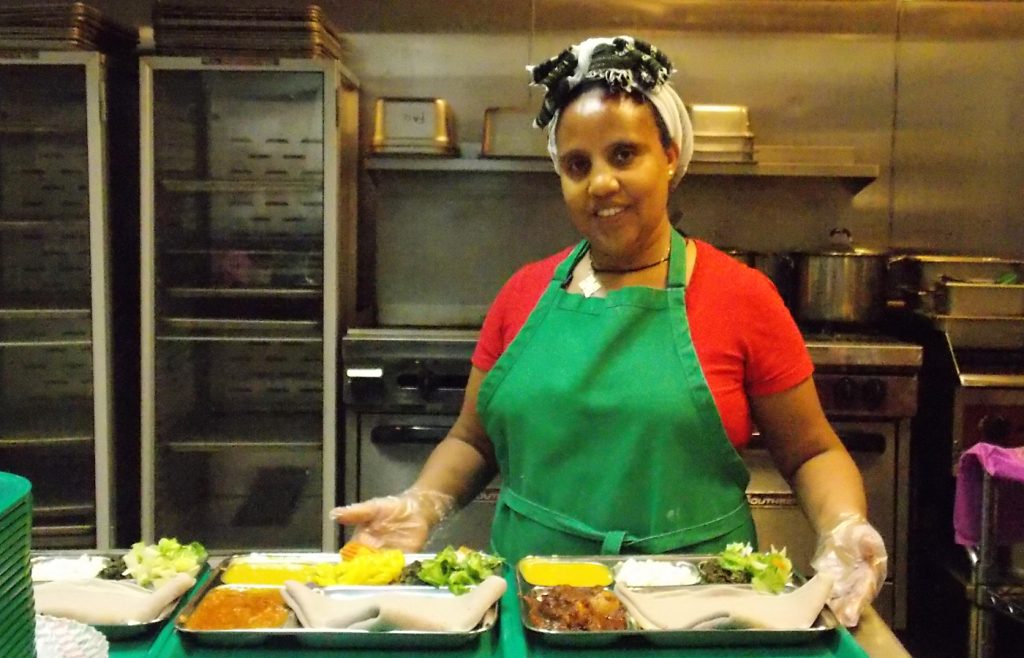 Ethiopian-born Genet Areda has always loved to cook. While studying to be a nursing assistant at Indian Hills Community College, she wanted to find a way to share Ethiopian food with others. She started simply with a booth at the Saturday Fairfield Farmers Market, but as word of her tasty food spread, the venture blossomed into a full-time occupation that became Addis Ethiopian Cuisine. The popular lunchtime restaurant is now housed in the Fairfield Arts & Convention Center and attracts patrons from all over Iowa.
Eating truly authentic Ethiopian food involves all the senses. Injera, a traditional Ethiopian flatbread, is an important part of the menu. Made with teff, a tiny grain related to millet, injera is used to scoop up the various dishes in lieu of cutlery.
Injera is a naturally fermented bread, and making it is a labor-intensive process with a starter that has to be continuously fed. Genet makes injera every day. The loving labor is obvious in the pleasantly sour taste of this signature flatbread. While the teff flour for injera comes from a Midwest distributor and most of the other ingredients are available locally, the authentic spices come from Ethiopia. Genet works with Ethiopian friends and students, getting them to purchase spices for her on their visits home.
Genet, her husband, Girma Tessema, and their three daughters moved from Ethiopia to Washington, D.C., in 2007, and relocated to Fairfield in 2008. Genet loves Fairfield, and enjoys its peaceful contrast to the crowds, noise, and bustle of larger cities.
"The only things we are missing are relatives and the weather," says Girma, who hails from an Ethiopian city with an ideal climate that's "not too hot and not too cold." But, he says, "every other thing is fantastic in Fairfield." Genet and Girma are both impressed by the kindness and helpfulness of the community.
Genet says she has many loyal customers who've supported and encouraged her over the last eight years. She's very grateful to Rustin, Amanda, and the entire FACC staff for the opportunity to work in the facility's kitchen.
"We are so happy they gave us a chance to do something for the community," she says. "We are giving people a taste of Ethiopia." Genet owns the restaurant, managing it with help from her husband. She still runs a booth at the Saturday farmers market, where her daughters Melat, Hermela, and Faeven provide indispensable assistance.
Addis Ethiopian serves lunch weekdays from 11 to 3, and offers the same basic menu all week, with vegetarian and non-vegetarian options. They cook with olive oil. The food is healthy, tasty, and mostly organic. Vegetarian meals come with injera bread (regular or gluten free), red lentils, yellow split peas, cabbage, spinach, and salad. Non-vegetarian meals come with red spicy beef stew, beef stew with potatoes and carrots, spinach, and salad. They also have two kinds of samosas, lentil and pineapple.
Addis Ethiopian has satisfied customers. Reviews on Facebook and Yelp say things like "fabulous," "fantastic," "delectable," and "deliciously seasoned." Genet and Girma encourage everyone to "come and experience Ethiopian food . . . no spoon or fork is needed."
Find them on Facebook, or visit their website at AddisEthiopianCuisine.com.