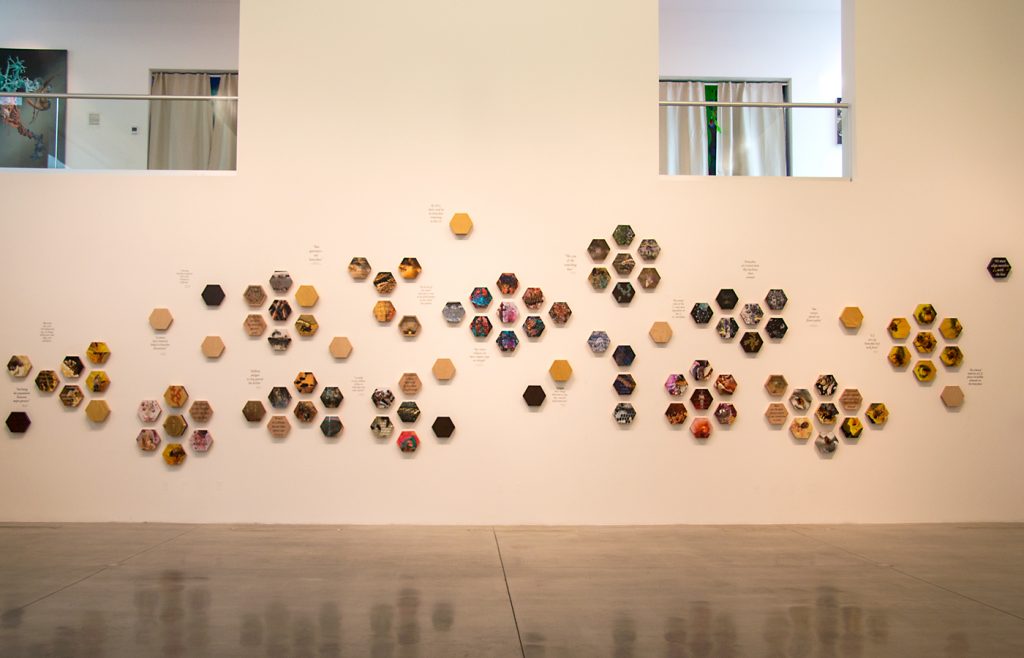 The world is facing a bee crisis, and multimedia artist Nancy Macko wants everyone to know about it. Through her installation The Fragile Bee at the University of Iowa's Old Capitol Museum, the California-based artist hopes to raise awareness of the bees' dire straits and humanity's dependency on their survival.
Long fascinated with bees, Macko has studied their social structure and environmental needs extensively. She combines elements of painting, printmaking, digital media, photography, video, and installation to create a unique visual language, drawing upon images of honeybees and their social structure.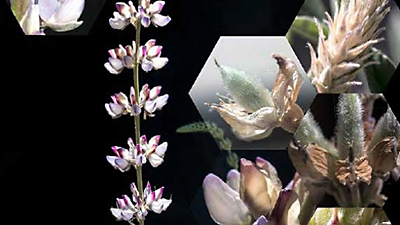 Mack's videos, Lore of the Bee Priestess and Bee Stories, are pieces of digital art that use computer-generated images and audio to convey a sociopolitical message. Her large-scale installation, Honey Teachings: In the Mother Tongue of the Bees, a 100-panel work, depicts bees reacting to insecticides and pesticides, which cause confusion and disorientation—a form of memory loss and dementia. Macko uses honeybee images and materials like wax, pollen, and honeycomb in her work, exploring issues related to technology, ancient matriarchal cultures, spirituality, and feminism.
"My work addresses life's fundamental questions," Macko says. "I photograph the process of the life and death of plants that serves as a metaphor of our brief existence."
Macko says plants remind us how fragile our ecosystem is. By examining the life cycle of plants and documenting the relationship between bees and native flora, Macko hopes to "reveal the intimate vulnerabilities that sustain life as we know it."
A feminist artist, Macko sees the bees' plight as a call to arms. "I want the world to know about the bee crisis using art and visual imagery to reach them emotionally. I want people to realize that they can do something about this, and that their awareness of how dysfunctional our food system is can help change things for all of us."
Colony collapse and bee population decline are worldwide problems, aggravated by loss of habitat, disease, and chemical pesticides. "The chemicals used now in these large agricultural crops either disorient the bee so it can't find its way home or just outright kills it because the chemicals are so strong," Macko says.
She adds that bee population has declined 30 percent overall compared to 19 percent ten years ago. "Beekeepers race to replenish their colonies in time for the next big pollination job, but they can't keep up. And this is a worldwide epidemic."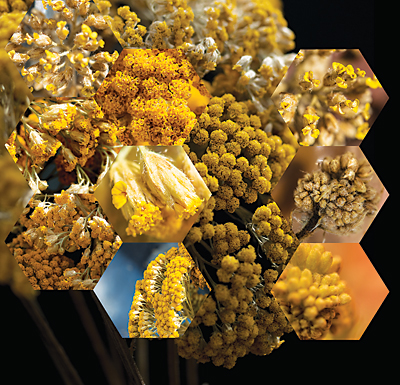 Macko says one of the best things people can do is plant wildflowers. Industrial farming has changed the way farmers interact with the environment. Few farmers plant clover and alfalfa cover crops, which provide important food sources for the bees, and most farmers remove old hedgerows filled with the wildflowers and weeds necessary for bee nutrition and habitat.
Urban and rural wildflower plantings can help support the bees. Macko created a garden of native bee-attracting plants, and spent a year using macro photography to document the plants and the bees. Her striking, extreme close-ups allow "the pure beauty of these plants at all stages and the poetry of light that they reflected to be the prime subject."
Macko sees much we can learn from bees. "The bees are a super organism and as such show us how collaborative work can be done collectively for everyone in the hive. They are a model for a better way to survive. This tiny bee is holding up a giant mirror for us to see how dysfunctional our food economy is."
As a feminist, Macko has studied utopian matriarchal societies as depicted in science fiction, as well as archeological evidence of ancient egalitarian matriarchal cultures, and sees many positive cultural attributes in bees' social structures.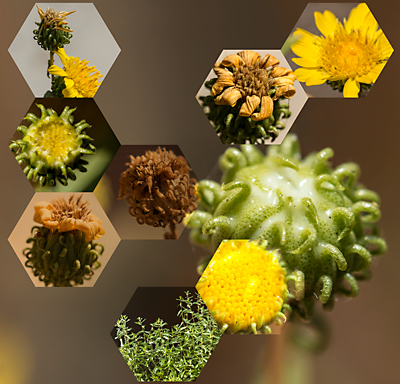 "My work is an ongoing analysis of the honeybee society and its parallels with the ways in which women form community. The hive functions as a type of utopia in which there is balance and harmony."
Macko uses her work to overcome the oppression and subjugation of patriarchal culture, creating spaces that encourage mindfulness of our innate interconnectedness and the possibility of change. "In my work, I have tried to weave a visually compelling narrative of courage, optimism, and love by expressing the power of the sacred feminine—from nurturing to ferocious."
September 23 Talk
Nancy Macko will give a talk on Sunday, September 23, at 2 p.m. in the Old Capitol Museum. The Fragile Bee is on display through December 30. Prior venues on its tour of the nation include California, Colorado, and Texas, with the show traveling to Connecticut next year.
A practicing artist since the early 1980s, Macko has had 40 solo exhibitions and participated in over 150 national and international group exhibitions. Her work is in many private and public collections, and her prints were recently acquired by the Metropolitan Museum of Art in New York City.