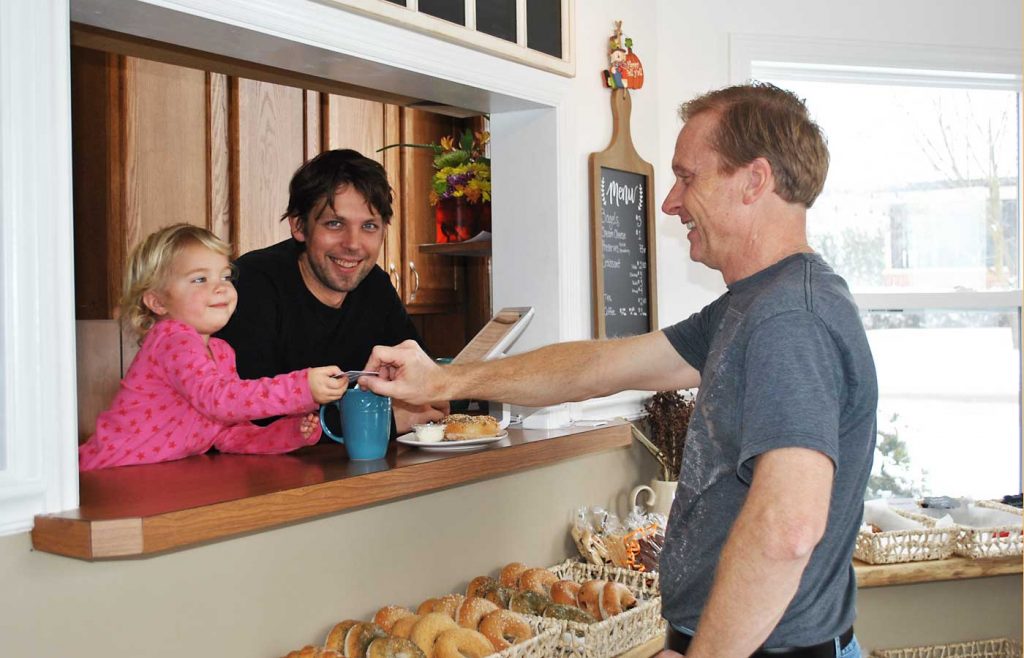 Bountiful Bakery is a great place to satisfy your pastry cravings and artisanal baked-goods yearnings. Since the shop opened in Fairfield in late October, it's become a popular breakfast hangout spot, featuring stellar heirloom bagels as well as assorted baked goods, teas, and coffee.
"It's been really busy since we opened," says owner Andrew Busscher, a carpenter who renovated the former McConeghey Chiropractic office into a retail space with help from his dad.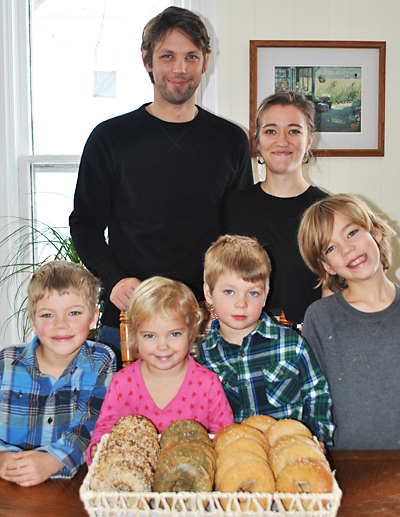 Bountiful Bakery is truly a family business. Andrew and his wife, Maya, got into the bagel business a few years ago. "The main reason I got into this business is because we love bagels and our kids love bagels," he says. The Busschers have gotten extra help from their extended family, with Maya's mother and sisters often working in the bakery.
A professional carpenter as well as a committed bagel baker, Busscher did a beautiful job converting the building into a charming bakery. "A thing I keep hearing from everybody is that it feels like a second home," says Aleigha Franke, Busscher's sister-in-law. "I just love what they created." Franke particularly enjoys watching friends share plates of pastries so they can taste of bit of everything.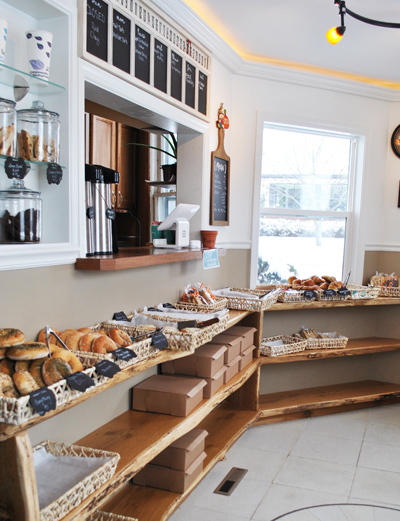 Baskets of baked goods frame the cashier's window, with seating at the breakfast bar along the opposite windows. Visitors can pick up their treats to go, sit at the bar, or venture into two eating areas with cafe tables, comfortable chairs, and a children's play area. As a father of four, Busscher made sure to include a family-friendly space.
"People ask me how a carpenter becomes a baker," Busscher says. "I've always loved baking." His vegan bagel recipe is based on authentic New York-style boiled bagels, which are wonderfully chewy with a firm crust and a soft center. The genuine sourdough bagels require a three-day fermentation process and use an heirloom wheat flour mix from local artisanal bread supplier Breadtopia that contains three ancient grains.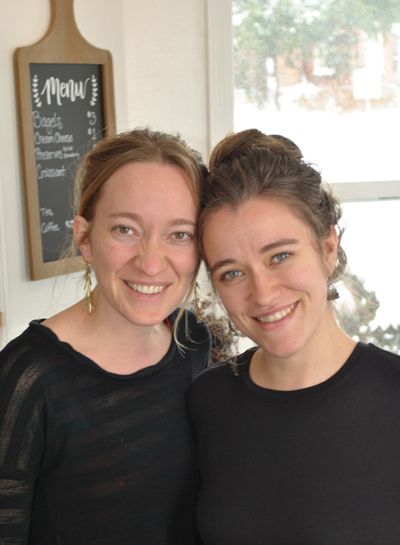 Bountiful Bakery also makes savory scones and carries baked goods created by other local artisanal bakers. "I really wanted this to be a community project," Busscher says. "I want to help support other people in the community and bring some wonderful treats that everyone can enjoy." Mary Foster bakes coffee cakes and other inspired goods. Aleigha Franke bakes wheat- or grain-free cookies and muffins. Rick Redlof bakes scones, cinnamon rolls, biscotti, cheesecake, and other sugary deliciousness. Matthieu Tourenne of Chewy's Kitchen contributes his renowned croissants.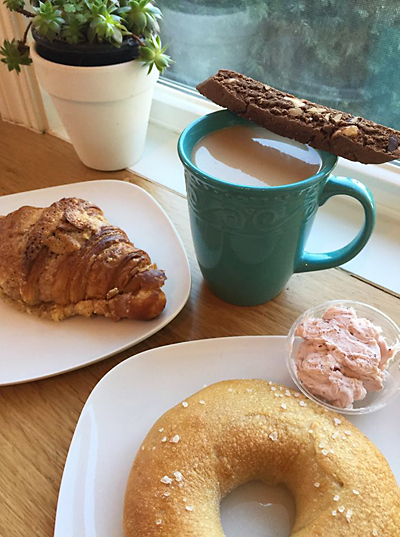 All baked goods use primarily organic ingredients, and some of the offerings are vegan, wheat or grain free, or egg free. All of the alternative baked goods are sweetened with coconut sugar. "We've noticed coconut sugar has a much better effect on our kids," Busscher says.
The Bountiful Bakery menu includes Organic Valley cream cheese for the bagels, as well as butter and a few flavors of jam. They add flavors to the cream cheese in house, creating dill-chive and lingonberry cream cheese. Coffee options include Panache regular coffee and Cafe Paradiso decaf, with dairy or non-dairy choices available. For their half-and-half, they mix Radiance Dairy whole milk and cream together, and they also offer a variety of loose leaf tea mixes by Art of Tea, which was formerly offered at the Tea House.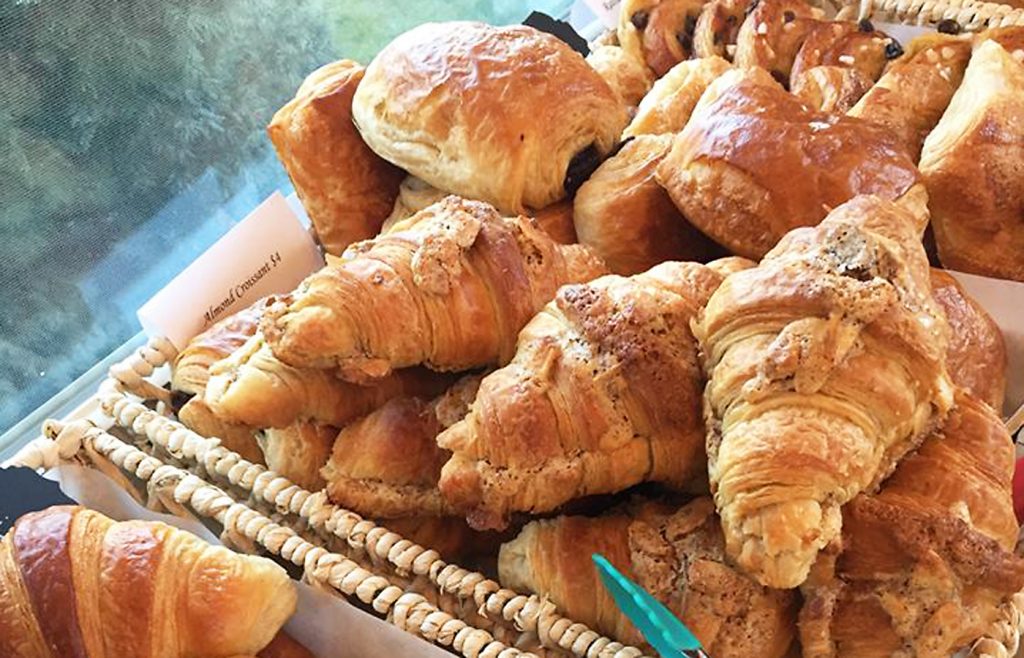 Also in store at the bakery are special seasonal variations. In December, look for hot chocolate, holiday pies, small chocolate cakes, holiday cookies, and rosemary-pepper bagels. They would love to hear from customers about favorite recipes and flavors. If you have a favorite family recipe you'd like to share, be sure to let them know.
Busscher sends out special thanks to dedicated staffers Chloe Hennesy and Whitney Schutten, and accomplished 13-year-old baker Elisabetta Calatti, who supplied recipes for chocolate meringues, chocolate tarts, and fruit tarts.
Bountiful Bakery, 303 S. Main St. in Fairfield, is open weekdays 7–11 a.m. and Saturdays 8—11 a.m.. For more information, call (641) 233-0110 or email bountifulbakerycafe@gmail.com.