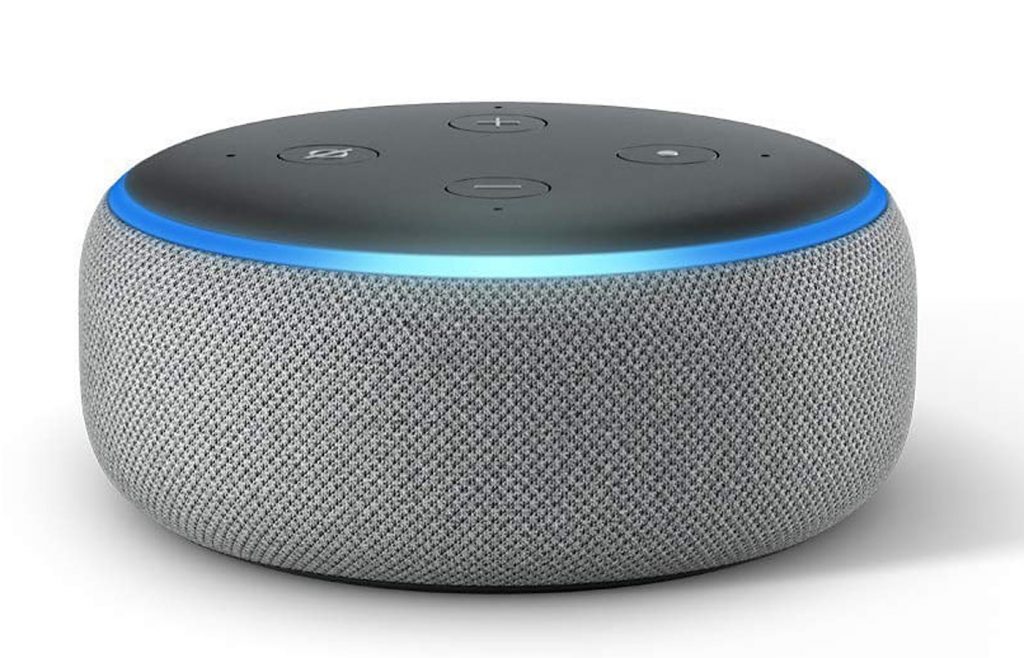 "Alexa, what's the weather?"
"I seem to be having trouble connecting to the Internet. Please take a look at the Help section in your Alexa app."
"Alexa, I'm in a hurry. I don't have time to troubleshoot."
"I seem to be having trouble. . . ."
"Alexa, come on. I've unplugged you and plugged you back in. That usually works."
"I seem to be having trouble. . . ."
"Alexa, I think I'm going to end this relationship."
"I seem to be having trouble. . . ."
It's ironic that Alexa chose not to work on the very day that I would be writing about voice-controlled devices.
Here's this year's selection of gadgets:
Amazon Echo Dot third generation ($49, but often available for as little as $29). I do enjoy my Echo Dot, and ask Alexa for the weather forecast, news, factoids, etc. She plays music for me and turns my lamp on and off when I ask. Every day I play her trivia game and have racked up 476 points! The newly released third-generation model is more attractive, with a fabric case.
I wirelessly connect my Echo Dot to a Bluetooth speaker when I play music. You can get more expensive Echo devices that are themselves worthy speakers, including the Echo Plus ($149) and the Echo Sub ($129), a robust subwoofer that can be used in conjunction with your other Echo smart speaker.
The Echo Plus also has a temperature sensor that can trigger smarthome routines based on a room's temperature. It understands a limited range of smarthome commands even if your internet isn't working.
Echo Input ($34.99). If you already own speakers, there's no point to buying a regular Echo. Instead, you want the tiny Echo Input, which is just half an inch tall, connects to your speakers, and, in a sense, turns them into smart speakers. It has the same array of eight far-field microphones as other Echo devices and the ever-helpful Alexa.
Echo Auto ($49.99, but available initially by invitation for $29.99). This one's for your car. Like other Echo devices, the Auto has an eight-microphone array that Amazon says will understand you even in your car's noisy environment. It uses your smartphone to access the internet. It has a dashboard mount and connects to your car via a 3.5mm jack. Or it can connect via an existing Bluetooth setup if your car has that feature. It's powered by an included cable that connects to your car's cigarette lighter. Echo devices use the internet to understand what you say, which is data-intensive, so I'd recommend an Echo Auto only if you have an unlimited data plan.
Echo Show second generation ($229.99). The Show has all the capabilities of an Echo device, plus it has a 10-inch display. It includes web browsers and a Skype app for video calls. You can view lyrics and album covers while listening to music, see the weather forecast and your calendar, and watch movies and TV shows.
Amazon Smart Plug ($24.99). Insert the Smart Plug into an outlet and then plug your home appliances or lamps or whatever into the Smart Plug. Then you can turn them on and off just by speaking.
These are just some of the fun new gadgets that Amazon has introduced, and no doubt you get the picture: We are rapidly moving into an era of voice control over everything. Of course, the other big players want a piece of the action.
Facebook Portal ($199). Like the Echo Show, the Facebook Portal has a 10-inch display and a video camera, such that it can be used for high-definition video calls. It's built atop Facebook Messenger so you can easily access your Facebook contacts. And you talk to it just like you would an Echo. It's one of many new devices on the market that incorporate Amazon's Alexa technology. The Facebook Portal Plus ($349) has a rotatable 15-inch display.
Google Home Hub ($149). Google's smart speaker lineup, called Google Home, now also features a model with a display. Unlike the other devices with displays, however, Google Home Hub doesn't include a camera for video calling. The display is 7 inches, and the device includes Google Assistant, which is similar to Alexa but in my experience is much better at understanding my requests and answering questions.
Google Home Mini ($49, but often available for around $30). This palm-sized device competes with the Echo Dot. It has surprisingly good sound for its size, but it's not as robust as the latest-generation Dot, according to reviews. Unlike the Dot, though, it can be used as a Bluetooth speaker.
These devices are getting hugely popular—and are something you could consider this holiday season. As for my Alexa, she's now working (without any intervention on my part), and is again her cheery, helpful self.
See column archives at JimKarpen.com.