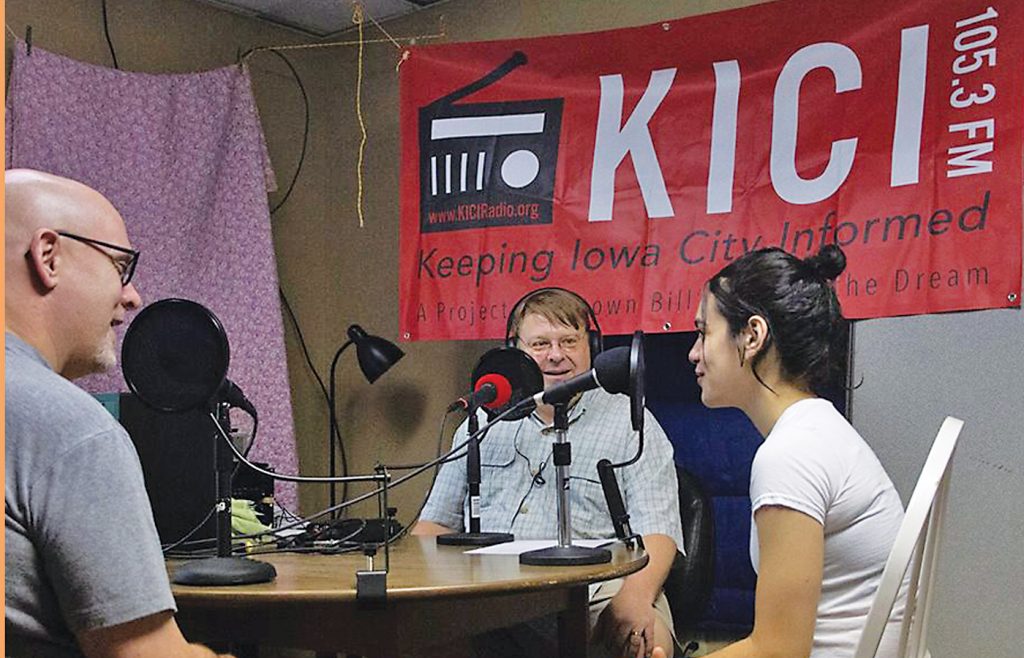 Inspired by a rare opportunity for a new low-power station when the FCC opened up a spot a few years ago, a group of Iowa City residents banded together to bring their vision to the air.
As a result of their hard work, KICI 105.3 FM began broadcasting on June 9, 2018.
Iowa City's new community radio station provides a mix of local talent and nationally syndicated radio shows. Initially, KICI had limited programming, but their expanding menu now includes former KRUU shows Great Taste and Writers' Voices, as well as The Green Room IC and popular NPR shows.
As a low-power station, KICI's broadcast range is a five-mile radius from downtown Iowa City, but shows are also archived on SoundCloud, with web streaming options coming soon.
KICI's mission is to provide accessible, local media about government and cultural affairs, to offer intelligent and entertaining programming, and to provide public safety information. In order to apply for the station, organizers had to find a nonprofit sponsoring agency. Extend the Dream Foundation stepped up to help.
"Low-powered radio stations are available to educational nonprofits, tribal governments, or public safety entities," explains station manager Holly Hart, a former Iowa Public Radio producer who spearheaded the drive to get KICI on the air. Hart feels that working with Extend the Dream is an excellent fit, since they oversee Uptown Bill's Coffee House and three other small businesses that are operated by those with disabilities. By doing so, they promote awareness of disabilities and provide opportunities for people of all abilities. KICI is committeed to being community radio for everyone.
After several potential sites were considered for the KICI transmitter, it now sits in downtown Iowa City, with the studio located near Uptown Bill's. Since KICI was legally required to begin broadcasting by a certain time, their first broadcasts were an endless loop of Public Radio Exchange programming, and they had technical issues with connectivity. As they've ironed out technical issues and settled in, the programming continues to grow, with an emphasis on high-quality shows.
Current programming covers investigative journalism, human interest, science, music, culture, and food. Some of the programs include Democracy Now, Iowa Watch, Your Weekly Constitutional, The Fallon Forum, Humankind, Outright Radio, Bioneers, On Being, The Naked American Songbook, Fur Peace Ranch, American Parlor Songbook, Rockabilly N Blues Radio Hour, Science and the Sea, and Earth Date.
KICI producer and outreach manager Craig Jarvie, along with volunteer Beverly Mead, produces The Green Room IC, a show focused on Iowa City comedy, improv, and theater. So far, the show has covered Combined Efforts, Dreamwell Theatre, City Circle Theatre Company, Floodwater Comedy Festival, and Iowa City Community Theatre.
Hart says now that KICI has a more solid schedule, people know when to listen for their favorite programs. "We like to repeat some of the programs at least two or three times a week, and once or twice on the weekend," she says. "That gives listeners a lot of chances to hear programs." Over time, they plan on adding more high-quality shows that fit in with existing programming. Local politics, public interest and commentary, geek pop culture, LGBTQ issues, and poetry are all possible show subjects.
Hart and Jarvie were both happy to give a new home to Writers' Voices and Great Taste, two popular shows from Fairfield's low-power station KRUU, which ceased broadcasting earlier this year. "Both Fairfield and Iowa City have a very strong literary tradition," Jarvie says, "and a great tradition and passion for food, and all things locally sourced and sustainable." The subject matter and quality of the shows made them great fits.
KICI recently added blocks of music, some of which focus on local talent. "We have a couple music blocks where we focus on local musicians, both Iowa City and Iowa musicians," Jarvie says. "So at 11 a.m. and 8 p.m. on weekdays, we have an hour block where we randomly pick songs from Iowa musicians. This sets us apart from the other noncommercial stations and gives the station a little more local flavor." Hart adds, "A lot of people don't realize this area has some very fine local indie bands and musicians that are really quite good." KICI also has a few music shows in the works that feature live DJs.
Jarvie says that a great thing about living here is "the wealth of local talent." He went to the Iowa City Jazz Festival, Farmers Market, and Soulfest to record people giving the station ID. Jarvie also got local actors and regular folks to come in and voice not only station IDs but some promos, too. "We wanted to include a lot of different voices, not just a deep-voiced radio personality. We wanted to have voices that are reflective and representative of Iowa City."
KICI is looking into underwriting, and is currently fundraising for some tech needs. Volunteers are always appreciated, whether for tedious grunt work like loading CDs into iTunes or working on a current show. To get involved, visit KICIradio.org.