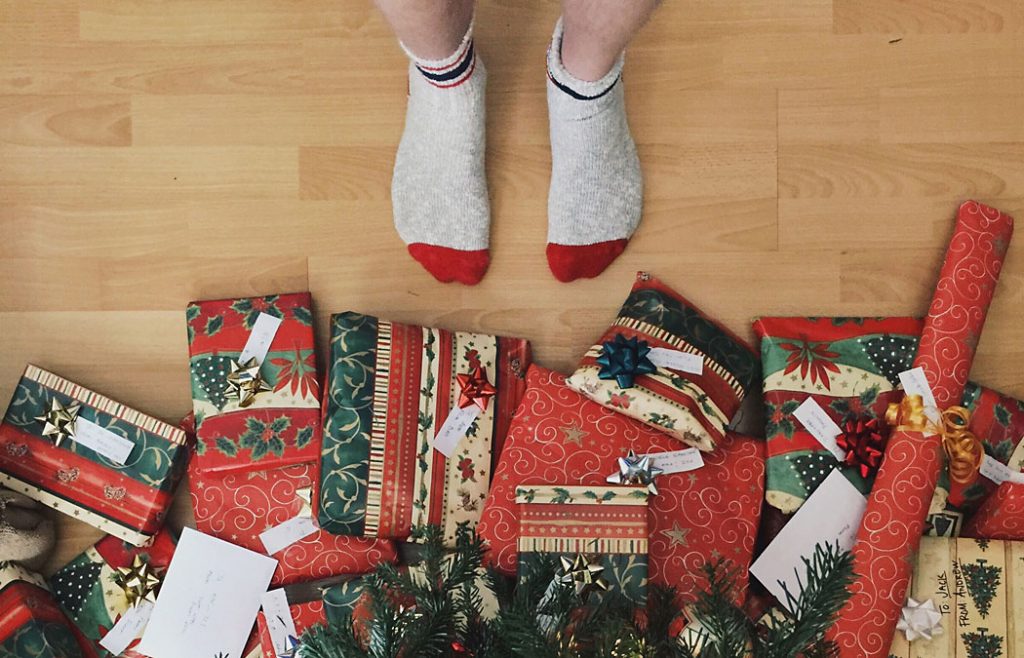 Sometimes Christmas feels like a garbage can of dashed hopes and dreams. And I don't just mean that the socks are the wrong color or the sweater is the incorrect size—although if they were painstakingly hand knit by Nana, that can be devastating, too.
Why is Christmastime so ripe with sadness? Maybe you're blue because it never goes as planned. Or you're afraid you'll disappoint your kid. Or because the right person won't be there. Or because "Away in a Manger" and "Silent Night" were secretly written to make you bawl your eyes out.
Whatever the reason, your dread of the holidays is legit. And even though you may feel your aloneness acutely, you are not alone. So go ahead and join that "Surviving the Holidays" support group. Turn the volume up on the Pogues' rockin' fiddle as they holler in yuletide protest, "Happy Christmas your arse, I pray God it's our last!" And feel free to cry into your (cinnamon-spiced) whiskey as you write the only Christmas card you'll be sending out this year: "Dear Santa, How do I loathe thee? Let me count the ways … "
12. You're Broke
There is a custom in my family, a saying we use liberally upon the opening of a gift, lavish or not. Rip rip, tear tear, lift the lid off box, and (gasp for dramatic effect) "You shouldn't have!" Originally meant as an expression of gratitude but later turned into a joke, some years that statement feels a little too true for comfort.
You shouldn't have. No, you really shouldn't have. And neither should have I. Why are we spending money on knickknacks and gadgets—that will be broken or outdated in three months' time—when neither one of us has a retirement plan?
11. You Have Enough Sh*t
"The gluttony of consumerism is overwhelming to me," says Cindy, who gets pretty down in the mouth come the day after Thanksgiving. Black Friday, you've shown us your true colors: Greedy green and raging red. And we have it on video camera.
But some years that nasty little chain-smoking inner elf sits awful heavy on your shoulder, drooling onto your collar while he hisses Gollum-like in your ear, "We've got to find the perfect giiiiift, my preciousssssss. Buy one, get one freeeeee, preciousssss. It is ours, it is, and we wants it!!!"
For years I've begged my family to spend their fifty dollars of holiday savings on taking a trip instead of adding to our respective collections. Let's go get snowed in on a mountaintop someplace! Let's fly to Peru! But try telling your nine-year-old nephew that instead of getting him that Nintendo Switch, his parents will be spending his portion of the Christmas cash on gas, hotels, and National Park fees.
10. Have Yourself a Climate Crisis Christmas
That tiny plastic toy you bought Freddy for his stocking was shipped overseas inside its protective hard plastic packaging, inside a plastic bag, inside a box, inside another box. But it's okay, because Freddy will get at least 15 solid minutes of fun out of it before he goes back to his Minecraft game.
I'll admit, it's easy to be in denial about Christmas waste when a wrapped gift starts off looking so gorgeous. But we all know: the designer wrapping paper by Snow & Graham, that silky nylon ribbon that is strong enough to choke a pelican, and that adorable little gift tag illustrated with a cardinal on a hat on a snowman on a hill, will all just end up in the landfill. Well maybe 5 percent of it will make it into your recycling bin if you've really got it together. But even that stuff will just end up in the ocean someplace since China is refusing our recyclables now. (Note: You'll need to do a little research of your own to find out which indefatigable pile your garbage is now going into.)
9. You Just Can't Get Home
Fifteen years ago, Blake fell madly in love with a European. The lovebirds were engaged in a heartbeat and moved overseas to be near her people before they started having kidlets of their own. It's what she wanted. And he's that kind of guy.
A few years after the birth of their daughter, Blake's wife decided to convert to a new religion of sorts, one that decrees "Self before all else!" Translation: this woman is a dedicated, practicing narcissist, whose dark arts have become so powerful she turns every occasion meant for joy into a living hell.
Blake is divorced now, but the country he's stuck in—for the love of his dear daughter—heavily favors a mother's rights. Blake and his daughter can hardly sneeze without permission.
The last time Blake and little Caroline—with full legal permission, mind you—attempted to visit his cute-as-a-button family in Iowa, Frankenbride called the police to report a "kidnapping" and had the pair detained just long enough to miss their flight home for the holidays. Blake was forced to spend Christmas Day, once again, away from his family, in a cold, bleak country whose national anthem may as well be "Friendliness! It's a sign of weakness!!" Now that's one bad Navidad.
8. It's Not What You Asked For
Kids can have it pretty tough sometimes. Right up until the sixth grade all I really wanted was a new Ken doll, but here I was unwrapping underpants again. In front of my cousins and uncles and brothers. Underpants. Oh, where can I hide myself away, I wondered. Was there room inside that fireplace for a ten-year-old?
7. You're Stuck in the Wrong Family
Speaking of hiding, here's the woeful tale of poor, poor Timmy, the youngest of three sons in a "blended" family. His mother recalls their first Christmas together:
"Christmas morning, [my husband] Bryan's boys are there, they've torn through all the packages … and I couldn't find my son. Where was Timmy? I opened the hall closet and he was there on his haunches. He was crying. And I said, 'Timmy, what's wrong?' And he goes, 'It's all over!'
"It was cruel, really," Timmy's mother reflects. "A set-up!"
"This is the worst day of my life!" the boy had decided that morning, and hasn't cared for Christmas much since.
6. You've Lost
The subject of Christmas came up at the coffee shop one morning. Janice, sitting a stone's throw away from me, began crying, "Oh God. I'm going to be one of those people who's moping through Christmas."
I dropped the conversation I was having with the gentleman next to me and tuned into her across the circle. She was struggling. "That's the day they carted my husband's body away."
"Mope all you want to!" I half yelled across the room. She looked up at me, clutching her tissue in midair. "Christmas is for moping!" I declared. And I do believe she smiled.
5. You've Split Up
"I never understood people who said they hated Christmas," says Bill. "Now that's me." A father of four and recently divorced, Bill is still in the thick of it. "And I don't know why it seems like such a big deal, but this year on New Year's I just can't stand the thought of being with my friends and their—" The lump in his throat is now constricting air flow. He squeaks the word spouses, and catches his breath again. "I'd rather be in a room full of strangers."
Christmas can be like a deafening "feelings megaphone" for people dealing with loss or a major life change, which sometimes equal the same thing.
4. The Promise is Broken
Like a bright, cheerfully wrapped gift, it's the promise of Christmas, the hope, and the expectation of brighter days that can get you into trouble: the unspoken dream that maybe this one day of fellowship, unctuous food, and even that generous donation to the Letters For Santa campaign, will somehow change your world. Or fill the hole in your heart.
Clinical psychologist Martin Plöderl explains the post-holiday "broken-promise effect" we feel: "Was that it? I expected more fun, more relaxation, and tomorrow I have to go back to everyday life!"
While the long perpetuated myth that "suicide rates increase on Christmas" has been debunked time and time again, sadly the annual low trend doesn't hold true through New Year's Day. Like a raucous party that has ground to a halt, the holidays can leave you exhausted, depressed, and a little bit nauseous.
3. You Don't Want to Be Alone
"It's not that I really hate Christmas," says Kenneth, whose close ties have all either passed away or moved to the coasts. "It's just that I haven't had a good one in so long. And it makes me sad. Deeply sad.
2. You Want to Be Alone
"In nature, winter is a time of solitude, hibernation," says Colleen. "I feel this pull every year. But this is also the exact time when 'relentless togetherness' begins with the holidays. I love my family. I just have never been able to reconcile the natural feelings of introspection with the expectation of togetherness."
1. Happy Birthday!
So your birthday is on Christmas? I'm so sorry, but this year you're getting a partridge in a pear tree. And once again, that damn bird has crapped all over your fruit.
• • •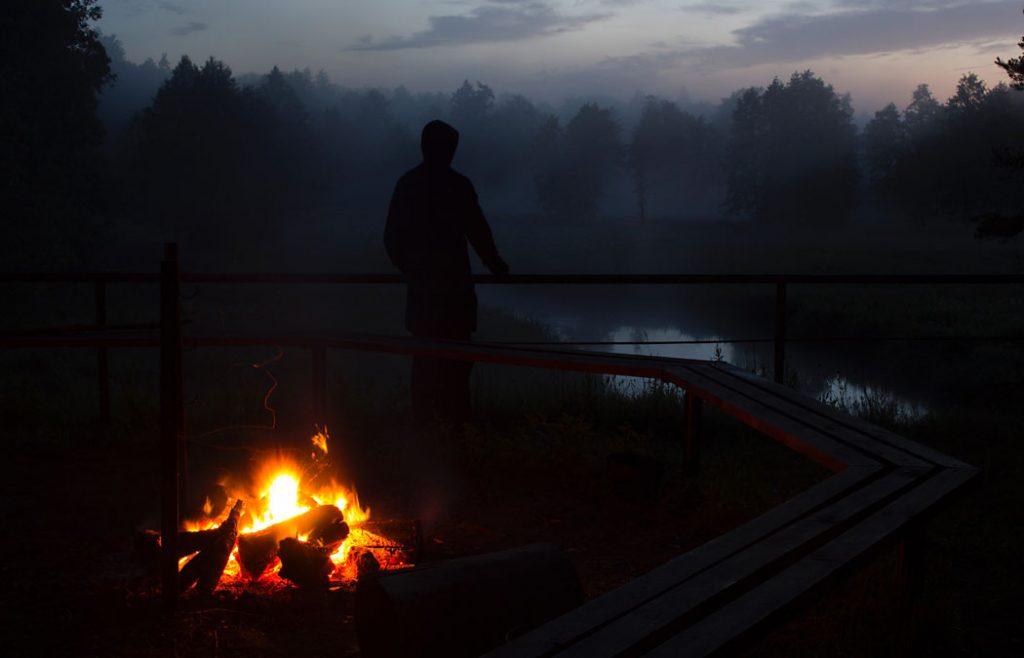 In summary, try following the example of my Wisconsin relatives. Christmas night, take that gargantuan pile of ruined wrapping paper, put it in the middle of a frozen lake, and light that *!@$?# on fire. Christmas up in flames just might make you feel a little warm inside.
Most names in this article have been changed to protect the innocent.