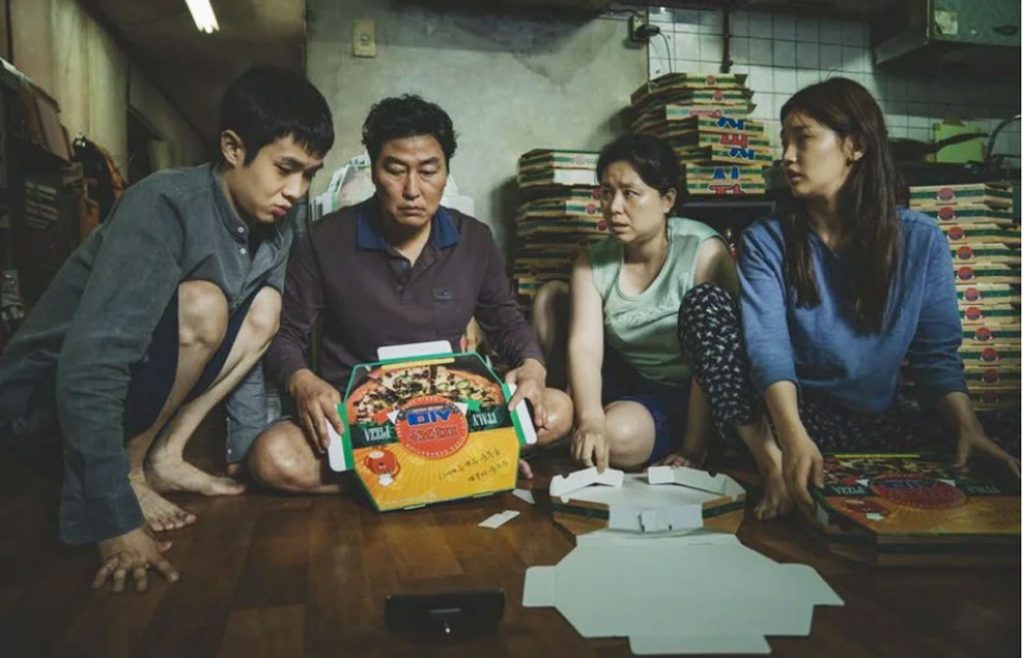 Note: Parasite now is playing at FilmScene in Iowa City, and the movie will be available for streaming on January 14.
The Korean film Parasite defies categories. It delivers comedy, class warfare, tense drama, and unexpected tragedy all in one compelling, unusual story. Director Bong Joon Ho, who also wrote the screenplay, is best known in the west for his sci-fi thriller Snowpiercer (2013), which boasted an all-star cast led by Chris Evans.
Parasite opens in the shabby basement apartment of the unemployed, underemployed, hopeless, bumbling, bickering Kim family, who live in the slums and scrabble to make ends meet. Their fortunes begin to change when they come into possession of a mysterious "prosperity" stone. The son, Ki Woo (Woo Sik Choi), lucks into a job as tutor to the teen daughter of the wealthy Park family. One by one, through deception and manipulation, the rest of the Kims insinuate themselves into employment by the Parks. The father, Ki-Taek (Kang-ho Song), becomes the chauffeur, the daughter, Ki Jung (So-dam Park), is hired as a psychiatric therapist for the Park's son, and wife and mother Chung-sook (Hye-jin Jang) ends up as the Park's housekeeper and cook. Thanks to the gullible Parks, the Kims achieve an unprecedented level of income and satisfaction. Then fate delivers a twist that results in disastrous consequences.
Bong Joon Ho has said that he likes to mix genres and to use humor that is wrapped around a sharp blade of truth. This film is a perfect reflection of his philosophy. The comedy stems from the various ways the scheming Kims pull off and maintain their scam, but what begins to shred the laughs is the gradual revelation of the pain and longing that is engendered by poverty and inequality, and the blind ignorance and nose-wrinkling disdain that Mr. and Mrs. Parks (Sun-kyun Lee and Yeoh-jeong Jo) display in regard to anyone not of their social class. Plight sparks fight leading to fright. The story veers from humor to violence, from absurdity to social commentary, from melodrama to horror—and the audience is fully captivated by this roller coaster ride.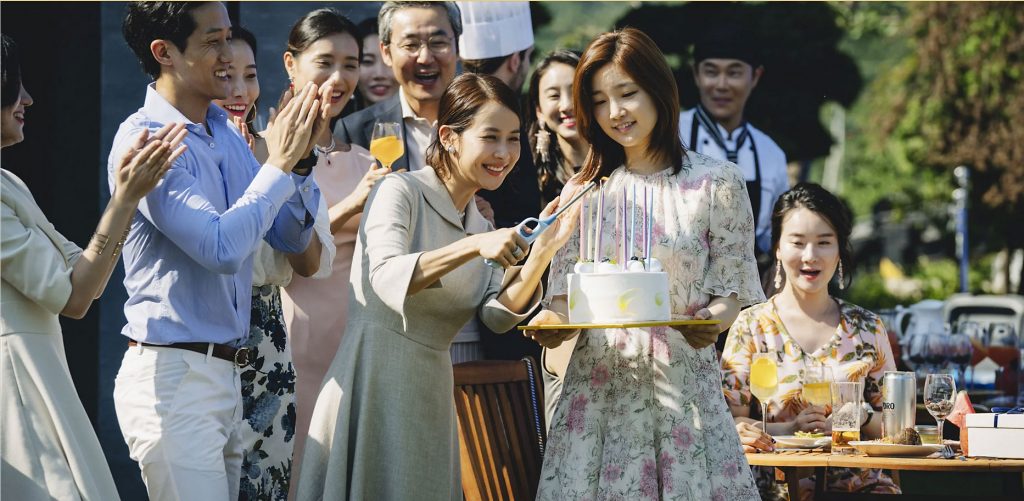 The dialogue is in Korean with English subtitles. Some of the actors have worked with director Ho in his previous films, which include Okja (2017),  Snowpiercer (2013),  Mother (2009),  and The Host (2006). Non-Korean actors who have acted in Ho's films include Chris Evans, Jamie Bell, Ed Harris, Tilda Swinton, Octavia Spencer, John Hurt, and Jake Gyllenhaal.