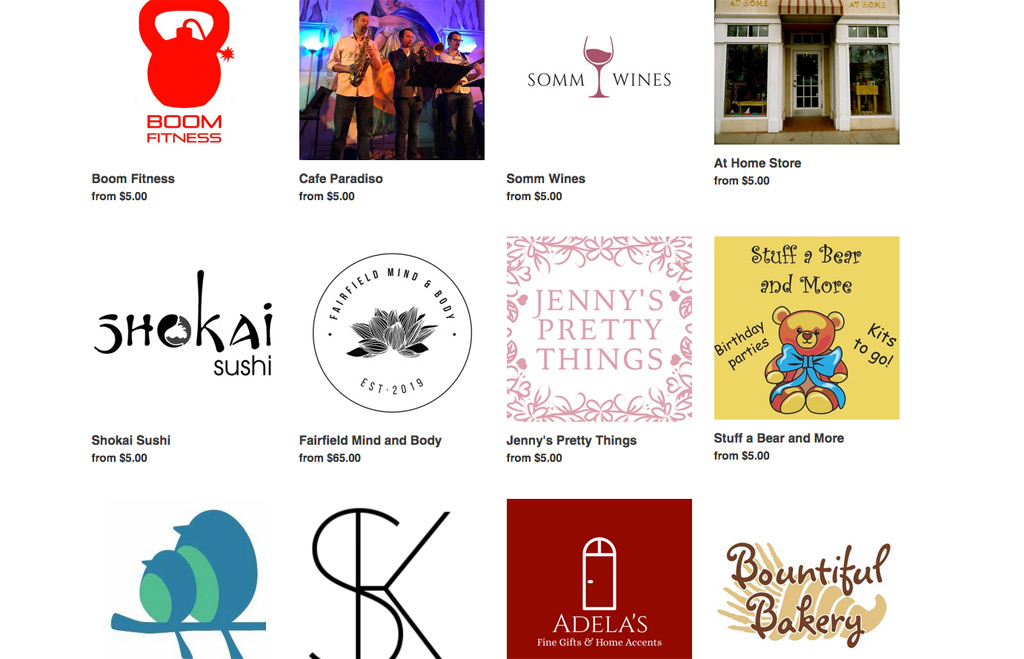 Making it as a small business is hard enough on a good day. These are challenging times to say the least as we collectively put social distancing into practice and follow instructions for statewide mandated closures.*
There has been an outpouring of concern townwide for Fairfield's treasured but endangered local and small businesses. Here are a few ways you can help your local economy during these topsy-turvy times.
Shop Local
Whenever possible, choose local products when you take your necessary trips to the grocery store. In Fairfield, Fishback & Stephenson hard ciders, Radiance Dairy, Kraut Source, Free Range Wingo soaps, Cookies From the Heart, Cado non-dairy ice cream, Jefferson County Ciderworks, Pickle Creek herb-infused olive oils and vinegars are just a few of the many locally made products carried in stores like Everybody's Whole Foods and Hy-Vee, or in some cases available for purchase online.
Businesses around town are racing to adapt, and re-adapt their services almost daily to accommodate a climate of safe, and (in many cases mandatory) limited physical interaction with amped-up sanitization practices and digital or over-the-phone purchasing.
Somm Wines is also offering curbside pick-ups. "Just call or text ahead and we will have you ready to go!" says owner and sommelier Krista Matthes. Their new four-pack offering has been quite popular.
Café Paradiso is now offering digital ordering at http://cafe-paradiso.square.site with curbside delivery or pick-up options for espresso drinks, bagged coffee beans, pastries, and breakfast burritos at their south window.
Sweet & Saucy and Asian Pho Bistro (among many other restaurants) are still open for take out, at lunch and dinner time. Find the Fairfield Chamber of Commerce guide to local businesses here. If you don't see them listed, call your favorite food spot or local business to find out about their adapted services and hours, or check online. Many restaurants across Eastern Iowa have also been modifying food services to include home delivery.
"We are in unchartered waters and as a small business, the effect could be long and far reaching. This isn't a situation many small businesses could afford to plan for. We are fortunate to operate in Fairfield where we can rely on our neighbors and customers to help us all through this." – Kara Waugh, Adelas
Meanwhile, retailers like the At Home Store have decided, out of an abundance of caution, to close their doors to all business for a time.
SupportFairfield.com
Gift cards are fast becoming the lifeline of many small operations, restaurants, and cafes like The Bookhouse and Hazel Moon. Just days ago, Fairfield community members David Averbach and Hannah Nichols launched their Support Fairfield website to facilitate the online purchasing of gift cards in support of Fairfield's struggling businesses. Support Fairfield is entirely a volunteer project, and additional businesses are being added to the site almost by the hour.
"We saw a need in our community," say Hannah and David. "Instead of sitting by and watching this happen, we decided we should do something to help. . . . We knew we couldn't do it all, but we could do this—build a website to support local businesses."
David adds, "We are happy to include any local business that has been affected by coronavirus (COVID-19). To get set up, businesses can email info@supportfairfield.com."
"We at Cider House 1949 and Fishback and Stephenson Hard Cider are truly in this together with all bars, restaurants, and grocery stores in the state of Iowa," says Hopi James. "Any revenue in this time of uncertainty is vital for the well-being of the food and beverage industry in Fairfield, Iowa … It is our passion and pleasure to serve our wonderful customers who come from near and far and we value their support. We thank David and Hannah Averbach for understanding this and being proactive."
David Averbach is the CEO of iPhone Life magazine based in Fairfield, and Hannah Nichols runs a marketing consulting firm that works exclusively with small businesses and nonprofits.
Food Drive for Families
Support Fairfield has also organized a no-contact food drive this week for individuals and families affected by school closures.
Drop-off donations were collected on Tuesday and Wednesday, and pick-up is scheduled for individuals and families on Thursday and Friday, March 19 and 20, at the City of Fairfield Parks and Recreation, 1000 W. Burlington Ave. (East Door). Pick-up hours are 10 a.m.–1 p.m. and 5:30 p.m.–6:30 p.m.
"We will have items in plastic bags for you to take home," say event organizers. "Please take one bag per family … just hop out of your vehicle and grab the items in the designated location then return to your vehicle. We will have a volunteer available for questions, but please do not approach the volunteer. Stay 10 feet away." For complete info, visit facebook.com/supportfairfield/.
***
We depend on our Fairfield businesses and our community's creative talent being there for us. Let's be there for them. If you don't see your favorite artists, musicians, and goods and service providers mentioned here or listed on the Support Fairfield website, please reach out to them personally and ask how you can help. Many of you probably already have.
*On Tuesday, March 17, Governor Reynolds issued a State of Public Health Disaster Emergency, effective at noon on March 17 through March 31. This means that events of more than 10 people are prohibited. All restaurants and bars are closed to the public, although carry-out or drive-throughs can stay open. Food delivery services are also allowed to continue.
In addition, fitness centers, gyms and health spas are closed, as are facilities that conduct adult day services and other senior citizen centers.
"These are unprecedented times and the state of Iowa will do whatever is necessary to address this public health disaster," said Gov. Reynolds. "The actions taken today are necessary to protect the health and safety of all Iowans and are critical to mitigating the spread of the virus," said Gov. Reynolds.