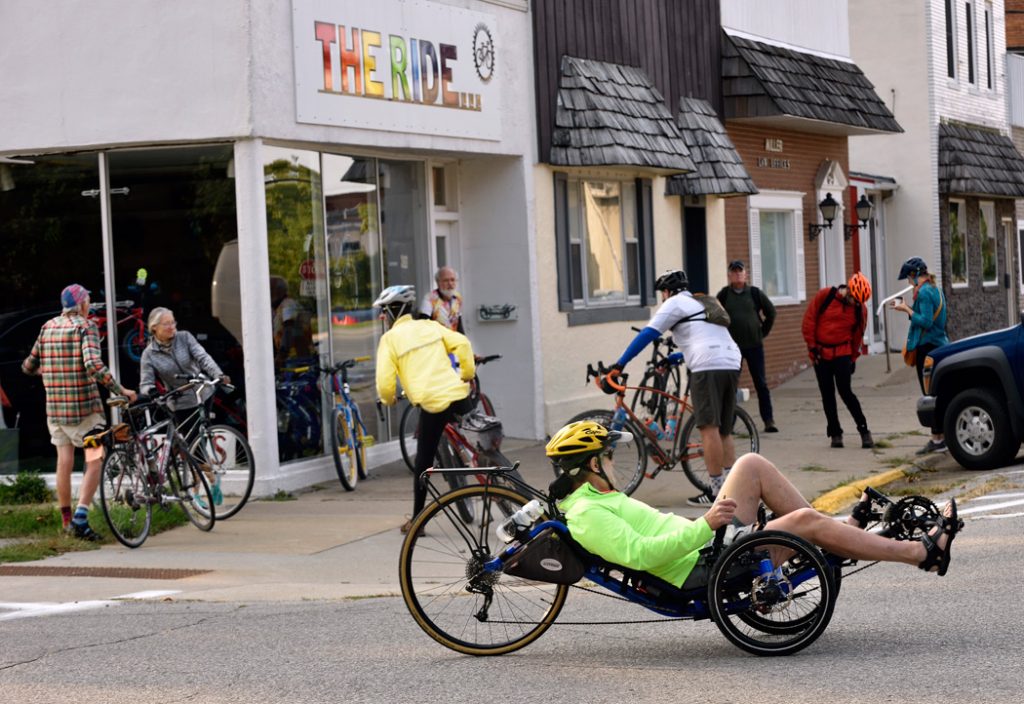 The solitude and romance of early-pandemic trail walking, garden piddling, and tree hugging was getting oppressive. I needed a new drug. One that involved sweat, speed, and, most of all, a little camaraderie. And maybe a little nip of something.
Mid-July, I mustered up my chutzpah, bought a hipster-esque helmet from local bikesmith Mark Smith (owner of The Ride), and showed up for the Thursday night community Cross Ride. The hosts, The Ride and Fishback & Stephenson Cider House, had seduced me with Facebook promises of country vistas and ironic route names like Kissin' Cousins, Bottom Feeders, and the Joe Biden. I'd been promised sunsetty sips of something on the Cider House patio after facing the elements and tasting my own raw power. I would earn badge-of-honor nicknames like "dirt dog" and "gravel grinder." I would finally be cool.
Straddling my filthy blue mountain bike frame among the throngs of cyclists that had gathered in the intersection of North Court and Briggs, I eyed the scene, hoping to find a friend I could latch onto to calm my nerves. Cider maker Clint Stephenson himself would've said something like, "What the hell are you nervous for? It's a bicycle," and then he'd laugh his I'm-the-King-of-the-World laugh and ride away from me in his striped surfing shorts.
As I brushed the cobwebs off my spokes, I grasped for some kind of reassurance. Would I be able to keep up? Would I be able to finish the 14 miles? Did I bring enough water? Should I have put on sunscreen? What does "mixed surfaces" mean, exactly? Was the trail marked? Because there is not enough room in my 2003 bike shorts for a smart device. As I shoved an energy bar into my mouth, I snuck looks at the competition. (Yes, everything is a competition, and, yes, I am motivated by winning, but it's not my fault; I got that from my grandmother.)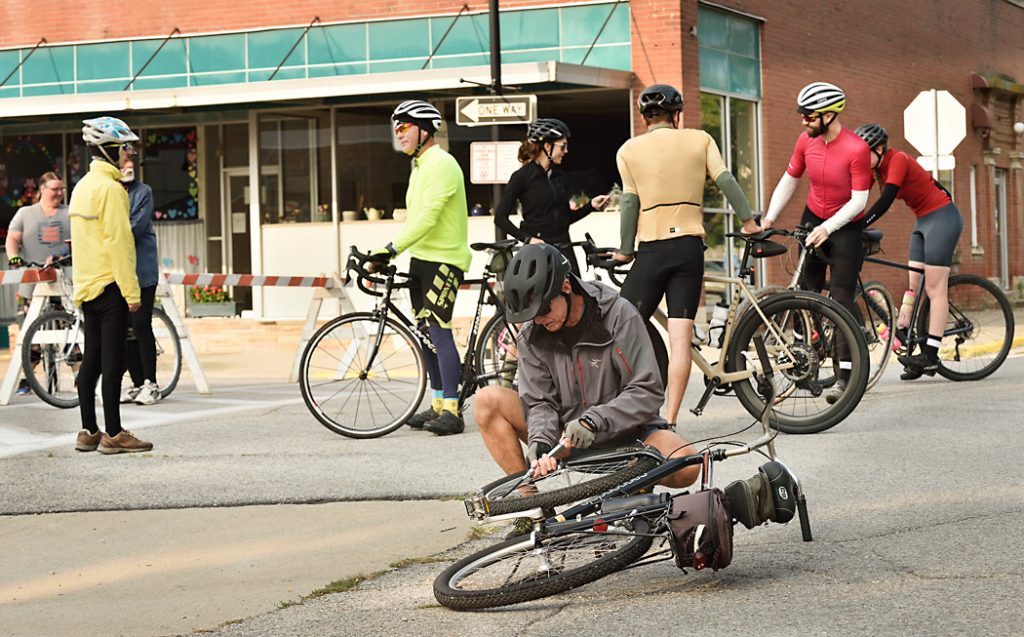 One guy, a serious-looking athlete with Popeye calves and even bigger biceps, was sporting two water bottles and a spandex outfit in syncopated splashes of orange and black. I was intimidated by his gear and his suntan, but wondered nonetheless if he needed my phone number.
A small child squinted up at me quizzically and said, "Do you own a jersey?"
"I … I don't believe I do," I said, looking down at my stretched-out hippy tunic, strategically chosen to cover my huge butt. Great. I was getting fashion-judged by a six-year-old.
I swallowed hard to clear out the remaining peanut buttery goo in my throat. I was afraid to waste any water before the actual ride; last time I'd done 14 miles I'd given myself a heat stroke, and I was in my twenties back then.
But as more and more people showed up, 57 in total that day, it was clear that all ages, sizes, and athletic attitudes were represented here. From skinny touring bikes to beefy fat-tired training bikes to one-gear wonders, I was sitting pretty in the middle of the pack with my average-sized tires, my stupid outfit, and my sticky-out handlebars. It was going to be okay.
Mark Smith manifested at my side like a little ray of sunshine and said, "Hey, Meredith! Glad you made it! I think you'll have a lot of fun." Right! Fun. I'm here for fun. I took a deep breath, choking on the remains of my power bar, trying not to alarm anyone by coughing during a pandemic.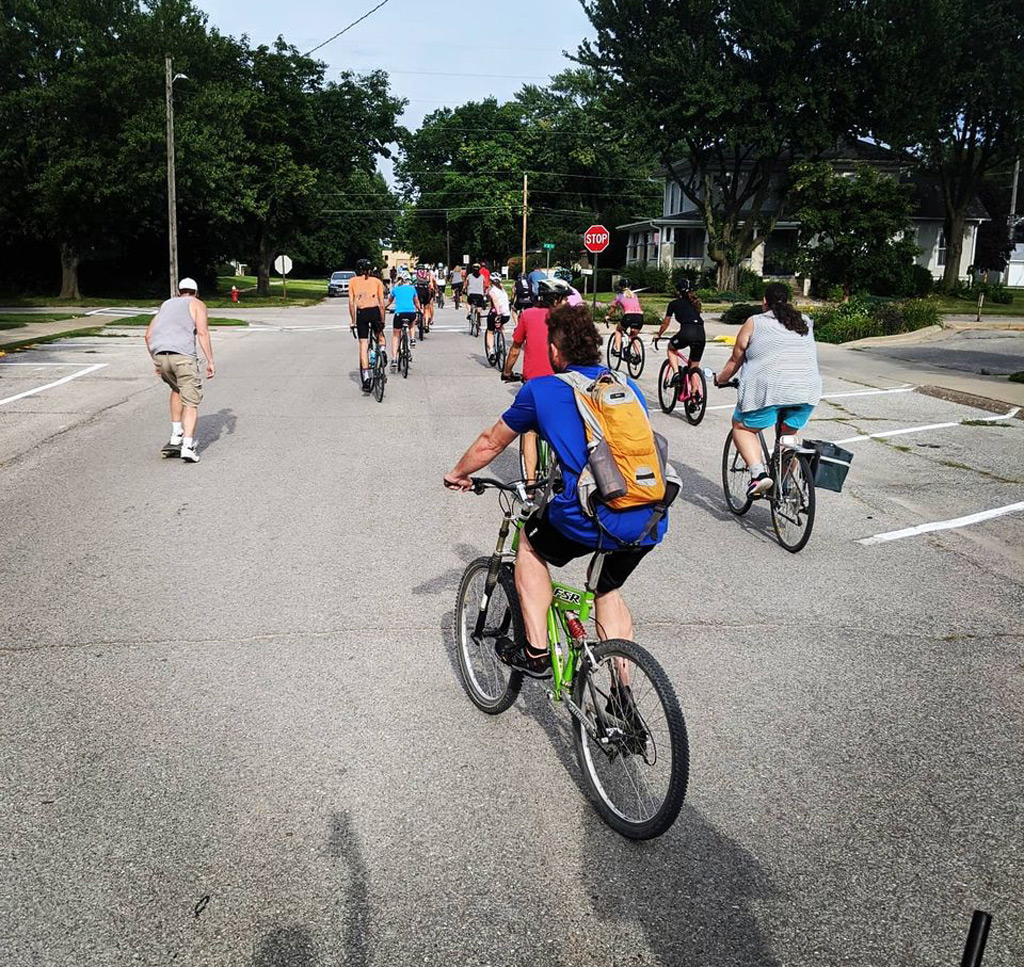 Mark mounted his aluminum steed and gathered us up in a swirl, calling, "Here we go, here we gooooooo!" and then straightened his wheel to head due west. As I bounced down the city street on my tattered foam seat, my worry was swiftly turning into excitement. I found myself enveloped by this ragtag, kinda badass posse that had converged from every corner of town like little beads of mercury looking for the mother lode. We flowed and stretched like liquid metal down the streets of Fairfield, stopping traffic as we went, but drivers didn't seem to mind. They were actually waving … and cheering as we made our way toward the Jackson Street trailhead. I hadn't felt that rock star since … never.
I loved those first few miles, zooming single-file through the shady woods, dodging tree roots and mud puddles, finding my legs, remembering my balance. Navigating the fine gravel terrain, and the pace of the other riders, I was exhilarated to have air rushing around me again.
The wooded Cedar Creek Timber trestle trail forayed into a couple nail-biting backcountry miles of yucky, chunky gravel. "So this is how I meet my death," I thought, fighting to keep my tires under me on the first steep decline. As much as I wanted that downhill momentum, I opted for braking to a speed that wouldn't end with me losing the skin on my arms. I prayed to whomever was listening, "Keep me safe. Keep me fun." It became my mantra.
Grey shifted to brown as we hit a stretch of grueling, mushy climbs in soft, wet dirt. The "road," really only appropriate for a tractor or some three-wheelers, finally, finally spilled out onto a ribbon of dry pavement. Pavement! What a revelation! Vistas of farmland swooped down in all directions as I found a new pace with the wind at my back. I loved that my arms weren't rattling out of their sockets.
Flying high down that smooth highway with a stunning pastoral Iowa view I'd never seen before, I thought, "Move aside, Clint Stephenson—I'm the new King of the World." It was pure triumph I was tasting now. Along with a couple gnats.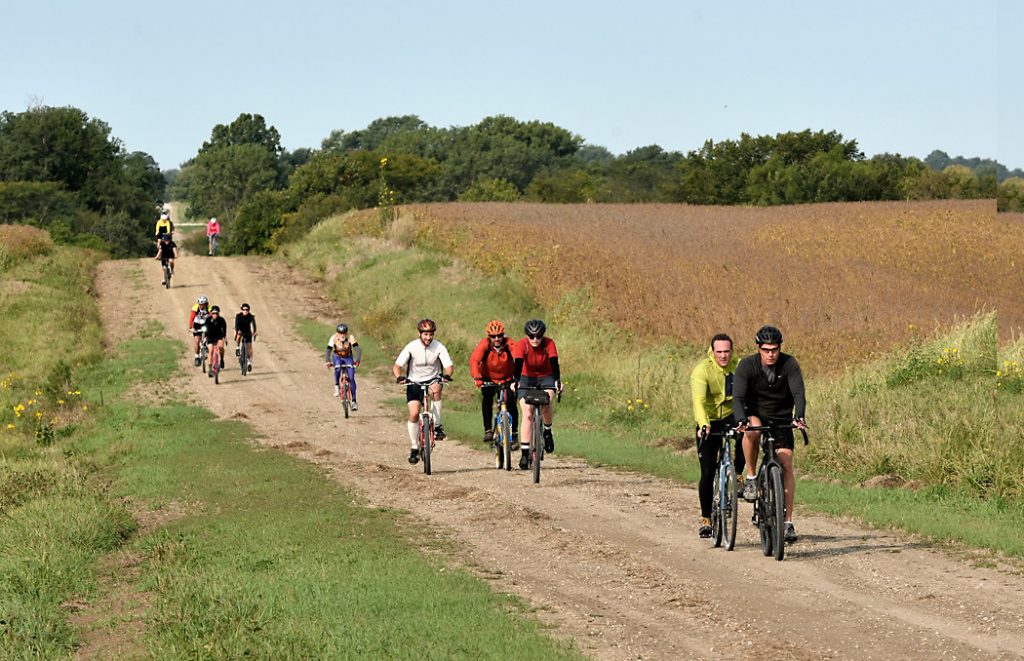 The glory was gorgeous and brief; in a few miles I hit gravel again—and a relentless series of steep, tall hills. And somehow I found myself riding alone on the latter half of the short route, dubbed "Whiskey Tango Foxtrot." All the other foxes had spread out among the miles, and half of the pack had by that time split off onto the longer route of the day, "FUBAR," a painful-sounding 29.7 miles.
The sun was baking my flesh, my lady parts were waging war, and I was ready to be done. I was a loooooooong way out from town still and so very far away from my celebratory cider and grass-fed beef on a bun.
As I started yet another climb with a groan, I heard tires crunching behind me and so hugged the right shoulder as etiquette demanded. A rotund fella about my father's age, wearing an unbuttoned cotton shirt that flapped happily around his protruding belly, passed me with casual ease. He tipped his straw hat in my direction, and with a genuine smile, took the lead.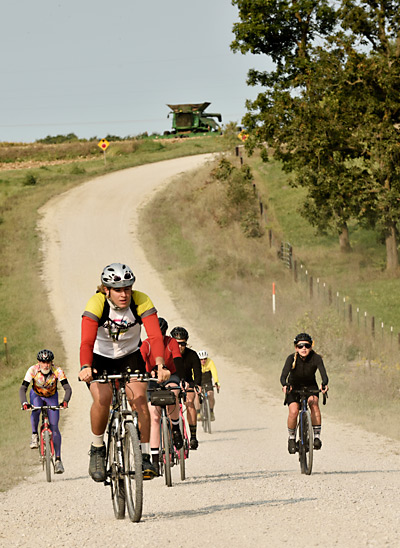 I should have been glad for the company, or the sight of an actual smile after months of mask wearing, but all I could think was, "How in God's name is this tool passing me right now? He's not even trying!"
Fine, it was my first ride of the season, and fine, I was coming off a pretty sedentary year, but come on. I was not going to let this guy leave me in the dust. I willed myself to keep up with him.
"Meredith," I could hear Clint Stephenson goading me, like the devil himself whispering in my ear. "You're getting schooled by a septuagenarian."
"Shut up, Clint," I retorted. "Septuagenarians are people, too, and I know a lot of them who happen to be in great shape." I pedaled faster.
Then I heard Mark Smith's voice in my other ear, coaching me on like a cheerful guardian angel, "First ride of the year? Impressive! You're doing great!" I pedaled faster.
Win. Must win.
I pictured Grandma in her nursing home rec room dominating the sixth round of Trivia as her fellow residents scowled over their cranberry juice. Grandma didn't care beans about the banana prize—or about pissing anybody off. She played to win. Help me win, Grandma.
One more voice floated in, my mother's: "Meredith, I'm concerned you're going to give yourself another heat stroke." Mom has a bonafide degree from Worry U, but she was right this time: I was overdoing it. I shifted down and reached for my water, unaware until I tried to drink it, how hard I'd been clamoring for breath. My hands were shaking, but I stayed in the saddle and rounded the top of that awful hill. As I saw the straw-hat guy cresting the next hill—in simply impossible time—it finally dawned on me: the dude had an e-bike.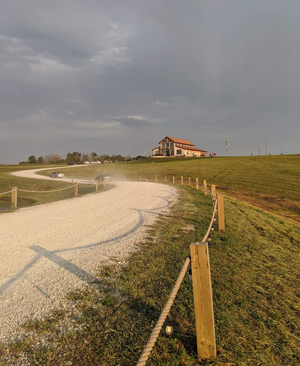 Laughing and crying inside, I pushed on, even though riding up that 108th incline felt slower than walking. The only way out was to keep going. "This is torture!" I thought, "I'm never doing this again!"
But for the entire following week, all I could think about was doing it again. For the challenge? Yes. For the glory? Absolutely. For the burger? You bet.
But also because events like this—events that require serious planning and vigilance but dole out contagious charisma, events that support the small businesses that give so much to our community, and events that gracefully manage to bring people together from all walks—make me want to hug this weird, wonderful town.
***
Do the Ride! The Cross Ride, now switched to Sundays at 9 a.m., welcomes riders of all levels and offers two to three new routes weekly, ranging from 10–40 miles. The ride begins at 123 N. Court Street in Fairfield and ends at the Cider House, 1949 N. Pleasant Plain Road, for an optional brunch. Find maps and updates on the SE Iowa Cyclists Facebook page and the Fishback & Stephenson Cider House social media pages. Free to ride!