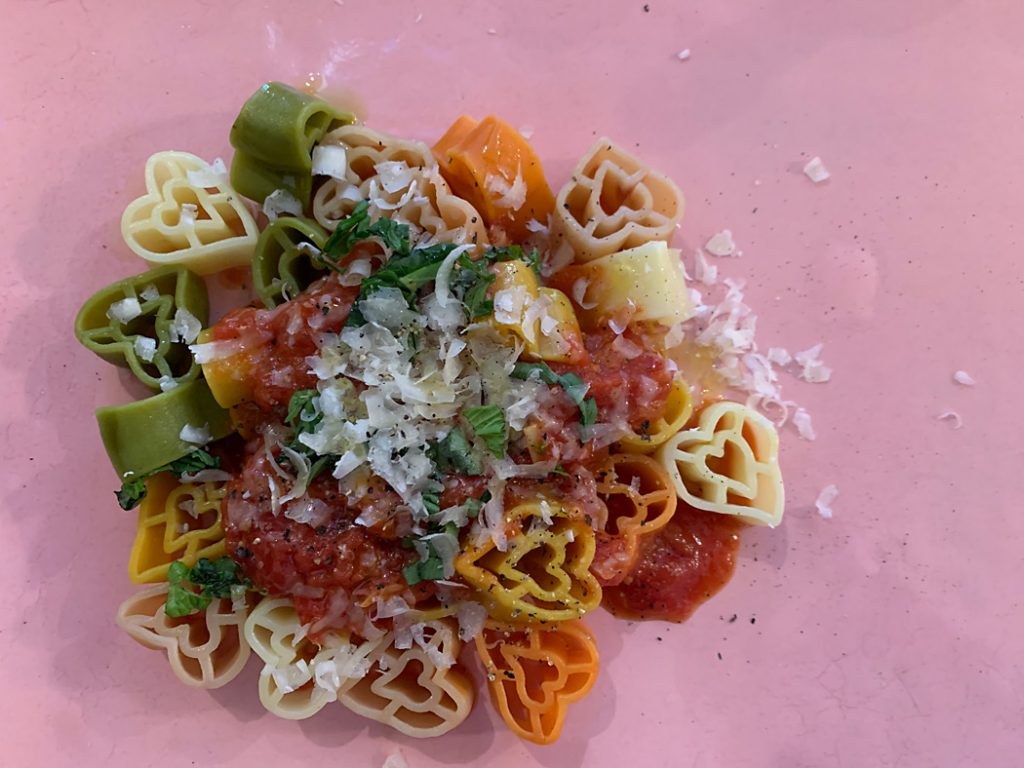 In the middle of the very cold month of February, we look forward to Valentine's Day, the celebration of the heart. What will your Valentine's Day bring?
When my children were small, we would get out the old seed catalogs and paper doilies, and make valentines for each other. Vegetable, fruit, and flower pictures would bring out the best in us. Some of the ones I remember are "I love you berry much," "Aren't we a pear," "Valentine, you can't be beet," and "We cantaloupe 'cause we're already married!" Try it, it's really fun—and you may surprise yourself.
Food is another classic way to create a happy heart. Although sweet treats such as cookies, candies, and chocolates are traditional valentine fare, why not try some savory treats this year?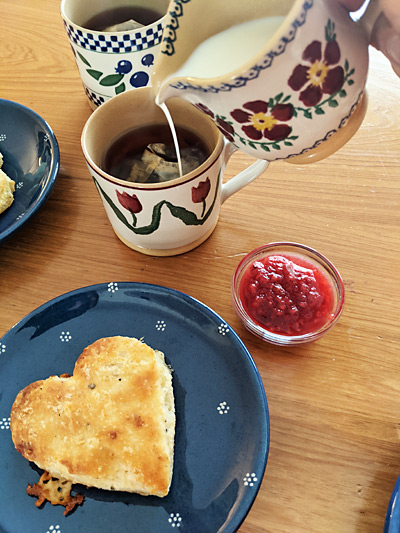 Whether you are celebrating with your household members or by yourself this Valentine's Day, here are a few suggestions to make you smile. It's always a good idea to think of who will be eating the food and what would bring comfort and happiness to that person.
A favorite dish served with a cloth napkin by candlelight is a great way to let someone know that you care. Even if that someone is you! Dinner for one?
Just for fun, try your hand at Flaky Cheddar Biscuits, made with a heart-shaped cutter. They can be served for breakfast or tea time, or with a hearty soup for lunch.
If you are a bit more ambitious, what about trying homemade crackers, again cut with a heart-shaped cutter? Serve as a snack or with a favorite soup.
What about a heart-shaped grilled cheese sandwich served with a bowl of homemade tomato soup?
Or for a child-friendly lunch treat, try making a PB&J made with organic peanut butter and fruit-sweetened jam, with a heart cut out of the top slice of bread to let the jam peek through.
One year, for a valentine surprise, I made steamed Chinese dumplings folded in the shape of a heart, each presented on a lettuce leaf in tiny individual bamboo steaming baskets.
If you have access to good panir (fresh cheese), make a beautiful, fresh greens and herb salad with grilled heart-shaped panir pieces and a tangy dressing.
For dinner, try a multicolor heart-shaped pasta, delicious served with pesto, a simple basil and tomato sauce, or just olive oil and Parmesan cheese with a little finely chopped parsley, allowing the colors of the pasta to be seen.
Another idea for a valentine comfort food is individual Broccoli-Cheddar Pot Pies with a heart cutout in the top crust.
There are many ways to make someone feel special, on this Day of the Heart. And at the end of a long day, if all else fails, there's always popcorn and a movie. Very romantic!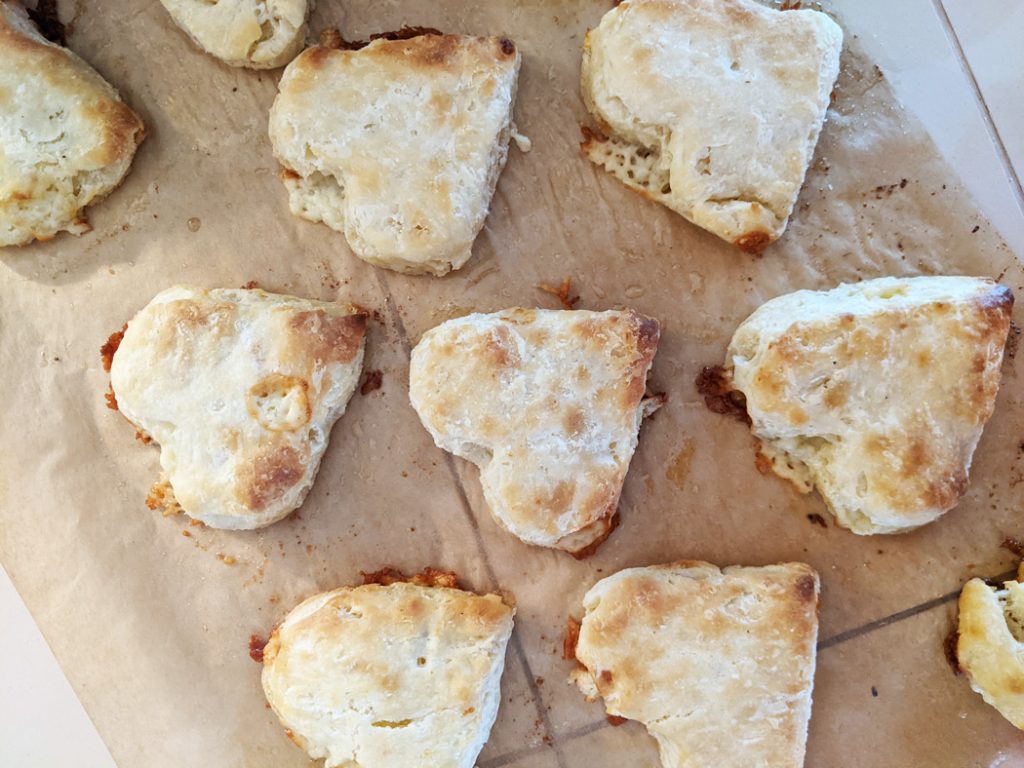 Flaky Cheddar Biscuits
(Makes 8–10 3″ heart-shaped biscuits)
Try using Prairie Breeze Cheddar from Milton Creamery or Kerrygold Aged Irish Cheddar.
2 cups flour
2 tsp. baking powder
½ tsp. salt
½ cup cold butter, cut into tablespoon-sized pieces
¼ cup cheddar cheese in 1/3″ dice
¾ cup cold buttermilk (or ¾ cup whole milk plus 1 tsp. lemon juice, left to sit for 5 minutes)
Combine the flour, salt, and baking powder in a large bowl. With a pastry blender or cold hands, work the butter into the dry ingredients. Stop when the butter is in pea-sized pieces. Sprinkle with the cheddar cheese cubes. Add the cold buttermilk all at once.
For fluffy and flaky biscuits, make sure that you do not overwork the dough.
Roll the dough into a 6″x9″ rectangle. With a knife, cut the rectangle into thirds.
Stack the three pieces on top of each other. This will help to create flaky layers. Once again, roll the stack into a 6″x9″ rectangle. Some butter chunks should still be visible.
Use a 3″ heart-shaped cookie cutter to shape the biscuits. Place on a parchment-lined cookie sheet. Put the cookie sheet in the freezer for 10–15 minutes.
Preheat the oven to 450°. Bake for 12 minutes, or until golden brown on both tops and bottoms.
These biscuits are best served hot from the oven. If you have leftovers, store them in an airtight container in the freezer, and reheat in the toaster oven or oven at 350° for 12–15 minutes before serving.
Valentine Pasta with Quick Tomato Basil Sauce
This time of year, home-canned garden tomatoes or good quality heirloom San Marzano tomatoes from Italy are a wise choice. They are sweet and flavorful, and better than domestic canned tomatoes.
1 14-oz. bag pasta (we use Marella heart-shaped pasta)
2 Tbsp. olive oil, plus a little more for finishing
½ onion, finely diced
1–2 cloves garlic, peeled and sliced in half
1 bay leaf
½ cup fresh basil
1 28-oz can DOP-certified San Marzano tomatoes, such as Rega Rega, or home-canned garden tomatoes
Salt and freshly grated black pepper, to taste
Freshly grated Parmesan cheese
Heat olive oil in a skillet or saute pan over medium heat. Add garlic and onions.
Saute until the onion is translucent. Watch carefully so that the garlic does not brown.
Add the tomatoes, bay leaf, half of the basil, salt, and pepper. Stir while gently crushing the tomatoes with a fork. Cook for 5-10 minutes to thicken the sauce, stirring often so as not to burn. Reduce heat, but keep warm.
Cook pasta according to package directions in a large pot of well-salted boiling water.
When pasta is done, quickly add one cup of cold water to the pot and drain the pasta immediately.
Serve the pasta in warmed bowls with the sauce. Top with a small drizzle of good olive oil as well as the reserved basil and freshly grated Parmesan cheese. For the table, have extra Parmesan cheese and a peppermill available.