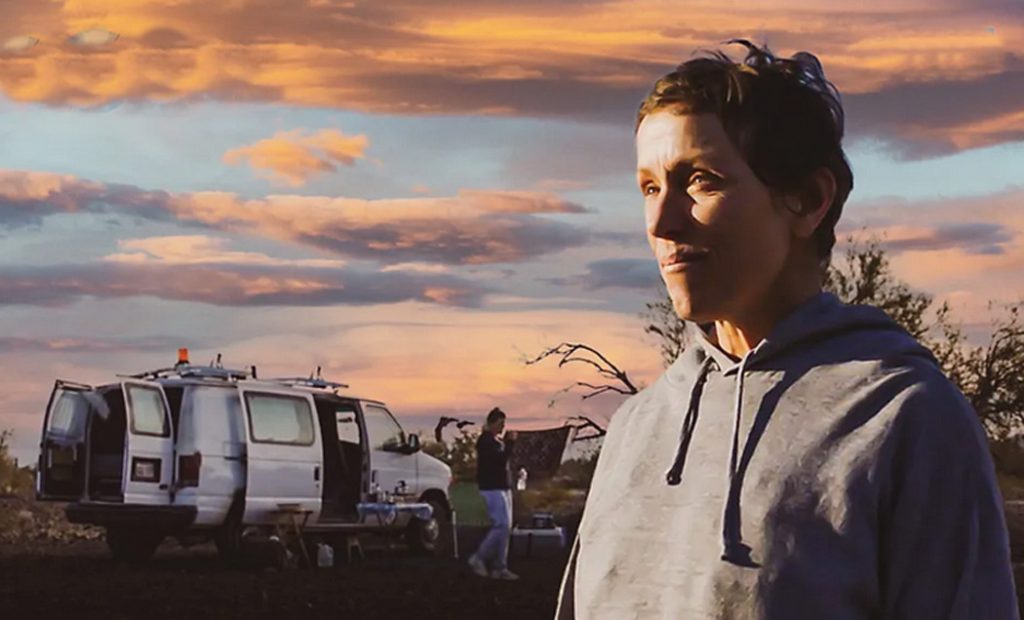 It all began as a nonfiction book, Nomadland: Surviving America in the Twenty-First Century (2017), by subculture journalist Jessica Bruder. Driving a camper van for months across 15,000 miles, Bruder documented a particular demographic of van dwellers: Americans in their later years living on Social Security and the sparse income from occasional jobs. By economic necessity, and especially due to the 2008 recession, these nomads traded the comforts of convention for a challenging but more affordable lifestyle. And a film was born.
For Nomadland (available on Hulu), director Chloé Zhao (The Rider) adapted Bruder's book into a quasi-fictional feature film with the rhythm of a documentary. Against the scenic and lonely backdrops of California, Nevada, Arizona, Nebraska, and South Dakota, Nomadland builds its narrative around a van dweller named Fern, played by the mighty Frances McDormand, whose unforgettable pregnant police detective made Fargo a legendary film. Sporting an unkempt, boyish haircut, zero makeup, and bargain-box clothing, Fern is the perfect role for McDormand, who abhors the sequined, Botoxed, red-carpet culture of Hollywood.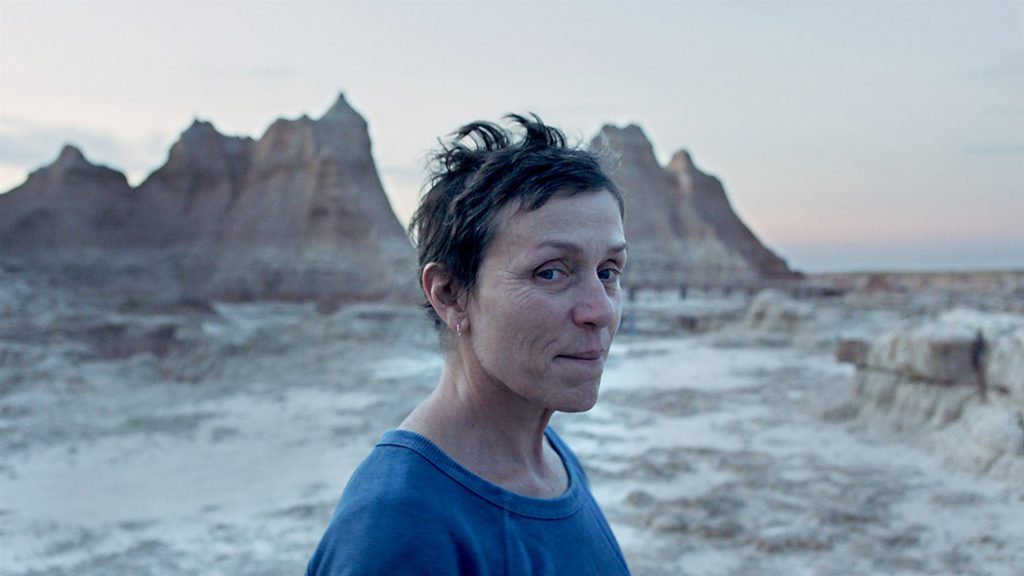 Fern is a fictional unemployed widow whose backstory is inspired by factual history. She lost her job at the United States Gypsum Company in Empire, Nevada, with the plant's 2011 closure. That booming industry also provided its workers with a lifestyle: 1950s tract housing, recreational facilities, and a community that nourished family life. When the business closed its doors, its workers had to go in search of new lives.
Fern test-drives the nomad life in her modified van named Vanguard, which serves as kitchen, bedroom, and closet, as well as her transportation.
"Not homeless," Fern explains, "just houseless." While road life offers her and other senior citizens a sense of adventure, the conditions are demanding. Van dwelling requires independence, resilience, resourcefulness, vehicle upkeep (like changing and repairing a tire), and being prepared for the unpredictable—all at a most precarious time of life. And nomads must always be up to the task of driving, whatever the distance, in search of safe and affordable parking. All of which raises the question: when van life becomes unmanageable, where does a nomad go?
In addition, these van dwellers are at a stage of life where many have lost a spouse and are learning to live solo. Grief becomes the backdrop to their other emotions. From the opening scene with Fern at her rental storage unit, the film projects a quiet sadness, a loneliness that almost echoes. In Nomadland, there is always the sense that someone is missing.
Along with McDormand, David Strathairn is the film's other veteran screen actor. The rest of the cast members are actual nomads, including the real-life Bob Wells. Wells's decade of nomad life and his capitalist spirit (despite his lamentations against "the tyranny of the dollar") led to his public status and revenue streams as nomad guru for new and seasoned van dwellers. His YouTube broadcasts draw 400,000 fans. And his website offers sage advice for road life on a budget, including survival tips, suggested employment and income sources, required equipment, projected costs of living, and instructions for designing a functional van interior.
Kudos to author Jessica Bruder and her years of up-close research. And to writer and director Chloé Zhao, who kept it all so real and scooped the Golden Globes for Best Picture and Director. And for a thoroughly convincing portrayal by 2020 Oscar nominee Frances McDormand, who we'd half expect to find serving burgers at the diner.
This gentle, free-form film with its quick cuts and heartfelt exchanges is teeming with genuine people who treat each other with kindness and respect. Wherever they gather, these nomads create a benign community, sharing honest conversations and helpful gestures. And forming friendships that continue long after they part ways. As Bob Wells explains to Fern, he never says a final good-bye because he knows we'll all meet again. And here I'll borrow his fond farewell: We'll see you down the road.   Rating: A